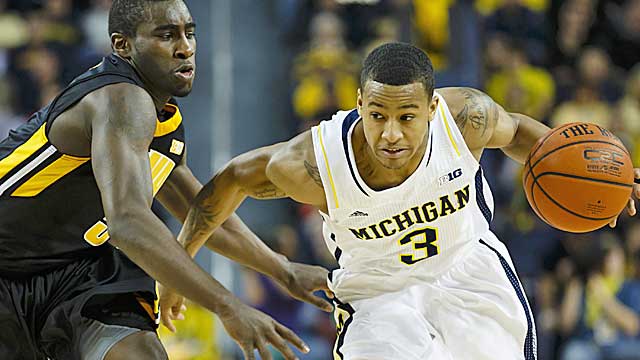 By Jeff Goodman and Gary Parrish | College Basketball Insiders
It's turning into a three-man race, and it's tightening up. We're a week or so into league play -- and the gap has closed on Duke's Mason Plumlee. However, Duke's senior big man still leads the National Player of the Year Race.
National Player of the Year Race
Week 6
PF | 6-10 | SR | Duke

Plumlee is starting to slow down a bit, but we're still giving him the slight edge over Doug McDermott and Trey Burke. The senior big man averaged 11.5 points and 9.5 boards in wins over Davidson and Wake Forest -- and is averaging 18.4 points and 11.3 rebounds per game this season.

F | 6-8 | JR | Creighton

McDermott averaged 20 points and nine boards per game in wins at Illinois State and at home against Indiana State and is putting up 23.1 points and 7.3 boards while shooting 49 percent from deep this season. The scary part? He still doesn't feel as though he's hit his stride yet.

G | 6-0 | SOPH | Michigan

Burke has made this a three-man race with his play this season. He had 19 points, a dozen assists and just one turnover against Iowa and is averaging 18.2 points, 7.5 assists and is the leader of a team that is ranked second in the country.

G | 6-0 | JR | Louisville

Smith is unpredictable, but explosive on both ends of the court. He can really score and also apply pressure defensively. Smith had 23 points and was 4-of-5 from deep in a win over Providence and is averaging 20 points and 2.6 steals per game this year.

C | 7-0 | SR | Kansas

Withey's still not a big-time scorer, but he does enough on the offensive end and is the top interior defender in the nation. He had eight points, 11 rebounds and nine blocks in the win over Temple on Sunday and is averaging 13.4 points, 8.2 rebounds and 5.2 blocks per contest.

F | 6-8 | FR | UNLV

The Runnin' Rebels played a couple of cupcakes, but Bennett still produced. He averaged 24 points and 11.5 boards per game, made 5-of-6 shots from deep and is averaging 19.9 points and 9.1 rebounds this year.

SG | 6-5 | FR | Kansas

McLemore wasn't dominant against Temple, but he still managed 13 points and five rebounds -- and is averaging 15.6 points, 5.5 boards and is shooting 40 percent from beyond the arc.

C | 7-0 | SOPH | Indiana

Zeller was in danger of falling out of the Player of the Year Race, but came up with a double-double (19 points, 10 rebounds) in a victory over Iowa. He's averring 16.6 points and 8.1 rebounds.

G | 6-6 | SOPH | Syracuse

Carter-Williams struggled scoring in the win over South Florida and was just 1-of-13 from the field, but he still had nine rebounds, five assists and four steals -- and is putting up 11.7 points, 9.8 assists, 4.9 boards and 3.1 steals per game this season.

G | 6-4 | SR | Illinois

The Illini continue to win games -- and this time it was a resounding victory over Ohio State in which Paul finished with 19 points and seven boards. The senior guard is putting up 18.5 points, 5.1 rebounds and 3.5 assists this season.
Dropped out: None