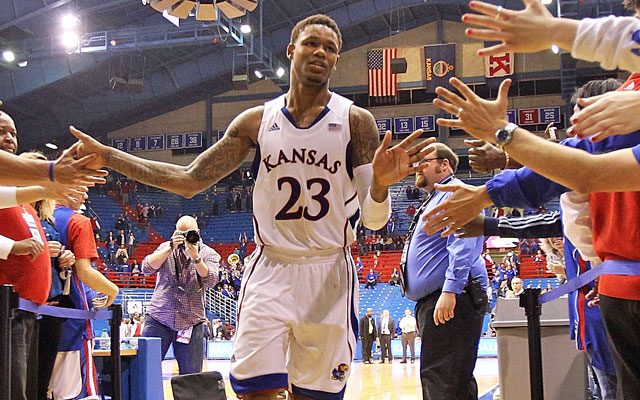 Ben McLemore's emergence and draft stock, Trevor Mbakwe's return to old form, what Syracuse is missing, the ultimate tough-luck coach in America and Ricky Ledo's maturity. We'll touch on all that and more in this week's edition of Good 'N Plenty.
When my first 2013 mock draft was posted on June 29 just hours after Anthony Davis was selected in June with the first overall pick in the 2012 NBA Draft, the skeptics quickly surfaced after seeing where Ben McLemore was slotted. Recruiting analysts questioned whether he had the DNA to be a go-to guy, whether he had a reliable perimeter shot, whether he had the basketball IQ to excel in the college ranks.
As it turns out, No. 5 was too low.
The 6-foot-5 McLemore has quickly emerged, after having to sit out last season due to academics, as Kansas' top offensive option. After losing Thomas Robinson and Tyshawn Taylor, Bill Self was legitimately concerned if McLemore could quickly turn into "The Guy." The first 13 games of the season were a growing process, but Wednesday night was a clear sign that McLemore has arrived. He finished with 33 points (on just a dozen shots), including a bank 3-pointer with one second left in regulation that forced overtime and ultimately rescued the Jayhawks from a home loss to Iowa State.
"Coach [Self] has been on me a lot to be more aggressive," McLemore told CBSSports.com (he also told me that he called "bank" on the trifecta). "He always tells me to bring energy, be aggressive and shoot the ball."
More on college basketball
Related links
Midseason review
More college hoops coverage
Remember, McLemore played second fiddle in the summertime on a St. Louis Eagles team that also featured Brad Beal. He played at Oak Hill Academy with Quinn Cook and Jordan Adams. But McLemore is a quiet kid who didn't want to step on his veteran teammates' toes early this season. That's why he was reluctant to force the action in the team's lone loss, against Michigan State back in early November.
"I've played my role at times," he said. "That was my first big game and I was just trying to fit in and help the team."
But Self and the Jayhawks needed more. They desperately wanted McLemore to step out of his comfort zone and take over close games -- and that's exactly what has happened as the season has progressed. McLemore dominated when it counted against Iowa State. He buried all six of his 3-point attempts and is now shooting 46 percent from beyond the arc while averaging a team-high 16.9 points.
McLemore wasn't a McDonald's All-American after bouncing around three different high schools, and then he was crushed after learning he wasn't allowed to play last season as a freshman. However, sitting out and watching Taylor and the other guards was ultimately beneficial to his growth and progress.
"I needed it for my maturity," he said. "Last year actually wound up being a blessing."
This is a season in which the chase for the No. 1 overall pick is as wide open as it has been in a decade. Some have Cody Zeller, others Nerlens Noel, there are those who feel Shabazz Muhammad, Alex Len or Anthony Bennett should be the first to shake David Stern's hand
I say I might have put McLemore four spots too low back in June.
Mbakwe returning to form
In this space more than a month ago, I wrote that it was sad to watch Minnesota's Trevor Mbakwe back in the Bahamas, that he had become a below-the-rim player much of the time and just hadn't regained the explosiveness he had before last year's ACL surgery.
"I agreed with you," Mbakwe said Wednesday night, shortly after putting up 19 points and 11 boards in the Gophers' road win at Illinois. "I didn't have the consistent athleticism and explosiveness."
The 6-7 Mbakwe, though, has made steady progress -- and the decision by coach Tubby Smith to bring his best player back slowly has been brilliant, for both his physical and emotional well-being. Mbakwe spent much of the early part of the season coming off the bench, but he has started the past four games and has begun to look like the ultra-athletic, reckless player who was among the nation's elite big men when he went down early last season with the knee injury. Mbakwe said he has overcome the mental block and a key recently was shedding the knee brace before the Michigan State game.
"It's been a big difference from the Bahamas to now," he said. "But now I feel 100 percent. I feel amazing."
That's terrific news for the Golden Gophers, who are 15-1 overall and have won their first three games in Big Ten play. Andre Hollins has made a big jump from last season, Rodney Williams has been reliable and guys like Joe Coleman and Austin Hollins have been steady. Minnesota has been efficient on the offensive end, and the Gophers have been terrific on the glass and effective on the defensive end.
"To go on the road and beat a top 10 or 15 team, one that just beat another top 15 team by 15 points, was big for us," Mbakwe said. "We've gotten off to a good start in the Big Ten, but this league is so tough. We've got Indiana and Michigan next, so we know we've got a lot of work to do."
Syracuse not so Fab
Jim Boeheim admitted that Syracuse would have been able to withstand the loss of lottery pick Dion Waiters. The Cuse could have also dealt with the departures of Kris Joseph and Scoop Jardine.
"It's been Fab [Melo]," the Orange coach told me Wednesday night. "That's what's really hurt us."
While Rakeem Christmas put up lofty numbers in Wednesday's win at Providence, the sophomore hasn't had the same kind of impact as the 7-foot Melo -- who gave the team a huge rim protector and an improved offensive player a year ago before his season-ending suspension. Freshman DaJuan Coleman was supposed to give Boeheim & Co. a legitimate offensive presence in the paint, but he can hardly remain on the court as he learns how to pick up the defensive aspect of the game. Baye Moussa Keita brings defense to the table, but he can't score -- and freshman Jerami Grant may be as talented as any front-line player on the team, but Boeheim isn't quite ready to trust him on the court for extended minutes.
"We've got a long way to go," Boeheim said. "I don't like what we're doing and how we're playing. I should understand it because we lost so much, but I can't accept that."
Remember, only two players on this season's roster -- Brandon Triche and C.J. Fair -- logged more than 17 minutes per game a year ago. Starting point guard Michael Carter-Williams is still learning to balance distributing, scoring and leading this team. There really isn't a low-post scoring threat to make life easier on MCW.
Ledo maturing in Providence
I've been tough on Ricky Ledo. The Providence freshman was difficult to watch at times through his prep school and AAU days -- and has had his off-court issues.
But Providence coach Ed Cooley said Ledo earned a 3.2 GPA the first semester and has been the team's best player in practice. That's no surprise. The 6-5½ Ledo is a big-time talent and scorer. The red flags for the Rhode Island native concerned jumping to multiple schools, off-court incidents, being difficult to coach at times and being able to blend in chemistry-wise.
Despite the fact Ledo opted to remain in school rather than try and earn a paycheck overseas after being deemed a partial qualifier by the NCAA (he's allowed to practice), some still wonder whether he'll declare for the 2013 NBA Draft.
"A lot of NBA personnel guys have seen him and they say he'd be drafted really late -- and that it's not worth it," Cooley said. "He can be a top-10 pick."
Agreed -- as long as he continues to mature. Cooley raved about Ledo's basketball IQ, saying he could play some point if needed. But Ledo's most valuable asset is his ability to score -- in a variety of ways.
If Ledo does return next year -- and freshman Kris Dunn progresses from a shoulder injury that sidelined him for the entire preseason -- the Friars could feature one of the most talented backcourts in the country. Throw in shooter Bryce Cotton and a frontcourt of Sidiki Johnson, Kadeem Batts, LaDontae Henton and transfers Carson Desrosiers and Tyler Harris and you have a team that can compete with the majority of the Big East.
But much depends on Ledo.
Gotta feel for Rick Ray
Things were so bad in Starkville that Mississippi State rookie head coach Rick Ray even lost his scout team point guard, a graduate assistant, to a season-ending knee injury.
Ray took over an unenviable situation with the Bulldogs, a team that was in shambles after the departure of just about everyone with a pulse. Then he had the following happen: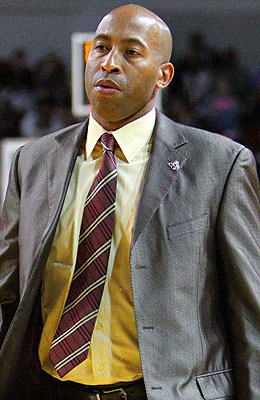 • Starting point guard Jacoby Davis tore his ACL in July.
• Incoming freshman Fred Thomas broke his foot in August and couldn't do anything in the preseason.
• Shaun Smith and Kristers Ziedaks were kicked off the team.
• Freshman guard DeAndre Applewhite tore his ACL in practice in October.
• Starting forward Roquez Johnson suffered a concussion and missed the season opener.
• Leading scorer Jalen Steele broke his wrist in the second game of the season and missed the next eight games.
• Reserve forward Colin Borchert was suspended for the Maui Invitational due to violation of team rules.
• Starting forward Wendell Lewis had surgery after fracturing his patella.
"I've never experienced anything like this," said Ray, a former assistant at Purdue and Clemson. "I've never even heard of anything like this."
That's three season-ending knee injuries, if you're counting -- and all of them occurring in noncontact situations. Mississippi State was embarrassed out in Hawaii when it lost by about 100 to North Carolina, got pounded by 27 to Marquette and then went 0 for 3 after a one-sided setback to Texas. Then came a home setback against Alabama A&M on Dec. 30.
"We were publicly embarrassed," Ray admitted.
Ray was worried. His players (he has seven scholarship guys) worked hard over Christmas break, and he felt as though they were improving. But he was concerned the loss to Alabama A&M would affect their psyche. However, Mississippi State got Ray his first league win Wednesday night in the SEC opener at home against South Carolina.
"We needed it," Ray said. "So the players could understand that the hard work does pay off."
Double dribbles
• Those around Syracuse feel that freshman Jerami Grant can make a Michael Carter-Williams type of jump between his freshman and sophomore season.
• Steve Forbes' Northwest Florida team knocked off the top-ranked junior college team in the nation, Chipola, on Wednesday night and Louisville-bound point guard Chris Jones was terrific once again -- per his head coach. "He's been phenomenal all year," Forbes said. "He's as good as any player I've ever coached." Forbes has coached some good ones: Acie Law and Tobias Harris. Forbes compares Jones to Kemba Walker and Johnny Flynn. "He's got a big chip on his shoulder," he said. "He scores, but he also distributes the ball. He does whatever he has to do to win games."
• Saturday will mark a battle for first place in the CAA when Northeastern travels to Towson. Remember, this is a Towson team that won just a single game last season. Now Pat Skerry has the Tigers at 8-8 and on their first four-game winning streak since 2000. Georgetown transfer Jerrelle Benimon is averaging 17.1 points and 11.7 boards this season and has 10 double-doubles. "I didn't know he'd be this good offensively," Skerry admitted. "He plays hard and is really versatile."
• Illinois State rookie coach Dan Muller suspended senior guard Tyler Brown for conduct detrimental to the team. Brown averaged 20 points and shot 52 percent from the field and 41 percent from 3-point range over the first eight games, but was averaging just 10.6 points while shooting 36 percent from the field and 24 percent from deep over the past eight. Brown was scoreless in 21 minutes against Missouri State -- the team's fourth consecutive loss to open Missouri Valley Conference play.
• Gregg Marshall remains without three starters at Wichita. He told CBSSports.com that he's hopeful star big man Carl Hall (thumb) can come back in the next week or two, while Ron Baker (foot) could remain out until early February -- and Evan Wessel (hand) could wind up taking a medical redshirt.
• Murray State, last year's regular-season Cinderella story, lost to Eastern Kentucky on Wednesday and the Racers will almost certainly need to win the Ohio Valley tourney to get back to the NCAA tournament.
• Patience is needed for UNLV. Dave Rice has a difficult task, though -- to blend in a bunch of talented newcomers, and now he's dealing with bringing Mike Moser back from a serious elbow injury.
• Michigan State transfer Brandan Kearney told CBSSports.com that he's looking at Texas A&M, Arizona State, Temple, Iowa State and Xavier.