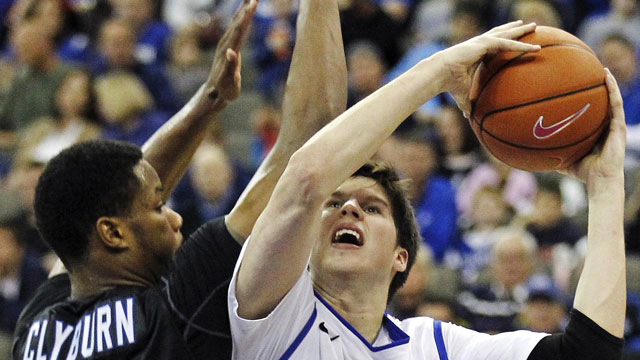 By Jeff Goodman and Gary Parrish | College Basketball Insiders
Duke's Mason Plumlee and Michigan's Trey Burke were subpar this week, leaving the door open for Creighton's Doug McDermott. And with McDermott's shooting eye (51 percent from 3-point range), you don't want to leave anything open. Jeff Goodman and Gary Parrish vault the Bluejays star to the top of the heap.
National Player of the Year Race
Week 7
F | 6-8 | JR | Creighton

While Plumlee and Burke both had subpar weeks, McDermott erupted for 39 points and grabbed 10 boards in a win against Missouri State. He's now averaging 23.6 points and 7.4 rebounds while shooting 57 percent from the field, 51 percent from 3-point range and 87 percent from the line.

G | 6-0 | SOPH | Michigan

Burke struggled in his return home to Columbus, making only 4 of 13 shots and finishing with 15 points and as many turnovers as assists (four) in the loss to Ohio State. Burke has still been sensational, averaging 18 points and 7.1 assists.

PF | 6-10 | SR | Duke

Plumlee's offensive production has slipped, but he's still rebounding and producing at a high rate. He averaged 11.5 points and 12 boards in a pair last week -- a win over Clemson and a loss at N.C. State. He's putting up 17.5 points and 11.4 rebounds per game.

G | 6-0 | JR | Louisville

Smith struggled against South Florida and scored eight points while playing on an injured ankle, but he responded with 23 points in a road win against UConn on Monday night and is averaging 18.9 points for the top-ranked team in the AP and Coaches polls. Smith is also one of the top on-ball defenders in the nation.

C | 7-0 | SR | Kansas

Withey had an off week, going for 12 points, grabbing seven rebounds and one block in a win at Texas Tech, and then had only eight points, six rebounds and three blocks in a victory in Lawrence against Baylor. The defensive-minded 7-footer is averaging 13.1 points, 8.2 boards and 4.7 blocks.

F | 6-8 | FR | UNLV

The Runnin' Rebels freshman had only 12 points and six boards in a loss at New Mexico, but bounced back with 22 points and 16 rebounds in an overtime victory over Air Force. The athletic Canadian is averaging 19.6 points and 9.3 rebounds while shooting 56 percent from the field and 41 percent from beyond the arc.

SG | 6-5 | FR | Kansas

McLemore went bananas in the overtime win against Iowa State, finishing with 33 points on 10-of-12 shooting and making all six of his 3-pointers. He also had 17 points and eight rebounds in a win against Baylor on Monday night. The redshirt freshman is averaging 16.4 points and 5.4 rebounds while shooting 50 percent from the field and 44 percent from 3-point range.

F | 6-7 | JR | Ohio State

Thomas jumps back into the Top 10 after a strong week in which he averaged 21 points and 5.5 rebounds in wins over Michigan and on the road against Purdue. The Buckeyes scorer is putting up 20.3 points and 6.6 boards and is shooting 47 percent from the field, 41 percent from beyond the arc and 79 percent from the free-throw line.

G | 6-6 | SOPH | Syracuse

Carter-Williams had a nice all-around game against Providence with 17 points, six rebounds and six assists -- and then finished with 10 points and seven assists in a win over Villanova. He is averaging 11.9 points, 9.4 assists and 4.9 boards and also ranks among the nation's leaders in steals.

G | 6-5| JR | Indiana

He's been Indiana's best player thus far. Yes, ahead of Cody Zeller. Oladipo is one of the top defensive players in the nation -- and his offensive game has come a long way. Oladipo had 20 points and six boards against Minnesota and is averaging 13.8 points, 5.9 boards and 2.4 steals while shooting 68 percent from the field and 48 percent from 3-point land.
Dropped out: Cody Zeller, Brandon Paul