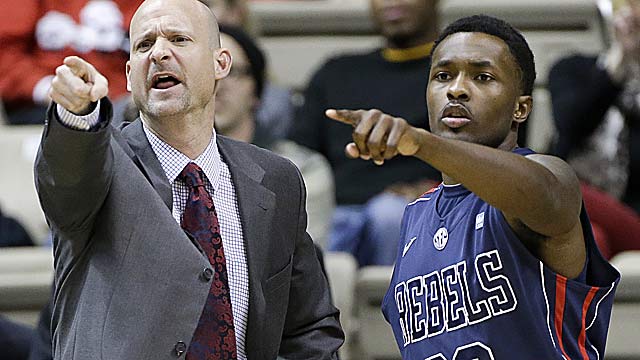 We'll tell you why Andy Kennedy isn't getting ahead of himself, who is the latest to crack the RPI, when Ryan Kelly is expected back on the court and a team that illegally played in two exempt events this year. We'll also give you five coaches whose seat has cooled off a bit with strong starts in this week's edition of Good 'N Plenty.
Andy Kennedy isn't ready to pop the champagne.
Mississippi is off to a 14-2 start after a win at Vanderbilt earlier this week in which Marshall Henderson provided the heroics, but the Rebels head coach vividly recalls his team starting 13-0 and rising all the way to 15th in the national rankings in 2007-08 before the Rebels finished 7-9 in league play and wound up going to the second of what would be five NIT appearances in his six-year tenure.
Good 'N Plenty
Related links
Kennedy knows what's missing from his resume. That NCAA tournament bid.
However, this is a guy who's five wins away from becoming the all-time winningest coach in school history. He's won 139 games in six-plus seasons, which is pretty impressive down in Oxford -- where success hasn't come easy on the court. Kennedy spurned his alma mater this past offseason to remain at Ole Miss, a move that some considered career suicide.
For now, it appears that Kennedy made the right move. He's cautiously optimistic that this could be the year to break through -- and much of the reason comes down to experience and a kid named Marshall Henderson.
If you haven't seen Henderson yet, you need to. He's entertaining. You'll either love him or hate him. He has virtually no conscience in terms of letting the ball fly from just about anywhere (he's averaging more than 10 3-point attempts per game) and when he makes a play, he's going to make sure you know it.
"There's a fine line," Kennedy said about Henderson's. "I want kids to play with passion, and his passion is genuine, but we have to make sure it doesn't turn into emotion that doesn't help him or our team."
Kennedy said that Henderson, who has bounced around a bit (he's been at Utah, Texas Tech and a junior college) and experienced a few off-court issues, has had no issues since arriving in Oxford -- especially off the court. Kennedy, who coached plenty of flammable players back in the day when he was on Bob Huggins' staff at Cincinnati, is still working to make sure Henderson doesn't cross the line when he's on the court. "Once his motor gets going, he has this infectious energy," Kennedy said. "It's important that he channels it properly."
"Marshall Henderson without that edge isn't the Marshall Henderson that leads the SEC in scoring," he added. "He needs that edge, but it has to fuel him in a positive way."
Henderson leads the team in scoring, but the team's most productive player has been Murphy Holloway, a kid who left Ole Miss after two seasons and then opted to return after going home to South Carolina for a year. Holloway is averaging 15.9 points and 10.6 boards this season and has help along the frontline from another veteran, senior Reginald Buckner (10.4 ppg, 8 rpg).
"We had the most experienced and productive frontline in the league coming back," Kennedy said. "It was the most experienced team I've had -- and then you add Marshall Henderson."
Ole Miss has jumped out of the gates before -- and not just in 2008. But the Rebels have never started SEC play with three wins. Kennedy is a veteran now, and isn't getting caught up in the hype. Not yet.
"To be talking about NCAA tournament bids now is crazy," he said. "We've played three of 18 league games. We're not Kentucky of last year with all this talent. We've got to be on our game every time out."
Larranaga cracks the code
Jim Larranaga has cracked the RPI. I'm convinced of it.
His Miami Hurricanes sit at No. 4 in Jerry Palm's latest RPI rankings, despite losses to Florida Gulf Coast, Indiana State and Arizona. Sure, the 'Canes were without Durand Scott for the loss to FGCU and didn't have big man Reggie Johnson for the other two setbacks, but the RPI doesn't factor in injuries.
Miami went on the road, played decent teams in the non-league slate and came away with enough victories. That's the key. Not necessarily elite teams, but enough quality teams (UMass, Central Florida) to give them a significant bump in the RPI. Look back at Larranaga's Final Four team when he was at George Mason. That team finished 15-3 in CAA play, and went 7-4 in non-conference contests. Mason played five true road games (Wake Forest, Manhattan, Georgia State, Mississippi State and Wichita State) and won three of them. The Patriots also played UC Irvine and American on neutral courts, and had Creighton, Radford, Hampton and Holy Cross at home.
Hardly a buzz-saw of a slate, but it was enough to finish 26th in the RPI and earn an at-large bid.
This year the Hurricanes have beaten just one Top 25 team, Michigan State at home, but a collection of solid wins -- including six at true road venues -- is why this Hurricanes team has put itself in quality position to get to the NCAA tournament. When the pieces are whole, and Johnson returns from his broken thumb in three or four weeks, this team will have the look and feel of an NCAA tourney club -- and not just on paper. But without Johnson, these guys struggle to score and rebound -- as was the case in a close win at Boston College on Wednesday night. Johnson doesn't just take up space and provide a dozen or so points and 10 rebounds per game, but his mere presence (teams must double him when he gets the ball in the post) also allows his teammates to get uncontested shots.
Miami is now 4-0 in league play with three of the wins coming on the road against North Carolina, Georgia Tech and BC.
"I'd have been surprised," Miami forward Kenny Kajdi said if he were told the team would win its first four ACC contests without Johnson. "I knew we had a pretty good team, but to go 4-0 with a win at North Carolina."
But this is a veteran team, and most of the players are still searching for the elusive NCAA tourney bid. Kajdi was on a Florida team that went to the Big Dance, but he never played. A year ago, the Hurricanes had a chance -- but were forced to play without DeQuan Jones (who is now in the NBA) for the start of the season and Durand Scott for the final three games of last season.
"With everything that happened last year, I think it just made us work harder this past offseason," Kadji said.
Kelly, Whittington, Southerland all remain in limbo
Duke is a different team without Ryan Kelly. The Blue Devils will likely be without the 6-foot-11 senior for at least another couple weeks, sources told CBSSports.com.
Kelly reaggravated a foot injury, and sat out Duke's road loss to N.C. State this past weekend. His absence changes the Dukies, because Kelly can spread the floor with him ability to shoot the 3. He's also a solid, positional defender who helps Plumlee on the glass. Now Josh Hairston and Amile Jefferson will share Kelly's minutes -- and neither is overly skilled.
Anyway, the word I've gotten on Kelly is that medical personnel are confident he'll return this season, but that a realistic return date is early to mid-February.
Kelly is critical to Duke's Final Four hopes while Greg Whittington may be critical to Georgetown's success for the remainder of the Big East slate. Sure, the Hoyas have beaten St. John's and Providence without Whittington, who is out indefinitely due to academics. However, JT3 needs Whittington (12.1 ppg, 7 rpg) to do any legitimate damage in the league this season.
The Hoyas will need both Markel Starks and Nate Lubick to be more offensive-minded without Whittington, but his absence may be more important on the defensive end of the floor -- where the one 6-foot-8 forward could guard multiple positions.
Whittington's status for the remainder of the season remains in doubt, and he's not the only one in the Big East whose status is up in the air. Syracuse is still waiting on its top shooter, James Southerland. Sources told CBSSports.com that it's an academic issue that has surfaced from last season -- and the school is optimistic it will be resolved. Sources said that when the NCAA went in and investigated the Fab Melo situation last season, an issue with Southerland surfaced.
Cooling off
1. Ben Howland (UCLA): The guy who had gone to three consecutive Final Fours in the mid 2000s was -- and still is -- fighting for his job. The Bruins haven't gone to the NCAA tourney two of the past three seasons and they came out of the gates slow, but are on a nine-game winning streak and are 4-0 in Pac-12 play.
2. Andy Kennedy (Ole Miss): He's won plenty of games in Oxford, but is still searching for that elusive NCAA tournament berth. Kennedy has gone to five NIT's in six seasons, but this could be the year. The Rebels are 14-2 and 3-0 in SEC play.
3. Herb Sendek (Arizona State): Most didn't give him a chance, but we didn't realize that impact that point guard Jahii Carson -- who was ineligible last season -- would have on the program. The Sun Devils, who have finished 10th and 12th in the league the last two seasons, are 14-3 overall and 3-1 in league play.
4. Tubby Smith (Minnesota): When a new athletic director comes in, you never know what's going to happen. The Gophers finished ninth each of the past two seasons, and Smith hasn't gotten the program past the first round of the NCAA tourney since taking over in 2007. However, this team is in the Top 10 after a 15-2 start.
5. Alan Major (Charlotte): When you finish 13th and 11th in your first two seasons, pressure begins to mount. Major, though, has the 49ers out to a 14-2 start and has led the team to wins in each of the first two league contests.
Alcorn State goes double-dipping -- illegally
NCAA rules stipulate that Division 1 teams are only allowed to participate in one exempt even per year.
Alcorn State played in two this year.
Here's the Cliff Notes version of what happened: The school committed to play in the Battle of Atlantis months ago, but tournament organizer Rick Giles paid the $50,000 buyout to get the school into the Gotham Classic. There was only one issue: The school had already inked a contract, as part of the preliminary games of the Battle of Atlantis, with Stanford that had it on the hook for nearly $100,000.
For a while, it was unclear whether the school would play in the Battle of Atlantis or the Gotham Classic. The NCAA told CBSSports.com that the school requested a waiver to compete in a second exempted basketball tournament back in November.
"The request was denied by NCAA staff," NCAA spokesman Christopher Radford told CBSSports.com.
Alcorn State wound up playing in both events, anyway -- and now the school is preparing to take a hit. Alcorn State interim athletic director Dwayne White told CBSSports.com that the Braves will be receiving NCAA sanctions for illegally participating in both tournaments.
"We felt like we had no choice and had to play the game," White said. "And that's what we did."
And now Alcorn will pay a price.
DOUBLE DRIBBLES: Just two winless teams remain: Maryland-Eastern Shore (0-13) and Grambling State (0-15). It's no coincidence that those were two of the final teams to play a home game. Grambling finally hosted a game on Jan. 6 against Southern and Eastern Shore was the last D-1 team to play on its home floor when the Hawks welcomed Norfolk State to Princess Ann, Md, on Jan. 12 ... Steve Alford's kid, Bryce, who is a senior at La Cueva High, had 37 points, 16 assists and 12 rebounds in a game last week. One person who recently saw him even told me that he's further ahead of his father at the same stage. That'll be good news for the Lobos, who will add Bryce Alford for next season. ... I got my first in-person look at Boston College on Wednesday night and was impressed with the young guards. Steve Donahue's Eagles are still missing that one star, though, as Ryan Anderson isn't a go-to guy on an NCAA tournament team. ... Long Beach State is 4-1 since adding transfers Tony Freeland (DePaul) and Keala King (Arizona State). Freeland and King have combined to average nearly 18 points and their presence makes the 49ers the favorites to win the Big West. ... Another mid-major team that deserves some pub is Bryant University. Give Tim O'Shea credit. He won a single game in 2009-10 and won just a pair last season, but the Bulldogs are all alone in first place in the NEC at 4-0. O'Shea added two key pieces this year: Columbia transfer Dyami Starks (17.2 ppg) and his nephew, Joe O'Shea (7.7 ppg), who came in from Holy Cross.