By Jeff Goodman and Jeff Borzello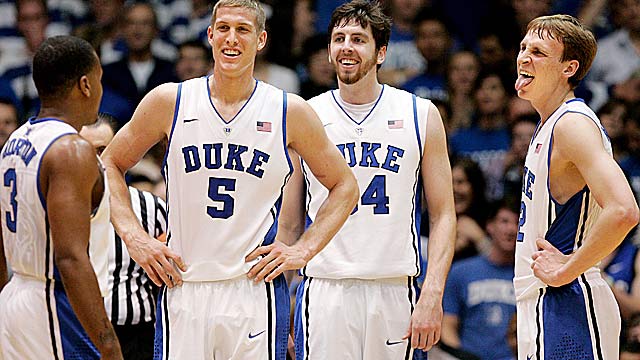 Watching a game, we all think we know the best way to score on Louisville or a couple of strategies to slow down Michigan. But what about the guys who get paid to figure out that stuff -- what do they think?
Over the next eight weeks, CBSSports.com college basketball writers Jeff Goodman and Jeff Borzello will go through the national championship contenders and attempt to answer that question. For each team, we will talk to four or five coaches who played them this season, and get in-depth insight into each title threat. How should you attack Duke? What's Kansas' weakness? What concerns you about Indiana? We'll find answers to that, and much more.
It starts this week with Duke.
Style of play:
"They put constant pressure on you -- both offensively and defensively. They pressure the ball and deny wings. [Mason] Plumlee flies down the floor, they get to the rim and kick it and shoot the 3. But the biggest thing they do is put pressure on you for all 40 minutes."
"They spread the court and shoot a ton of 3s. You've obviously got to worry about Plumlee inside, but the biggest thing with them is stopping them in transition -- the 3's and the run-outs from Plumlee. They also run ball-screens in halfcourt, and a couple of special plays for [Ryan] Kelly."
"It's a lot of four-and-one with Plumlee. They'll run a couple of sets, like [Seth] Curry off a baseline screen. They want to play fast; they want to play in transition, punishing you for bad shots and turnovers. Especially at Duke, when they make a 3, you think the roof is gonna come off. A 3 there is worse than a dunk. When they're sitting there and able to make standing 3s by getting by you and pitching it out, that's how they blow teams out."
"Offensively, they spread you out, use a lot of pick and roll. And they have a dominant inside guy. They look to get out in transition, Cook does a good job of pushing it."
Offensive strength:
"Three-point shooting, but the biggest difference from last year to this year is Plumlee and his development. When [Ryan] Kelly is out there, they have four guys on the floor who can all shoot the 3. They don't turn the ball over."
"Everyone has a role and they do it pretty well. Kelly is a stretch four-man, Curry comes off screens, [Rasheed] Sulaimon drives it and you've always got to worry about Plumlee. They share the ball. You've got to decide what to do with Plumlee, whether to double him or just play him straight up. Personally, we were more worried about the 3s."
"Utilizing shooters. They want to get by you and they don't want to shoot tough 2s. They want to draw help, and find guys that are standing there shooting 3s. Plumlee is down there, cleaning it all up. I left the Duke game thinking he was the best player in the country. There's nothing you can tell your post guys outside of just being as physical as you can be. Just keep hitting him. Wear him out on offense. If you double-team, he just dribbles around it. They want to get easy baskets, convert your turnovers and bad shots. They can go on an 8-0 run in 45 seconds. Offensively, they're not really complicated as far as what they do."
"You've got a guy like Plumlee, so you have to put extra attention on him. And he's good one-on-one in the post. He improved his free-throw percentage. Or they set the screen with Cook, and he heads downhill to dump it off or kick it out."
Key player:
"Plumlee. He's their best player, but he's also the only one that can score in the paint. You have to decide what to do with him. Do you play him straight-up, and not many teams have big men who can do that effectively, or do you double him -- and that leaves one of their shooters open? It's a dilemma."
"They've honestly got a few, but Plumlee is the key one. You have to decide how to play him -- and that changes everything you do."
"Plumlee is the key guy. Everything goes through him. They want him to touch the ball every time down the floor, just to see. Come help, he'll kick it out. Go one-on-one, he'll score. I definitely think Plumlee is their main guy."
"Without a doubt, it's Plumlee. He's a four-year guy. You've got Plumlee who's a senior, Kelly who's a senior, Curry who's a senior. Been through a lot of battles. And it starts with Plumlee."
Primary weakness:
"They don't defensively rebound the ball very well. That's their one weakness. They have Plumlee, but Kelly is a finesse four-man. Teams that are able to match up with them up front physically have a chance to beat them. You have to beat them on the glass."
"Guarding the ball in ball-screens, especially Curry. Cook is a pretty good on-ball defender, but Curry is not. They switch all the time on defense, more than most teams, and you can really take advantage of a guy like Curry in ball-screens. Make him guard the ball."
"I think it's their bench. Their bench didn't scare us at all. Outside of Thornton, who I think is their best defender, I don't think their bench is very good at all. They're only playing to get the starters a rest; they're not playing them to play them. Bench will catch up to them."
"Those guys are used to playing long minutes, so I don't think it's the bench. Their biggest weakness is defensively. They try to hide the fact by taking you out of your offense. They deny, they pressure. But you can break them down."
How to stop them:
"You've got to have a plan on how you're going to guard them. You can't play normal help because they'll shoot you out of the game. It depends on your personnel whether you double Plumlee down in the paint or just play him straight-up. Personally, I'd take my chances with him one-on-one and make sure I don't give their shooters easy looks."
"Stop them in transition. You need to make the decision to get back -- even if that means only sending one or two guys to the boards."
"Make them make tough 2s. We didn't help on anybody. When the bench comes in, you can help off them – but not Thornton. No standing 3s. Can't stand there and shoot a 3. Let him get in there and shoot a tough two, don't let him kick it out. They just pound you. You have a shot at them if they don't make a bunch of 3s. We told our team that Plumlee isn't being stopped. He's gonna get his 18 and 12, just be physical with him. Any chance you get a chance to hit him, hit him. Go duck him in."
"Number one, you have to execute on the offensive end and make them work. If you give them transition opportunities, by taking quick shots or turning the ball over, you have to limit that. Number two, not putting them on the free-throw line. Play Plumlee one-on-one without fouling. Number three, get out on the shooters. Chase them around screens, force them inside the arc."
Best way to score on them:
"You can't turn the ball over. You need to take care of the ball. You can run on them, but you've got to make the easy, simple play. The best way to score on them is to get Plumlee away from the basket, whether it's in a ball-screen or just with a big men who can step out and make mid-range shots. If you get him away from the basket, it's easier to score with Kelly or (Josh) Hairston in the paint."
"You need to make Plumlee defend. Go at him and try to get him in foul trouble. The glaring weakness, though, is Curry on the ball. They switch a lot, and you can also take advantage of Kelly having to defend a ball-screen and ultimately a point guard. He has the length, but it's a mismatch."
"They force you to play one-on-one. They've got long arms. Sulaimon is really good, Cook pressures the ball. You can't spread them out and drive anymore. They make passing very difficult. You've gotta get out there and pass fake. I don't think they're great at defending ball-screens. How you score on them is patience. Be patient as possible in whatever you run. They force into taking quick, rushed shots. It's two points for them on the other end, and that puts more pressure on you. Whatever you do, have patience. Get Plumlee away from the basket. They're not real aggressive down low. You can go small against them."
"You've gotta have guys who can make plays off the dribble, and that causes them a lot of problems. Kelly is good on the ball, but without him in there, you can move them around and drive the ball. Seth Curry isn't a good defender. If you have a really good big man, that would help. You can throw him the ball in the post. The more you move the ball side to side, it breaks the defense down."
Ultimate concern:
"Trying to guard them. They are a much better defensive team than they were last year, but they are a tough team to guard because they have so many weapons. They have a big man who can score with his back to the basket -- and all those shooters. These guys also just have "it." They understand what it takes to win and are used to taking everyone's best shot."
"Three-point shooting. They can really stretch it out and have multiple guys who can make them. If Cook is also making them, you're in trouble."
"Don't let them beat you from 3. I don't feel like stopping Plumlee beats them. Pressure them into driving. Make them beat you by two. If they're getting 70 points, make it off 30 shots and 10 free throws. If they get more than seven or eight 3s, I don't see them losing."
"Transition. Not giving them easy baskets or wide-open 3s. Number two, guarding them inside. Make them play one-on-one."
On improved chemistry:
"You can tell it's much better without Andre Dawkins and Austin Rivers. Rivers didn't want to guard. I'd much rather play last year's team than this year's. It's not even close."
"They've got tough-minded kids and I think Rivers screwed them up some. I don't think he ever bought in. This year everyone has bought in and that's part of the reason why they've been so good. It's not like they have such a dominating team in terms of talent."
"They're pretty intact, especially those top six. Those guys have been together a little bit now. They've been together for three years, most of them. It was different last year. Their chemistry is much, much better. I don't know if it was a focal point in the offseason, but watching last year against Lehigh, it was evident that Rivers was distracting everyone else. It was affecting everyone else in a negative way. I don't see that this year."
"When you've got three seniors who have been around and been through it, that's a huge advantage. They didn't have that last year."
On how it changes without Ryan Kelly:
"I don't think they're a Final Four team without Kelly. They need him back. Most four-men struggle to get to Kelly. He's also tough in ball-screen because if you switch it, he can take guards in the post and score. If you don't switch it, he's difficult to get to. He makes a big difference."
"Without Kelly, you don't have to guard Hairston on the perimeter. It's just one less weapon. You can pack it in because Hairston can't shoot it."
"With Kelly out, he was a big part of our game plan. He's a big guy that can put it on the floor, obviously shoot the ball. The defense might get better, aside from charges. Offensively, with Kelly, he's such a good passer. He's a 6-11 three-man, basically. Causes matchup problems. Their offense will hurt a little bit more. Every time he shoots it, you think it's going in."
"They're going to play different from the sense of that he's a stretch-four. Those other guys can't shoot like him. Hairston can't do that, and Jefferson isn't a shooter. He was such an integral part of what they do."
Leftovers:
"It's either him [Coach K] or John Wooden depending on how you want to evaluate it. No one has had more success than him or Wooden."
"Sulaimon isn't a great shooter - yet. But he guards well beyond his years He defends aggressively and is athletic."
"Be prepared to use your timeouts. You can't let them go on runs. You've gotta keep yourself there. They've got these runs in them. It just won't stop. It can get away from you real quick. Just settle down."
"Jefferson is a three playing the four. Athletically, he can help them. Defend and rebound some, but offensively I don't see him filling that void."