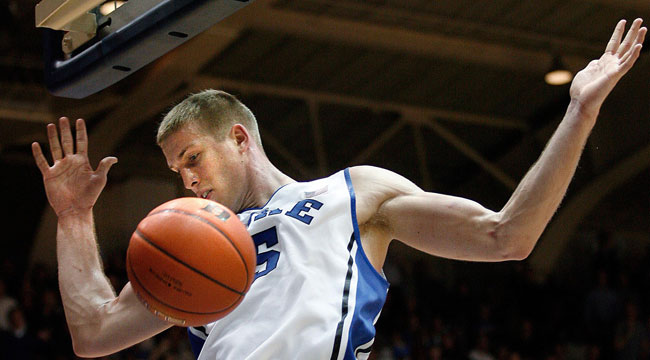 By Jeff Goodman and Gary Parrish | College Basketball Insiders
Doug McDermott continues to produce, but two guys are right on his heels. As we head into the meat of conference play, the National Player of the Year Award is still up for grabs -- with the sweet-shooting McDermott on top.
National Player of the Year Race
Week 8
F | 6-8 | JR | Creighton

Doug McBuckets (yes, we're stealing this nickname) averaged 28 points in a pair of games this past week -- a win against Northern Iowa and a loss at Wichita State. McDermott is averaging 24.1 points and 7.2 rebounds while shooting 53 percent from deep.

G | 6-0 | SOPH | Michigan

Burke went for 18 points and dished out nine assists in a win at Minnesota -- and the sophomore floor leader has the Wolverines at 17-1 while averaging 18 points and 7.2 assists and shooting 40 percent from beyond the arc. He struggled in his return home to Columbus, making just 4-of-13 shots from the field and finishing with 15 points and as many turnovers as assists in the loss to Ohio State.

PF | 6-10 | SR | Duke

Plumlee had yet another double-double, this time with 16 points and 13 boards in a victory over Georgia Tech. The veteran big man is averaging 17.4 points, 11.5 rebounds and is shooting 59 percent from the field this season.

G | 6-0 | JR | Louisville

Smith finished with 25 points and had four steals against Syracuse last weekend, but it wasn't enough as the Cards lost in the final minute. Smith is averaging 19.3 points, 3.4 rebounds, 2.7 assists and 2.4 steals per game and is one of the elite two-way players in the country.

C | 7-0 | SR | Kansas

Withey hadn't been putting up big numbers lately, but the shot-altering and blocking 7-footer had 14 points, nine boards, four assists and three blocks in the win at Texas. Withey's putting up 13.1 points, 8.2 rebounds and 4.6 blocks for the year.

F | 6-7 | JR | Ohio State

Thomas had 28 points and grabbed seven rebounds in the loss at Michigan State, and he shouldn't be penalized for not having enough offensive weapons to help him. Thomas is averaging 20.8 points and 6.6 rebounds.

G | 6-6 | SOPH | Syracuse

Carter-Williams was brutal in the first half against Louisville, but responded when it mattered most -- and finished with 16 points and seven assists in the upset over the No. 1 Cardinals. He had an identical stat line in the home win over Cincinnati on Monday and is averaging 12.1 points and 9.3 assists per game.

SG | 6-5 | FR | Kansas

McLemore had 16 points and six rebounds in the Jayhawks win in Austin, and is averaging 16.4 points and 5.4 boards this season while shooting 44 percent from long distance.

F | 6-8 | FR | UNLV

Bennett had just nine points and two rebounds in the win at San Diego State, and then went for nine points and just six boards in a loss at Colorado State. He's still been terrific this season, averaging 18.5 points and 8.7 rebounds per contest while shooting 40 percent from deep.

C | 7-0 | SOPH | Indiana

After a week out of the Top 10, the Hoosiers big man is back. He averaged 22 points and 11.5 boards in a pair of games this past week and is putting up 17.2 points and 8.2 rebounds per contest this season.
Dropped out: Victor Oladipo