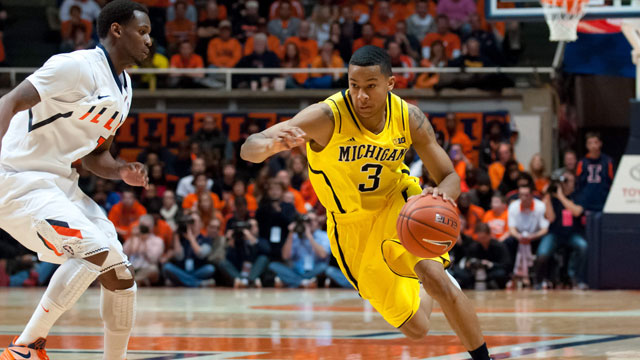 By Jeff Goodman and Gary Parrish | College Basketball Insiders
Trey Burke can't be stopped. Gary Parrish and Jeff Goodman agree that the Michigan guard belongs in the top spot after helping to lift Michigan to No. 1.
National Player of the Year Race
Week 9
G | 6-0 | SOPH | Michigan

He's the best point guard in America -- and there's no debate. His team is No. 1 in the country and he's averaging 17.9 points and 7.1 assists per game. He had 15 points and eight assists in a win against Purdue and then went for 19 points and had five boards and five assists in Sunday's road win against Illinois.

F | 6-8 | JR | Creighton

McBuckets was under the weather in a loss at Drake and finished with 19 points, but responded with 21 points and 10 boards in a win at Southern Illinois on Sunday. He's averaging 23.7 points and 7.2 rebounds per game this season and is shooting 56 percent from the field, 50 percent from 3-point land and 86 percent from the line.

PF | 6-10 | SR | Duke

Plumlee hasn't been at the same level recently compared with this early-season play, especially since Ryan Kelly has been out with the foot injury, but the veteran big man has still been plenty effective. He's averaging 17.4 points and 11.2 rebounds and wound up with 19 points and seven boards in a win against Maryland.

C | 7-0 | SR | Kansas

Withey has been fairly consistent this season. He's a dominating player on the defensive end, and averaged 14 points, eight boards and four blocks in a pair of wins against Oklahoma and West Virginia this past week. He's averaging 13.1 points, 8.3 rebounds and 4.3 blocks for the season.

F | 6-7 | JR | Ohio State

Thomas had an off-game against Penn State with just 11 points, but the Buckeyes didn't really need him. Thomas is averaging 20 points and 6.5 rebounds per game and is shooting 42 percent from deep. He's also the focus of every team's game plan due to the lack of consistent help he has on the offensive end.

G | 6-0 | JR | Louisville

Smith had struggled of late, but responded with 20 points and five rebounds in a win against Pittsburgh that halted the Cardinals three-game losing skid. Russdiculous is still averaging 18.4 points this season and is one of the top perimeter defenders in the country.

G | 6-5 | JR | Indiana

We bounced him out of the Top 10 in favor of his teammate, Cody Zeller, but now he's back after dominating the win against Michigan State. He had 21 points, seven rebounds and six steals. He is arguably the best perimeter defender in the nation -- and has really improved his offensive game.

F | 7-0 | JR | Gonzaga

The big Canadian, who sat out last season, has been the 'Zags best player this season. He's averaging 18.2 points and seven boards this season and is coming off a 26-point, nine-rebound, five-assist performance in a win against BYU.

F | 6-8 | SOPH | Georgetown

Porter was pretty good for the first 13 games, but he's been terrific in the five games since Greg Whittington has been out of the lineup, averaging 19.2 points and 9.8 rebounds. The Hoyas are 4-1 in that span, including wins against Louisville and Notre Dame in the past week. .

SG | 6-5 | FR | Kansas

McLemore had 16 points and six rebounds in the Jayhawks win in Austin, and is averaging 16.4 points and 5.4 boards this season while shooting 44 percent from long distance.
Dropped out: Michael Carter-Williams, Anthony Bennett, Cody Zeller