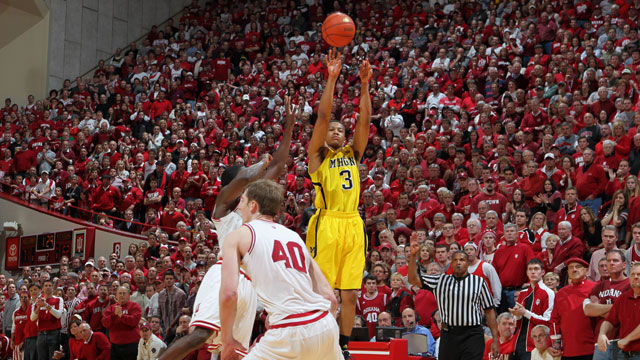 By Jeff Goodman and Gary Parrish | College Basketball Insiders
It's neck-and-neck between two players as we enter the month of February -- and a senior big man isn't far behind the duo. We've also got an Indiana Hoosier making a strong move to get into the conversation. Here's our latest Player of the Year Race update.
National Player of the Year Race
Week 10
G | 6-0 | SOPH | Michigan

Burke couldn't carry the Wolverines to a win in Bloomington, but the nation's top point guard still managed 25 points and eight assists in the loss. He also had 18 points and eight assists in a win over Northwestern and is averaging 18.2 points, 7.2 assists and just 1.9 turnovers per game this season.

F | 6-8 | JR | Creighton

McDermott is feeling better these days after dealing with a stomach bug in the loss against Drake. He averaged 27 points and 8.5 boards in a pair of wins over Bradley and Missouri State and is putting up 24 points, 7.3 rebounds while shooting 57 percent from the field, 51 percent from 3-point range and 87 percent from the line.

PF | 6-10 | SR | Duke

Plumlee went for 32 points and nine rebounds against Wake, and then had eight points and eight boards in a rout over Florida State, a game in which he made all four of his shot attempts. Plumlee is averaging 17.6 points and 10.8 rebounds while shooting 60 percent from the field.

C | 7-0 | SR | Kansas

Withey's impact can't truly be felt by the numbers. He averaged 13 points, 7.5 rebounds and 3.5 blocks this past week in a win at West Virginia and a home loss to Oklahoma State. That's right about at the veteran big man's season average: 13 points, 8.3 rebounds and 4.2 blocks.

G | 6-5 | JR | Indiana

He was terrific in the win against Michigan on the defensive end, and also added 15 points. He also had 17 points in a win over Purdue and is averaging 14 points and 5.8 boards while shooting 51 percent from beyond the arc. His ultimate value, though, comes on the defensive end where he's one of the elite perimeter defenders in the nation.

F | 6-7 | JR | Ohio State

Thomas hasn't come off the floor over the last two games -- wins against Wisconsin and Nebraska. Thomas had 25 in the Badgers' game and finished with 15 in the victory over the Cornhuskers. He's averaging 20 points and 6.2 rebounds per game.

G | 6-0 | JR | Louisville

Smith had been struggling, but averaged 19 points and five rebounds in a pair of wins against Pittsburgh and Marquette to help get the Cards back on track. Smith is averaging 18.4 points per game this season.

C | 7-0 | SOPH | Indiana

Has been in and out of the Top 10 all year long, but he's back after a pair of winning performances against Michigan and Purdue in which he averaged 19 points and 10.5 rebounds. Zeller's averaging 16.3 points and 8.3 boards per contest this season.

F | 7-0 | JR | Gonzaga

The big Canadian averaged 15 points and seven boards in a pair of victories over LMU and San Diego. After redshirting a year ago, he's averaging 17.9 points and seven rebounds per game this season.

F | 6-8 | SOPH | Georgetown

Porter has continued to remain hot. He had 20 against Seton Hall and finished with 11 points and seven rebounds in a win over St. John's. He's averaging 14.8 points and 7.6 boards this season, but has really picked it up of late since Greg Whittington was declared ineligible. .
Dropped out: Ben McLemore