We look at the most disappointing teams and the reasons for their struggles, a player who has given his coach some job security and a mid-major team that could make some noise come March. We also tell you why you shouldn't write off Kansas despite its abysmal loss on Wednesday night.
Bill Self told me a week ago he felt a loss would be beneficial for his team, a wakeup call of sorts for a group that hadn't dropped a game since mid-November. My guess is a pitiful performance at TCU wasn't exactly what he had in mind, especially on the heels of a setback in Lawrence against Oklahoma State.
Self still misses the toughness of Thomas Robinson and Tyshawn Taylor. Desperately.
But let's not write off Self and the Jayhawks. Just about every upper-echelon team has gone through its rough patch this season. Louisville dropped three straight. Duke (sans Ryan Kelly) got plastered in Miami by 27 points. Michigan lost to a one-man Ohio State team in Columbus and needed overtime to take care of the Buckeyes in Ann Arbor. Indiana dropped one in Assembly Hall to Wisconsin and also lost to Butler before a pro-IU crowd over in Indianapolis.
Florida was recently put on a pedestal, many pundits jumping on the bandwagon as the Gators were beating up on crappy SEC teams. Then Billy Donovan's group was pummeled in Fayetteville by an Arkansas team headed for the NIT. Miami is as red-hot as anyone in the country, but this is still a team that lost to Florida Gulf Coast (without Durand Scott) and Indiana State (without Reggie Johnson). Gonzaga lost at home to Illinois and Butler dropped one to Xavier. Creighton dropped one to Drake and the Bluejays were manhandled on Wednesday by Jake Odum and Indiana State.
Diehard college hoops fans are already well aware that this season is as wide open as any in recent memory. There's no dominant team. Just a bunch you can toss into a hat come March. It will come down to health and matchups when the Madness begins in about six weeks.
Self didn't hide from the fact that the loss at TCU was a complete embarrassment. He's right. I'm not sure any team has suffered a loss quite so bad all year long.
It brought the Jayhawks' issues to the forefront -- lack of point-guard play from Elijah Johnson, questionable toughness and no legitimate low-post threat on the offensive end.
But look around. Everyone has warts. Yes, everyone. That's what'll make the NCAA tournament as unpredictable as ever.
Disappointments
What is going on with Bob Huggins in Morgantown? Why does Rick Barnes' Texas team look like a JV squad? We take you around the country with 11 teams that have been disappointing, failing to live up to expectations -- internally or externally -- and the reasons behind those failures.
West Virginia: Huggins' teams don't normally struggle. In fact, Huggs has been to the NCAA tournament in 19 of the past 20 seasons -- the lone exception the one season he spent at Kansas State. But this West Virginia group has been a train wreck. The Mountaineers are 11-11 overall and 4-5 in Big 12 play.
• Talent level: The staff just doesn't have enough talent in the program. Period.
• Perimeter threat: There's really no one who can knock down shots from deep on a consistent basis. I never thought I would say this, but Huggy Bear misses Truck Bryant.
• Aaric Murray: I thought Huggins would be ideal for the La Salle transfer, but the talented forward hasn't lived up to expectations -- and just isn't tough enough to excel at the highest level.
Texas: Rick Barnes won't make the NCAA tournament for the first time in the 15 years he has been in Austin. The Longhorns are 10-12 overall and 2-7 in league play. While the presence of Myck Kabongo would have certainly helped, the Canadian point guard wouldn't have completely altered the fate of this team. There are just too many holes.
• Talent level: There are no Kevin Durants, D.J. Augustins or even Damion Jameses on the roster. Barnes hasn't gotten after it enough on the recruiting trail, and it has begun to catch up with him lately.
• Point guard play: Kabongo is suspended by the NCAA for the first 23 games of the season for not being honest in an investigation. He'll be back soon, but it's too late.
• Inexperience: This is a young team, an extremely young team. In fact, it's a group with all freshmen and sophomores.
• Lack of skilled big men: Freshmen Cameron Ridley and Prince Ibeh give the team size (see: Ridley) and length (see: Ibeh), but minimal skill level. Opposing teams don't have to worry about these guys scoring on the block.
Drexel: Bruiser Flint's team was supposed to win the CAA. Instead, the Dragons are 9-13 overall and 5-5 in a mediocre (at best) league.
• Injuries: Chris Fouch played just three games this season and star Damion Lee has also missed significant time and played at less than 100 percent.
• Lack of low-post presence: These guys miss Samme Givens (11.6 ppg, 7.9 rpg), who graduated a year ago. He gave the team a threat down low -- and also a leader.
• Perimeter shooting: Flint's team is still attempting more than 16 3-pointers per game, but it's only making 34 percent as opposed to 38 percent a year ago. Frantz Massenat shot 45 percent from deep last season and is only making 34 percent of his shots from deep this year.
South Florida: The Bulls shocked just about everyone when they finished with 22 wins a year ago, including a dozen in Big East play, and earned a trip to the NCAA tourney. But the loss of Gus Gilchrist has been critical -- South Florida is just 10-11 overall and 1-8 in conference play.
• Guys playing out of position: A year ago, Victor Rudd played the two and Toarlyn Fitzpatrick was at the four. Now they have shifted as Fitzpatrick is forced to play in the middle and Rudd more up front.
• Rebounding: A year ago, the Bulls consistently outrebounded opponents. This season it's the other way around. They often lose the battle on the glass.
• Scoring: Stan Heath had hoped his version of small-ball would result in more points, but there hasn't been a dramatic increase. South Florida averaged 59.3 points a year ago and the Bulls are putting up 61.3 this season.
• Too many 3's: The team's center, Fitzpatrick, leads the team in 3-point makes (38) and attempts (115). That's usually not a positive.
Southern California: The Trojans were a potential NCAA team, but had a plethora of new faces -- and didn't live up to the hype. Kevin O'Neill was fired about a month ago with a 7-10 overall record and a 2-2 Pac-12 mark. Interim coach Bob Cantu has the team playing better, but the only way these guys go dancing is to win the Pac-12 tourney.
• Nonconference schedule: O'Neill had a completely new team and went overboard with the nonleague slate. It was far too difficult -- and it may have cost him this job.
• K.O.: O'Neill lost games -- and then lost his team. O'Neill is fiery and his players gave up on him.
• Too many chances: O'Neill rolled the dice on too many questionable players. J.T. Terrell of Wake Forest was one who came in with a sketchy background -- and he hasn't lived up to the hype bestowed upon him by O'Neill and the staff.
• Jio: Fordham transfer Jio Fontain has struggled coming off last year's knee injury. He hasn't been a frontline point guard for most of the season.
North Texas: The Mean Green were supposed to run through the Sun Belt. Instead, North Texas is just 8-16 overall and 3-10 in league play. It hasn't been pretty for rookie coach Tony Benford, who took over for Johnny Jones.
• Injuries: Starting point guard Chris Jones is out for the season after playing just 13 games and fellow starter Alzee Williams has also missed time due to injury. However, these guys were struggling even with both of these guys in the lineup.
• Tony Mitchell: He disappears too often and doesn't consistently play hard. One coach in the league said that the one-time projected lottery pick's skill set "hasn't improved much and his motor doesn't run." In one loss against FIU, Mitchell was held scoreless in 32 minutes and only took three shots.
• Need more skill guys: Benford inherited an athletic group, but there is a lack of skill on the team. "These guys don't have much game," one league coach said. "It's just random dudes that don't complement one another."
• Change in leadership: Going from Jones to Benford has taken time. Jones gave the guys more freedom, and this group is still getting adjusted to Benford's approach.
Florida State: The Seminoles were considered a fringe Top 25 team in the preseason despite losing a ton. They brought back an All-American candidate in Michael Snaer, but the Noles are just 13-9 overall and 5-4 in the ACC. An NCAA tournament berth is highly unlikely.
• Can't score: The Noles still can't score. In fact, FSU is scoring even fewer points this season (68.2 ppg) than a year ago (69.8). Snaer is shooting just 41 percent from the field and Ian Miller has struggled this season.
• Defense: It was the reason FSU was a No. 3 seed a year ago and won 25 games. Now it's just mediocre after losing Bernard James and Xavier Gibson up front.
• Lost a ton: The Seminoles did lose a ton from a year ago, including plenty of veteran size up front. James was huge for Leonard Hamilton's team last season.
• Point-guard play: We thought it would be improved with the addition of a couple of freshmen, but it hasn't changed all that much. This team still struggles for offensively efficiency.
North Carolina: The Tar Heels lost four first-rounders from last year, but they still have talent. Roy Williams' team is 16-6, 6-3 in the ACC, but UNC just doesn't look like a team that can do much of anything in March -- and it's still no lock that the Heels even get to the NCAA tournament.
• Point-guard play: Freshman Marcus Paige isn't ready. He needed a year under Kendall Marshall to physically mature and learn, but was thrust into the full-time job when Marshall decided to leave for the NBA after last season.
• Lack of low-post scorer: Williams needs a guy who can score in the post. He has had Tyler Hansbrough and Tyler Zeller of late, but he doesn't have anyone capable of getting buckets in the paint right now. James Michael McAdoo would prefer to face up than play with his back to the basket.
• Leadership: There's just no leader on this team. McAdoo isn't ready, and neither is Reggie Bullock. The veterans, Dexter Strickland and Leslie McDonald, aren't leaders, either.
• Playing too many guys: Williams needs to shorten the rotation. He's playing too many bodies this season, but it has almost been out of necessity due to the fact that the guys he is playing haven't produced enough.
Tennessee: Cuonzo Martin brought back just about everything from last year's team and the expectations in Year 2 of his regime were high. Jeronne Maymon has been out all season, but still -- the Vols should be winning more games and fighting for an NCAA tourney berth rather than a spot in the NIT.
• Point-guard play: Trae Golden hasn't taken a step forward as many anticipated. He has come off the bench at times and has also been injured.
• Perimeter shooting: These guys don't have anyone on the team opposing defenses truly respect beyond the arc. Skylar McBee was supposed to be that guy, but he has been mediocre from long distance.
• Missing Maymon: He decided to redshirt and won't play a single game this season due to a knee injury. Maymon averaged 12.7 points and 8.1 boards a year ago for the Vols.
• Effort and intensity: It's just not there like it was last season. These guys aren't playing with the same focus and intensity they did a year ago -- especially on the defensive end.
Kentucky: Blame my colleague, Gary Parrish, for this one. He wanted to rank UK No. 1 in the preseason. There was plenty of hype with John Calipari's latest freshmen-laden group, but these guys have been slow to mature. They began the season in the top five, but are fighting just to get into the NCAA tourney.
• No playmaker: Ryan Harrow rarely makes anyone better from the point guard position. He can score, but he doesn't make it easier for his teammates -- and this young group needs someone to get them easy, uncontested shots.
• Leadership: There is none. Obviously, Calipari lost everyone of note from last year's team, but none of these freshmen, or the sophomore Harrow, are cut out to lead.
• Defense: Besides Nerlens Noel, these guys are mediocre on the defensive end -- at best. They lack a lock-down wing defender and they don't turn people over on defense, either.
• No low-post scoring: Noel is a defensive force but he's not a threat down low on the offensive end. Ditto for Willie Cauley-Stein.
UNLV: There are excuses. Khem Birch became eligible in mid-December and Mike Moser suffered a significant elbow injury and doesn't look quite right. However, this team has top-10 -- maybe even top-five -- talent. The Runnin' Rebels have underachieved.
• Defense: Most of the guys on this team want to put the ball in the basket instead of getting after it on the defensive end. They take too many possessions off on that end of the floor.
• Pieces don't fit: Moser is more effective at power forward, but the issue is that Dave Rice's top three frontcourt guys are Moser, Anthony Bennett and Khem Birch. These guys are almost too big, especially for the Mountain West.
• Schedule: The league loaded up the Runnin' Rebels with difficult games early. These guys should roll late because they've already played at San Diego State, at New Mexico, at Colorado State and at Boise.
• Too many mouths to feed: Just too many guys who want and need shots.
Zipping along
I'm not writing this because Akron coach Keith Dambrot and the Zips sent me a jersey with my Twitter handle on the back. This is a program and a team that deserves some pub -- as Dambrot and Co. boast the nation's longest current winning streak at 14 games.
Akron is 18-4, 9-0 in MAC play. Two of the four losses came without starters Demetrius Treadwell and Nick Harney in the first and third game of the season against Coastal Carolina and Oklahoma State (in overtime). Both players were forced to sit out due to a clerical error in which neither player received final amateur certification before playing in the 2011-12 season.
"It was a compliance mistake," Dambrot told me Tuesday afternoon on SiriusXM's Inside College Basketball.
Treadwell is the team's second-leading scorer and top rebounder and is coming off a 15-point, 10-rebound performance in a win over Ohio. Harney is fourth on the team in scoring. The star of this Zips team, however, is highly touted and developing big man Zeke Marshall -- averaging 13 points, 6.8 rebounds and 3.6 blocks per game.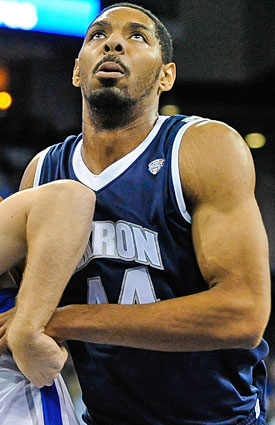 "He's made huge strides," Dambrot said. "He's much better offensively. ... Laterally, he's probably the best big man in the entire country."
Marshall is shooting a staggering 71 percent from the field overall and 76 percent in league contests. Dambrot said he feels that his Zips team, led by the 7-foot Marshall and the 6-foot-7, 225-pound Harney, can win a game or two if it makes it to the NCAA tourney.
"We can be dangerous because of our size," Dambrot said.
Herb's job security
Jahii Carson saved Herb Sendek's job.
Arizona State's redshirt freshman point guard has been sensational this season, leading the team in scoring (18.3) and assists as the Sun Devils are off to a somewhat surprising 17-5 start, with a 6-3 mark in Pac-12 play.
Carson deserves much of the credit after sitting out last season due to academics. But he has hardly done it by himself. Athletic wing Carrick Felix has been terrific. Eric Gordon's brother Evan has been solid. And 7-footer Jordan Bachynski has given the team a shot-blocking and defensive presence in the paint.
"We've had a good year so far," Sendek said. "But we can't let up."
Sendek didn't have a point guard last season with Carson sitting out. You can't win without a quality floor leader, never mind trying to win games without a point guard on your entire roster. Carson has also allowed Sendek and Co. to play faster. A year ago, the Sun Devils were supposedly playing fast -- but they couldn't without someone to push the ball. Carson's speed and Felix's athleticism has made it a reality. Sendek's team is running.
"We're playing as fast as anyone in the league," Sendek said. "Us and Arizona lead the league in scoring."
Sendek is still cautiously optimistic. The second-half schedule is difficult, especially with the final three on the road. Arizona State is not overly deep, and Sendek can't afford Carson or Felix to have an off night. He wants his big man to display more consistency.
"Our margin for error is small," he said. "But that's the case for most teams this year."
Double dribbles
• If Michigan State athletic director Mark Hollis wants to comment on the state of college basketball, I'm fine with it. But Texas AD DeLoss Dodds? Seriously? In all likelihood, Dodds has never been to an AAU basketball game -- and I'm told he rarely even travels on the road with his own hoops program. College hoops does need some tweaking, but Dodds is completely out of touch and should be worrying about getting his football and basketball programs back to an elite level.
• Georgia was a train wreck early in the season, but the Bulldogs have reeled off four straight league wins (the first time in the regular season since 2003) and five of their past six. Kentavious Caldwell-Pope has stepped up and become a legitimate go-to guy. Mark Fox doesn't lose much off this year's team, and Georgia could be a factor in the SEC race next season.
• Loved getting a chance to watch Temple's Khalif Wyatt in person this past weekend. He's not an elite athlete, but he is fearless, thrives in big games and is able to get his shot off despite average athleticism.
• Notre Dame coach Mike Brey said Scott Martin will do some light shooting, but it's still uncertain if and when he'll return to the court for the Irish.
• If Ohio State can get consistent offensive production out of LaQuinton Ross, the Buckeyes become a different team.
• The top defenders in the country? Victor Oladipo and Aaron Craft on the perimeter and Nerlens Noel and Jeff Withey on the interior.
• Who's the most intimidating coach in the country? I'm going with Bob Huggins.