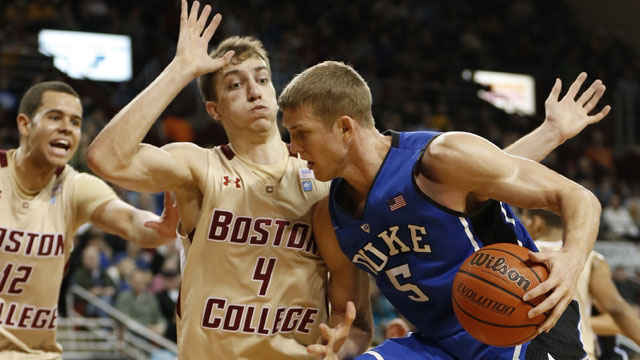 By Jeff Goodman and Gary Parrish | College Basketball Insiders
It's back to a three-horse race after two guys had begun to pull away from the field. A pair of teammates are also making a move while one player made his way back into the fray after a stellar performance on Monday night.
National Player of the Year Race
Week 11
G | 6-0 | SOPH | Michigan

Burke had 19 points and four assists in the overtime loss at Wisconsin and went for 16 points and eight assists in the overtime victory against Ohio State. He had just three total turnovers in the two contests and is averaging 18.2 points, 7.1 assists and less than two turnovers per game this season.

PF | 6-10 | SR | Duke

Plumlee had made his way right back into the mix, with 30 points and nine boards in a win over North Carolina State and 19 points and 10 rebounds in a victory at Boston College. He's averaging 18.2 points and 10.7 boards for the year.

F | 6-8 | JR | Creighton

The Bluejays lost both games this past week -- at Indiana State and against Illinois State at home -- and McDermott averaged 16 points and 9.5 rebounds in the two games. McBuckets is now putting up 23.3 points and 7.5 rebounds while shooting 48 percent from deep.

G | 6-5 | JR | Indiana

His offensive numbers aren't earth-shattering, but he's averaging 14.3 points and 5.8 rebounds and 2.3 steals while shooting 65 percent from the field and 54 percent from beyond the arc. He had 26 points and eight boards in a win at Ohio State on Sunday.

C | 7-0 | SR | Kansas

Withey had 17 points, 10 rebounds and five blocks in the win against Kansas State and is averaging 13.2 points, 8.3 rebounds and 4.1 blocks this season. He's a defensive force and his offensive production has come a long way.

F | 6-7 | JR | Ohio State

Thomas had 26 points and seven boards, but it wasn't enough to take care of Indiana in Columbus. He's averaging 20.1 points and 6.1 rebounds per contest while shooting 40 percent from long distance.

F | 6-8 | SOPH | Georgetown

Porter has been phenomenal the last month or so. He's averaging 15.3 points, 7.9 rebounds, 2.5 assists and nearly two steals per game overall -- and averaged 20 points, 10.5 rebounds and 3.5 assists in a pair of wins this past week. .

C | 7-0 | SOPH | Indiana

The Big Handsome is starting to turn it on. He was 8-of-11 from the field and finished with 24 points and eight boards in the win against Ohio State in Columbus. Zeller's putting up 16.5 points and 8.3 rebounds this season.

G | 6-5 | FR | Kansas

After dropping out of the Player of the Year Race, the Jayhawks scoring wing is back. He went for 30 points, made 6-of-10 shots from beyond the arc and grabbed seven rebounds in a win against rival Kansas State on Monday night. McLemore is averaging 16.8 points and 5.5 rebounds this season while shooting 44 percent from deep.

F | 7-0 | JR | Gonzaga

The big Canadian didn't need to do all that much in wins over LMU and Pepperdine. He had 20 points and six boards in the victory over the Lions and took just three shots and finished with 13 points in the rout over Pepperdine. He's averaging 17.7 points and 6.8 rebounds this season while making 65 percent of his shots.
Dropped out: Russ Smith