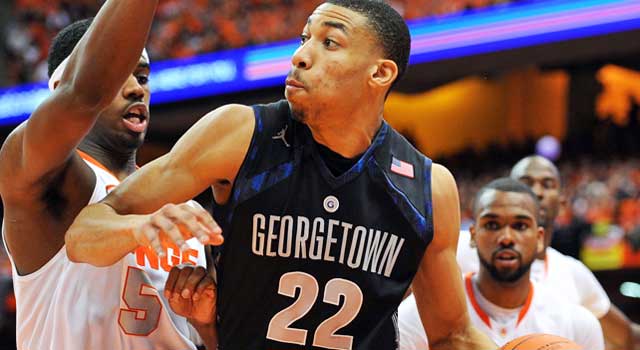 By Jeff Goodman and Gary Parrish | College Basketball Insider
Victor Oladipo has solid numbers, but he's much more than stats. He's the most important player for the No. 1 team. That's why Gary Parrish has the Indiana junior leading the Player of the Year Race.
National Player of the Year Race
Week 13
G | 6-5 | JR | Indiana

The 6-foot-5 junior has emerged as the most important player on the nation's nearly consensus No. 1 team. He's averaging 14.0 points, 6.0 rebounds and 2.4 steals. But those numbers don't begin to measure the impact he has on winning.

G | 6-0 | SOPH | Michigan

The sophomore point guard is averaging 18.9 points and 6.9 assists after his 26-point, eight-assist effort in a weekend victory over Illinois. His field goal, 3-point and free throw percentages are all up from last season, and they were already really good last season.

F | 6-8 | SOPH | Georgetown

The Missouri native has Georgetown on a nine-game winning streak thanks to his 33-point effort at Syracuse over the weekend. He's averaging 18.9 points and 8.2 rebounds since Greg Whittington was sidelined by academics. More important, Porter has Georgetown ranked seventh in the AP poll.

PF | 6-10 | SR | Duke

The 6-foot-10 senior recovered from his poor performance at Maryland by getting 13 points and 12 rebounds against Virginia Tech followed by 19 points and 15 rebounds against Boston College. Consequently, Plumlee is now averaging 17.5 points and 10.7 rebounds for a team that projects as a No. 1 seed.

C | 7-0 | SR | Kansas

The 7-foot senior got 13 points and 10 rebounds in this week's overtime win at Iowa State that helped keep the Jayhawks in play for a top seed in the NCAA tournament. He's now averaging 13.5 points, 8.5 rebounds and 3.8 blocks in 30.7 minutes per game.

F | 7-0 | JR | Gonzaga

The 7-foot junior is the breakout star of college basketball. He's averaging 17.7 points and 7.0 rebounds in just 25.4 minutes per game for a team that's now ranked second in the AP poll. Olynyk is shooting 66.0 percent from the field, 39.1 percent from 3-point range.

C | 7-0 | SOPH | Indiana

The 7-foot sophomore has been overshadowed by the Oladipo narrative, but he's still having a tremendous season. Zeller got 17 points and five rebounds in last week's win over Michigan State. He's now averaging 16.6 points and 8.1 rebounds for the nation's top-ranked team.

F | 6-8 | JR | Creighton

The 6-foot-8 junior's numbers are nice but he's now posting them for an unranked team, and that must be considered. McDermott is just 11 of 29 from the field in his past two games, but he's still averaging 22.4 points and 7.6 rebounds while shooting 54.2 percent from the field.

G | 6-4 | FR | Oklahoma State

The 6-4 guard wasn't good in last week's loss to Kansas. But Smart backed that performance with a 14-point, four-assist effort in a win at West Virginia, and he's now averaging 15.0 points and 5.7 rebounds for a team that wouldn't be anywhere close to the Top 25 without his presence.

F | 6-7 | JR | Ohio State

The only person scoring more points than Burke in the Big Ten is Thomas -- a 6-foot-7 forward who is averaging 19.9 points and 6.1 rebounds. He's reached double-figures every single game this season for a team that's now ranked 16th in the AP poll.
Dropped out: None