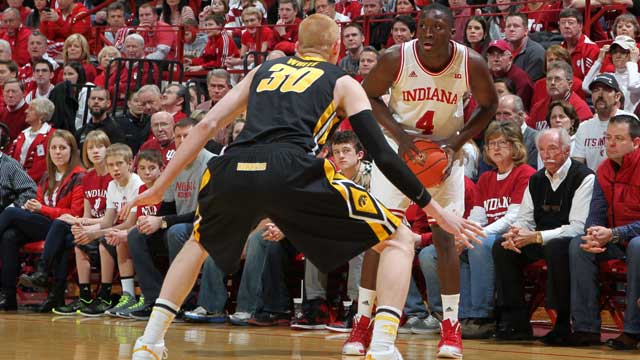 By Jeff Goodman and Gary Parrish | College Basketball Insiders
We're coming down the stretch with the final week of the regular-season for the big boy leagues -- and there's minimal separation between the top three players. This could wind up being the closest Player of the Year Race in recent history.
National Player of the Year Race
Week 14
G | 6-0 | SOPH | Michigan

Burke had 18 points and six assists in a loss at Penn State and went for 21 points, eight assists and five steals in a win Sunday against rival Michigan State. Burke's season numbers: 18.9 points, 6.9 assists while shooting 50 percent from the field and 39 percent from long distance.

G | 6-5 | JR | Indiana

The athletic wing averaged 13 points and 6.5 rebounds in two games last week -- a win over Iowa and a loss on the road against Minnesota. Oladipo is an elite defender and has also come a long way on the offensive end, averaging 14 points for one of the top teams in the nation.

F | 6-8 | SOPH | Georgetown

Porter has been spectacular over the last couple months. He averaged 25 points and 6.5 rebounds in a pair of wins over UConn and Rutgers this past week -- and he's putting up 16.6 points and 7.6 boards this season while leading the Hoyas to a spot atop the Big East.

F | 7-0 | JR | Gonzaga

The big Canadian averaged 17 points in wins against Portland and on the road at BYU. The Zags are No. 1 in the nation -- and Olynyk is the team's star. He's averaging 17.7 points and seven boards while shooting nearly 70 percent from the field.

PF | 6-10 | SR | Duke

Plumlee hasn't been the same player since Ryan Kelly went down, but he was the best player in the nation over the first six or so weeks of the season. Plumlee is still averaging 17.1 points and 10.3 rebounds while shooting 59 percent from the field. He averaged 11 points and six boards in two games -- a win over Miami and a loss at Virginia -- this past week.

F | 6-8 | JR | Creighton

When the Bluejays struggled, McDermott fell in the race. He was sensational this past week, collecting 32 points and 11 boards in a win at Bradley and then, with the league title on the line, he had 41 points in a victory against Wichita State. McDermott was 15 of 18 from the field, 5 of 8 from deep and made all six of his free throws.

C | 7-0 | SR | Kansas

Withey had a double-double (13 points, 10 rebounds) in a win over Iowa and then finished with a near triple-double (14 points, 10 rebounds, nine blocks) in a victory against West Virginia. The veteran big man is averaging 13.6 points, 8.6 rebounds and four blocks.

C | 7-0 | SOPH | Indiana

Zeller hasn't quite lived up to expectations, but he's still collecting 16.5 points and 8.1 rebounds a game. He averaged 15.5 points and 8.5 rebounds this past week in a win over Iowa and a loss at Minnesota.

G | 6-4 | FR | Oklahoma State

Smart was just solid this past week in a pair of wins over Texas and TCU. He averaged 10 points and 5.5 assists, but is stuffing the stat sheet this season, averaging 14.6 points, 5.6 rebounds, 4.3 assists and 2.9 steals. He also possesses all the intangibles that have turned the Cowboys into a top-20 team.

F | 6-7 | JR | Ohio State

Thomas averaged 16.5 points and seven rebounds for the Buckeyes in a pair of victories over Northwestern and Michigan State. He's one of the elite scorers in the country and is averaging 19.8 points.
Dropped out: None