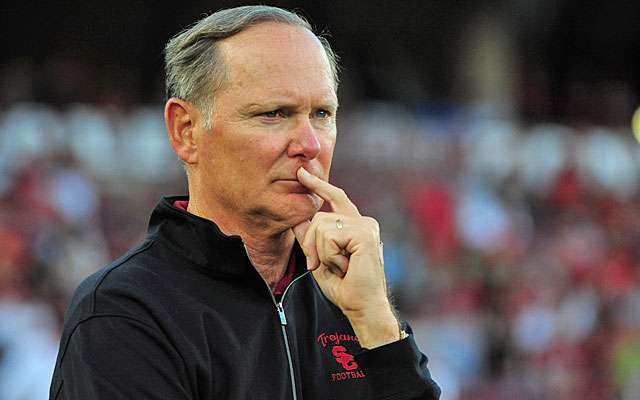 Turns out Pat Haden isn't one of the good guys. He can't be, not if he's talking to Tim Floyd about the Southern California basketball vacancy -- and not if he's talking to Floyd, conducting that job interview, while Tim Floyd is coaching Texas-El Paso. I mean, in the middle of UTEP's season.
A good guy doesn't consider Tim Floyd in the first place. A good guy doesn't interview another team's coach during its season. A good guy doesn't do either. A good guy damn sure doesn't do both.
So this is a disappointing turn of events, given how Haden has conducted himself since he became USC athletic director three years ago. In September I wrote about the difficulty of staying out of trouble for USC, about its tricky location, location, location. And in that story I wrote about Haden, about "knowing, beyond a shadow of a doubt, that USC athletics director Pat Haden is a man of honor, desperate that his alma mater do things the right way."
So I was on board with Haden as recently as September 2012. Hell, I was on board as recently as Tuesday morning, when the new broke that Haden had interviewed Tim Floyd.
But now? The good ship Pat Haden can sail without me if this is who he is, and who he would even consider hiring. I have my reasons:
More on college basketball
Related links
More college hoops coverage
In 2005 Floyd took some unabashed ethical shortcuts after being hired at USC, including package-deal recruiting; signing kids and cutting them loose when a better player came along; and swiping recruits from other programs. A college basketball coach can do one of those things and possibly get a pass. Two of those things? I don't know -- doubtful. Three of them? No way. That's awful.
In 2006 Floyd was flirting with a recruiting "adviser" named Rodney Guillory, who already had helped put USC on probation a few years before Floyd was hired. But Floyd wanted stud recruit O.J. Mayo, and Guillory was "advising" Mayo, so Floyd dealt with Guillory. I called USC to tell them it wouldn't end well. USC ignored me. Major violations ensued.
In 2010 UTEP hired Floyd amid that NCAA probe into USC, Guillory and Mayo. While the NCAA found a "lack of institutional control" within Floyd's USC program it ultimately ruled that Floyd had committed no violations, and maybe he hadn't. Or maybe proof was impossible given the allegation against Floyd, that he had given $1,000 in cash -- untraceable -- to a Mayo associate.
Anyway, that's Tim Floyd in a nutshell. Oh, and so is this: Remember that misguided and eventually discarded NCAA rule hatched about 10 years ago to stop coaches from running off players? It limited basketball programs to five signees in one year, eight in two years. The NCAA called it the "eight-and-five rule," but college coaches called it something else. They called it "the Tim Floyd rule" because Floyd was known at Iowa State to recruit above the 13-scholarship limit and cut the worst ones, months before the school year was to begin.
That's who Pat Haden interviewed for the Southern California job. There is speculation that Haden was giving Floyd a courtesy interview, nothing more, something to appease the USC fan base's lowest common denominator who yearn for the good ol' days when USC basketball didn't have institutional control but did make three straight NCAA tournament appearances. Floyd did that. He did both of those.
Even if this was merely a courtesy interview, what has Tim Floyd done to deserve that courtesy? Does Rodney Guillory get a courtesy interview next? Haden wouldn't talk to me, saying through a spokesman that he wouldn't discuss candidates until he has made a hire. But Tim Floyd told the Los Angeles Times that he interviewed for three hours with Haden about the job. So that happened.
Floyd is a louse for talking to USC in the middle of his season at UTEP -- imagine being a UTEP player the next time Floyd demands their full commitment to the program -- but Floyd has always been a louse. Being a louse is new territory for Pat Haden, and he's better than that.
Or he was.
Haden wasn't on campus even a year when he suspended the football team's best running back, Marc Tyler, for the 2011 opener for something as innocuous as a 36-second video where he told some poorly chosen jokes. Tyler didn't break a law or an NCAA rule, but he embarrassed the Trojans. So Haden suspended him.
Last month Haden fired baseball coach Frank Cruz -- shortly before the season started -- after learning the team had exceeded the allowed number of hours on team activities. That came two months after Haden fired basketball coach Kevin O'Neill in midseason, ostensibly because the program had stagnated, though I hope and even believe he did it because the combustible Kevin O'Neill, whom Haden inherited as AD, was a poor representative of USC sports.
Haden has allowed Lane Kiffin to get away with too much of the usual Lane Kiffin crap, but Haden's hands are tied a bit. It's in the best interests of USC for Kiffin to figure it out, to grow up, and Haden is giving Kiffin the room to do that. I wasn't inclined to look at Kiffin's litany of garbage this past season -- lying about voting his team No. 1 in the preseason coaches poll; the unethical jersey switch USC unleashed against Colorado; the illegal deflated footballs USC used against Oregon, which helped quarterback Matt Barkley throw for 484 yards -- as an indictment of Haden's leadership.
I saw that stuff -- wanted to see it -- as Haden giving Kiffin room to grow, to make his mistakes as a young coach and learn from them.
Only now, in the wake of this Tim Floyd news, I wonder if I should see it differently. Should I see an athletic director willing to tolerate almost anything -- willing to tolerate almost anyone -- to win games? I definitely see an AD willing to put up with Lane Kiffin and court Tim Floyd, and I wonder just how low Pat Haden is willing to go.
Someday if he replaces Lane Kiffin with Bobby Petrino, we'll have an answer.