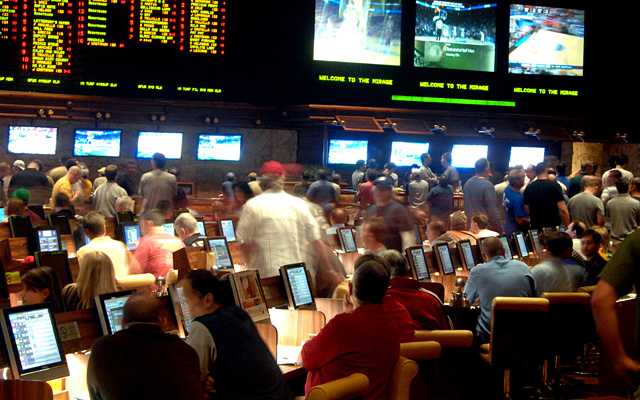 LAS VEGAS -- Bradley Goodwill has waited for this week -- each year -- for eight years. All of it. From the 6 a.m. wakeup call to the screaming drunks to the 12-hour work day.
It is at that point that the opening of the NCAA tournament at the Venetian Race and Sports Book gets really crazy.
"There is just game after game after game starting at 9 in the morning," said Goodwill, a 30-year-old sports book supervisor who started in the industry at 22. "It's a game and a halftime and a game and a halftime and another game starting."
NCAA tournament
Related links
More college hoops coverage
The NCAA tournament in Vegas is one of the worst-kept secrets in the history of road trips. A male dream along the lines of Corvettes, Cuban cigars and Megan Fox. A parallel universe matching courts and Courvoisier, hoops and Hennessy. All those casinos and hotels didn't get built because most people win during these opening four days of the tournament, each a Groundhog Day with betting slips, hovering waitresses and that vague smell of a just-smoked Camel.
Vegas, baby! It is the male ego/libido/culture unhinged.
"It's a totally different crowd, for one," said Mark Goldman, vice president of race sports book operations for Cantor Gaming in Las Vegas. "The Super Bowl brings in the casino-type crowd. March Madness is truly a college basketball enthusiast. I have to be honest with you, we work 16-hour days."
Which means some gamblers are doing the exact same thing.
Beginning Thursday, the city's sports books turn into the biggest, loudest man caves in existence. Sixteen games each during the tournament's opening days Thursday and Friday. Round of 32 games, eight each on Saturday and Sunday. By Sunday night, 48 games will have been played, fortunes lost and won. A guy like Goodwill, a Vegas native, will feel totally fulfilled.
"Five, six in the morning -- all these chairs start to fill up," Goodwill said, gesturing to rows of leather seats. "There are TVs in front of you to watch games, make your bets, check lines. There's never been a time when we haven't sold all those seats."
The irony is that the NCAA and the sports books are going after the same demographic -- 25-45, predominantly male. That's the exact same demo those NCAA corporate sponsors are trying to hit. The sports books, though, have that captive audience readily willing to spend. The market for Shaquille O'Neal hawking Buicks is to be determined.
Vegas got a taste in the past couple of weeks. Sixty-eight teams (men's and women's) played in conference tournaments in Sin City. You might have noticed that number matches the number of teams in the NCAA tournament. It doesn't match with the NCAA's values, but the association has no authority over where conferences hold their tournaments.
"They [NCAA] could come here and play games," said Joe Hohler, a supervisor at the South Point Hotel and Casino sports book. "Why not? They play soccer in London, England. They've had [sports] books there forever. We're watching that stuff. If we had someone put $10,000 on Colorado State while they're here, then something is going on."
It's not that easy. Nevada is one of a handful of states where sports wagering is legal. It is undoubtedly the most fun state. South Point proudly markets itself as the home of 50 college teams over the years. Las Vegas has developed into hoops heaven with those conference tournaments. It's a bit disconcerting, though, to watch a point guard walk through a casino on his way to a game.
"I don't mind them playing here," Hohler said. "The only time I see them [players] is in line at the deli getting food."
As for the other players this week, "People come in, they want to watch the games but they really want to bet on the games," Goodwill said.