FORT MYERS, Fla. -- In terms of atmosphere, it was decidedly business casual.
As the Florida Gulf Coast University men's basketball team wrapped up a Tuesday practice on its home floor at Alico Arena, both players and coaches reveled in the presence of an assembled gaggle of media members and star-struck local fans.
Head coach Andy Enfield spent several minutes of a gathering with reporters discussing his Monday appearance on ESPN Radio, the fact that neither he nor his SID have slept more than a few hours since the weekend and the impression that the Eagles as a group seem somehow unaffected by the tumult.
NCAA tournament
Column

Related links
Video
More college hoops coverage
In fact, it wasn't until a suggestion that a Sweet 16 matchup with in-state elephant Florida resembled a tussle of mismatched-sized siblings that his consistently affable demeanor finally changed.
And at that moment, it was clear no one on the FGCU side of the fight -- regardless of pre-tournament seeding or nationwide street cred -- was willing to simply concede to a smaller kid role.
"Who's the big brother?" he said. "I think we're just as big as them. They have a $110 million athletic budget and I think our budget is about eight or nine million, so I guess from a budget perspective we are a little brother. But from a size and talent perspective, I think we're both equal-sized brothers.
"Our guys are just as talented, they're just as athletic and they're just as good."
Enfield backed up the point with his answer to a follow-up query, which implied that the unlikely tournament run -- identified mostly for its playground zeal and highlight-reel dunks -- hadn't necessarily prepared the Eagles for the brand of defense employed by the Gators and their coach, Billy Donovan.
"They're a top-five team in the nation defensively," he said. "They give up 37 percent from the field and 54 points per game, which is really low. But that's nothing new.
"Georgetown was sixth in the nation, they gave up 55 points. Mercer gives up 56 points a game, they're 12th in the nation. And San Diego State gives up 38 percent from the field. So we've played four straight great defensive teams in our last four games, and we've been able to handle that."
They've also handled the breakneck pace at which off-court activities have recently sped.
"If you know my players' personalities, they don't get really uptight," Enfield said.
"I joked the other day, as soon as we beat San Diego State, that [senior guard] Sherwood Brown texted LeBron James and said, 'If you want to end your winning streak, Heat, come on over and play us when we get off the plane.'
"That was a joke. He didn't really say it, but that's Sherwood's personality."
The 15th-seeded Eagles' 10-point defeat of No. 2 Georgetown ended long after dark Friday night at the Wells Fargo Center in Philadelphia, and it was followed by another late-night shift that resulted in another 10-point FGCU victory against seventh-seeded San Diego State on Sunday.
The Eagles arrived back home between 4 a.m. and 5 a.m. on Monday, and players attended classes on the Fort Myers campus -- referred to by a visitor as looking like "they flew over and dropped a college down between the palm trees" -- before turning out for a pep rally that drew more than 4,000 fans.
"It's been special, being here from Fort Myers," said senior forward Eddie Murray, who attended Bishop Verot Catholic High School, 15 miles from Alico Arena. "I got to see the school come up as a baby. I was around before it even existed."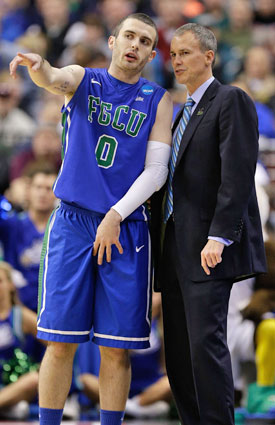 The celebration deepened Southwest Florida's sudden infatuation with the team, which has drawn nationwide attention thanks to the "Dunk City" moniker hung on it by a media member.
"We used to always call ourselves the 'Lob City of Florida,' because they've got Lob City out in LA [with the NBA's Clippers]," Brown said. "One of the media came up with 'Dunk City' and when we heard about it, we just ran with it. We love it. We do some of the most dunking you'll ever see, especially in tournament play."
The recognition has led to rock-star status away from home, too.
"When we were back in Philly, I signed a tennis shoe," sophomore guard Bernard Thompson said. "This kid threw me his tennis shoe, so I signed it. It was a pretty good feeling that someone wanted me to sign his shoes."
They'll leave Wednesday afternoon for Arlington, Texas, have a Thursday practice amid the on-site media appointments there and then face the Gators at Cowboys Stadium on Friday night, after the Kansas-Michigan game.
"They understand to separate the business approach from the fun and enjoyment," Enfield said. "We encourage our players to enjoy the moment and to realize what they're doing and what they've done, but at the same time, we know what we have to do to prepare for the game."
That preparation is the payoff for guard Brett Comer, who wasn't alone in approaching Friday with a chip on his shoulder.
A native of Winter Park, Fla., in the Orlando suburbs, the 6-foot-3 sophomore was off Florida's radar when it came time for recruiting out of high school. In fact, his path crossed Donovan's only when the coach was in pursuit of Comer's teammate, Austin Rivers, who eventually signed with Duke and is now in the NBA with the New Orleans Hornets.
"We would always go to Florida team camp," Comer said. "[Donovan] was always around."
Brown, FGCU's leading scorer at 15.6 points per game and also an Orlando-area native, wasn't widely recruited beyond the Atlantic Sun Conference level. Additionally, Thompson (14.5 ppg) had no significant offers after playing high school ball in Atlanta, and No. 3 scorer Chase Fieler found his way to Fort Myers after growing up in spotlight-free Parkersburg, W.Va.
Even Thompson's family and friends weren't entirely sure where he had wound up.
"They've never heard of it," he said. "They think it's Florida Gulf Coast College, or Florida Gulf Coast Community College, or something like that. But I just let them know it's in Fort Myers, Fla. But now it's 'Dunk City' anyway, so we have to change it up."
Comer is fourth on the team with 8.1 points per game. No. 5 scorer Eric McKnight, a 6-9 forward from Raleigh, N.C., who transferred out of Iowa State after he was barely used in Fred Hoiberg's rotation, averages 6.6 points.
Together, the quintet has made all but four of a possible 180 starts through 36 games for the Eagles, who finished second in the A-Sun's regular season, won the conference tournament title against No. 1 seed Mercer and reached 26-10 overall with the defeats of Georgetown and San Diego State.
"Even the ones of us who aren't from Florida, I'm sure we all wanted to play at UF at one point or another," said Brown, who claimed a third NCAA victory -- coupled with a 63-51 defeat of Miami on Nov. 13 -- would make the Eagles the "kings of the state," at least for 2012-13.
To be sure, Comer said, all the childhood Gator-tinged dreams are ending differently these days.
"Georgetown had a big name, too. They had big-name players," he said. "Nobody knew who any of us were, unless maybe if you saw us play with other guys. We were always known as the Robins. They all had the Batmans. So we're coming out ready to play. We want to give it to them. That motivates you to want to beat these guys."
Though the seeding committee positioned the initial FGCU triumph as a historic upset, Comer insisted he and his teammates believed victory was possible from the moment they saw the game unveiled on Selection Sunday. And it was clearing the first hurdle that has made them believe more is possible.
Maybe even likely.
"[Georgetown] was a matchup in our favor. It was a team that really likes to slow the ball down and doesn't want to get up and down," he said. "I felt like that really helped us. And after we won that game, we have all the confidence. We don't feel like we can lose to anybody. We feel like we can play with everybody. And when you have that and you have nothing to lose, it's scary.
"As much as [Florida wants] to say maybe that they're taking us so seriously, deep down there's got to be a gut feeling that maybe they're not. They are Florida. We are Florida Gulf Coast. A lot of them probably didn't even know who we were. Deep down, they feel like they're going to beat us. If we lose, what happens? If they lose, it's a big deal."