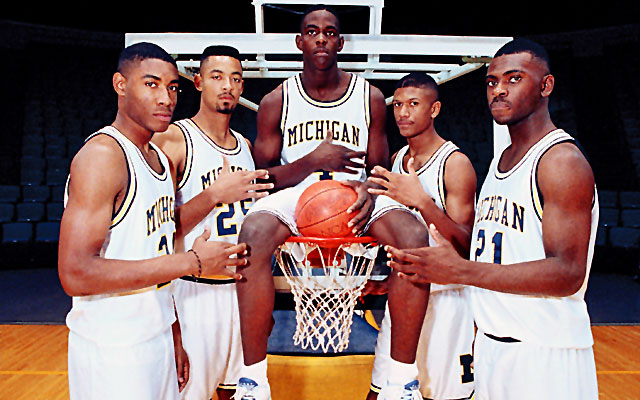 ATLANTA -- Michigan is here, so he had to be here too. He's Michigan. He's the good of Michigan, the bad. And if he wasn't going to be here, then Michigan wasn't going to be here. Not entirely.
Not enough.
Chris Webber had to be here.
And the poor guy, he did it. Swallowed his pride and came to the Georgia Dome to watch Michigan play Louisville for the national championship on Monday night. Even after everything that happened -- everything he has done -- he walked back into the spotlight that hasn't been kind to him, at all, when it's been aimed at his Michigan career.
Chris Webber is no innocent victim. Don't misunderstand the tone here. A series of unfortunate events didn't happen to Chris Webber. He happened to those events. He called that timeout in 1993, and he took that money from Ed Martin, and he pleaded guilty to lying to a grand jury about it.
Chris Webber isn't innocent.
But enough's enough, you know what I mean? Purgatory doesn't have to have a shelf life, not for everyone. There are people who have committed such atrocities that their purgatory will never be enough. I'm not listing names, because that's a cheap emotional tug -- Chris Webber isn't this guy, and he didn't do what that guy did -- but there should be a shelf life on a man's purgatory when what he did, all he did, was make a stupid mistake in the heat of battle.
And that's what Webber did, a few times. That timeout he called in the final seconds of the 1993 title game against North Carolina, when Michigan didn't have a timeout and the call was a technical foul and the Tar Heels escaped with the victory, was ridiculous. And regrettable. And infamous. But that stuff happens, and anyway, 20 years is a long time for Michigan people to hold it against him, if any of them still do, and it's a long time for Webber to hold it against himself, if he still does.
Then there was the lie in court. He wasn't a college kid by then but a grown man of 29. He was old enough to know better, but he messed up. He was asked if Martin, the Michigan booster, had given him money when he was in high school and college, and he said no. He was protecting himself, his image. First the timeout, now this? This shame? He didn't need any more shame, so he lied. It doesn't make him admirable in the slightest, but if you can't have empathy for him in that situation, make an appointment with your cardiologist. Because something's wrong with your heart.
Now then, as for the big one. The actual cheating. The money he took from Ed Martin.
Think this through. For a minute, understand what happened back when Webber started taking money in high school. He was a kid, you know? Not a poor kid, so let's not twist the story. His parents had good jobs, and while they weren't rich, they weren't poor. Webber didn't need Ed Martin's money to put food in his stomach or sneakers on his feet. But he was a high school kid, and a rich man was offering him money.
When you were 16, would you have said no?
Would I? No idea, but I don't like my odds of doing the right thing. Not at age 16.
Adding to it, Webber's father was on the take as well. The whole story was broken by a handful of Detroit sports writers, Mick McCabe of the Free Press among them. McCabe says it's not a stretch to say Webber was following the lead of his father, who McCabe says "couldn't stuff Ed Martin's money in his pockets fast enough."
The father said yes to the money. The son was supposed to say no?
Twenty years, man. Twenty years. It was past time for Michigan and Chris Webber to make amends, but it takes two to make those amends, and Webber hadn't seemed interested. Nobody expected him to show up Monday night. His teammate on the Fab Five, Jalen Rose, has given several interviews over the years -- some as recently as this past week -- lamenting Webber's isolation and saying Webber has disassociated himself from Michigan as much as Michigan has disassociated itself from him.
And that is an important facet of this story, the disassociation. When the NCAA cracked Michigan for the Ed Martin scandal in 2003, one of the sanctions was a 10-year disassociation with Webber. Michigan couldn't employ him, have him on campus in an official role, nothing. They took down the banners his teams won. They put an asterisk next to his name in the record book. To Michigan, starting May 8, 2003, Chris Webber was as good as dead.
The 10 years are up in May. Michigan will be able to associate again with Chris Webber, and Webber with Michigan. But for years he hasn't wanted to, and nobody was sure why. Rose thinks it was the timeout. Others think -- and I think -- it was the Ed Martin scandal. Turns out he was the only member of the Fab Five to get caught taking money from Martin. Was he the only who actually did? Hard to know.
What we do know is Webber's the one who got caught. He's the one who brought down Michigan, brought down those banners, called that timeout. All of it together has shamed him, even 20 years later. And there are Michigan fans, even school president Mary Sue Coleman, who probably want him to feel that shame. Coleman has made it clear the Fab Five's banners should stay down forever.
As for fans, do an Internet search on Webber and the scandal and you'll find things like this recent blog item -- title: "Jalen, please stop begging Chris Webber to reunite with the Fab 5" -- written by Michigan fan (and Pittsburgh radio man) Gregg Henson, who describes Webber as "an ugly person who was clearly brought up wrong."
Webber's reputation clouded this issue. Maybe his personality is relevant, but I don't know because I don't know Webber. But people all over the media room on Monday night had their claws out when the name "Chris Webber" was mentioned on TV or during our pregame dinner. People don't like Webber. They don't trust his motives. Maybe he would stay away because he was embarrassed or hurt -- or because he knew that by staying away he can avoid talking to the media about his Michigan missteps while also being able to be that guy, unique and special, the one Fab Five member who wasn't here.
Therefore, the one we're talking about.
Whatever the case, he showed up Monday night. He's here, as he should be. This is Michigan's finest athletic moment in 20 years -- and for better or worse, Chris Webber is a Michigan man.