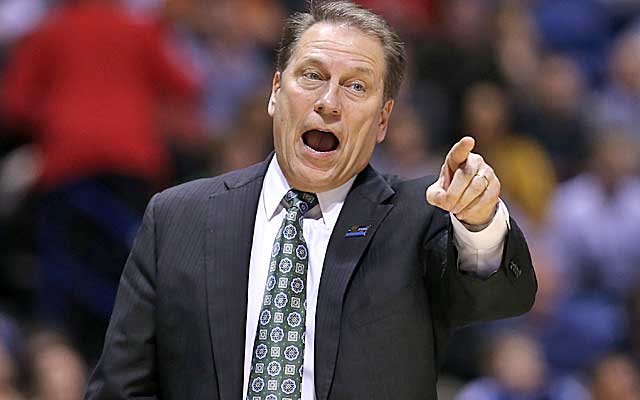 ATLANTA -- This college basketball season ended late Monday here at the Georgia Dome with a thrilling 40 minutes of basketball that led to Louisville's Rick Pitino becoming the first Division I coach in history to win two different titles at two different schools.
But enough of that, already. It's now time to look ahead because it's never too early to look ahead, which is why insiders Gary Parrish and Jeff Goodman have already settled on a Ridiculously Early Preseason Top 25 (and one).
As always, our two insiders did this based on what they know and what they think -- and will adjust later, if necessary.
But for now, here you go ...
Top 25 (and one) for 2013-14
Rank
Team
Vitals
1
Kentucky
Last season: 21-12

Postseason: NIT
Notable players definitely gone: Archie Goodwin, Julius Mays, Ryan Harrow
Others expected to leave: Nerlens Noel
Notable players expected to return: Willie Cauley-Stein, Alex Poythress, Kyle Wiltjer
Notable newcomers: Julius Randle, Dakari Johnson, Aaron Harrison, Andrew Harrison, James Young, Marcus Lee, Derek Willis
2
Michigan State
Last season: 27-9
Postseason: Lost to Duke in the Sweet 16
Notable players definitely gone: Derrick Nix
Others expected to leave: None
Notable players expected to return: Keith Appling, Gary Harris, Adreian Payne, Branden Dawson, Denzel Valentine, Travis Trice, Russell Byrd, Matt Costello, Kenny Kaminski
Notable newcomers: Gavin Schilling
3
Louisville
Last season: 35-5
Postseason: Won National Title
Notable players definitely gone: Peyton Siva, Russ Smith
Others expected to leave: Gorgui Dieng
Notable players expected to return: Chane Behanan, Luke Hancock, Wayne Blackshear, Montrezl Harrell, Kevin Ware, Stephan Van Treese
Notable newcomers: Chris Jones, Anton Gill, Terry Rozier, Akoy Agau
4
Arizona
Last season: 27-8
Postseason: Lost to Ohio State in the Sweet 16
Notable players definitely gone: Mark Lyons, Solomon Hill, Kevin Parrom
Others expected to leave: None
Notable players expected to return: Nick Johnson, Brandon Ashley, Kaleb Tarczewski, Grant Jerrett, Jordin Mayes, Gabe York, Angelo Chol
Notable newcomers: T.J. McConnell (Duquesne), Aaron Gordon, Rondae Jefferson, Elliott Pitts
5
Michigan
Last season: 31-8
Postseason: Lost to Louisville in Title Game
Notable players definitely gone: None
Others expected to leave: Trey Burke, Tim Hardaway Jr.
Notable players expected to return: Nik Stauskas, Glenn Robinson III, Mitch McGary, Jordan Morgan, Jon Horford, Spike Albrecht, Caris LeVert
Notable newcomers: Derrick Walton, Zak Irvin, Mark Donnal
6
Florida
Last season: 29-8
Postseason: Lost to Michigan in the Elite Eight
Notable players definitely gone: Mike Rosario, Erik Murphy, Kenny Boynton
Others expected to leave: None
Notable players expected to return: Patric Young, Scottie Wilbekin, Casey Prather, Michael Frazier, Will Yeguette
Notable newcomers: Chris Walker, Kasey Hill, Damontre Harris (South Carolina), Dorian Finney-Smith (Virginia Tech)
7
Duke
Last season: 30-6
Postseason: Lost to Louisville in the Elite Eight
Notable players definitely gone: Mason Plumlee, Seth Curry, Ryan Kelly
Others expected to leave: None
Notable players expected to return: Rasheed Sulaimon, Quinn Cook, Amile Jefferson, Josh Hairston, Alex Murphy, Tyler Thornton
Notable newcomers: Rodney Hood (Mississippi State), Jabari Parker, Semi Ojeleye, Matt Jones
8
N. Carolina
Last season: 25-11
Postseason: Lost to Kansas in the round of 32
Notable players definitely gone: Dexter Strickland
Others expected to leave: None
Notable players expected to return: P.J. Hairston, James Michael McAdoo, Reggie Bullock, Marcus Paige, Brice Johnson, J.P. Tokoto, Joel James, Desmond Hubert, Leslie McDonald
Notable newcomers: Kennedy Meeks, Nate Britt, Isaiah Hicks
9
Ohio State
Last season: 29-8
Postseason: Lost to Wichita State in the Elite Eight
Notable players definitely gone: Deshaun Thomas, Evan Ravenel
Others expected to leave: None
Notable players expected to return: Aaron Craft, Lenzelle Smith, LaQuinton Ross, Sam Thompson, Shannon Scott, Amir Williams
Notable newcomers: Kameron Williams, Marc Loving
10
Marquette
Last season: 26-9
Postseason: Lost to Syracuse in the Elite Eight
Notable players definitely gone: Junior Cadougan, Trent Lockett, Jake Thomas
Others expected to leave: Chris Otule
Notable players expected to return: Vander Blue, Davante Gardner, Jamil Wilson, Todd Mayo, Juan Anderson, Steve Taylor, Derrick Wilson
Notable newcomers: Jajuan Johnson, Jameel McKay, Duane Wilson, Deonte Burton, John Dawson
11
Syracuse
Last season: 30-10
Postseason: Lost to Michigan in the Final Four
Notable players definitely gone: James Southerland, Brandon Triche
Others expected to leave: Michael Carter-Williams
Notable players expected to return: C.J. Fair, Rakeem Christmas, DaJuan Coleman, Jerami Grant, Baye Moussa Keita, Trevor Cooney
Notable newcomers: Michael Gbinije (Duke), Tyler Ennis, B.J. Johnson, Tyler Roberson, Ron Patterson, Chinonso Obokoh
12
Colorado
Last season: 21-12
Postseason: Lost to Illinois in the round of 64
Notable players definitely gone: Sabatino Chen
Others expected to leave: None
Notable players expected to return: Spencer Dinwiddie, Askia Booker, Andre Roberson, Josh Scott, Xavier Johnson
Notable newcomers: Tre'shaun Fletcher, Dustin Thomas, Jaron Hopkins
13
Wisconsin
Last season: 23-12
Postseason: Lost to Ole Miss in the round of 64
Notable players definitely gone: Jared Berggren, Ryan Evans, Mike Bruesewitz
Others expected to leave: None
Notable players expected to return: Josh Gasser, Ben Brust, Sam Dekker, Traevon Jackson, Frank Kaminsky, George Marshall, Zak Showalter
Notable newcomers: Bronson Koenig, Nigel Hayes, Vitto Brown, Riley Dearring, Jordan Hill
14
VCU
Last season: 27-9
Postseason: Lost to Michigan in the round of 32
Notable players definitely gone: Troy Daniels, Darius Theus
Others expected to leave: None
Notable players expected to return: Treveon Graham, Juvonte Reddic, Rob Brandenberg, Melvin Johnson, Briante Weber
Notable newcomers: Jordan Burgess (sat out), Antravious Simmons, Jairus Lyles, JeQuan Lewis
15
UCLA
Last season: 25-10
Postseason: Lost to Minnesota in the round of 64
Notable players definitely gone: Shabazz Muhammad, Larry Drew III
Others expected to leave: None
Notable players expected to return: Jordan Adams, Kyle Anderson, Travis Wear, David Wear, Norman Powell, Tony Parker
Notable newcomers: Bryce Alford, Zach LaVine, Noah Allen, Allerik Freeman
16
Memphis
Last season: 31-5
Postseason: Lost to Michigan State in the round of 32
Notable players definitely gone: Tarik Black, D.J. Stephens, Adonis Thomas, Ferrakohn Hall, Stan Simpson
Others expected to leave: Antonio Barton
Notable players expected to return: Joe Jackson, Chris Crawford, Geron Johnson, Shaq Goodwin
Notable newcomers: Austin Nichols, Nick King, Kuran Iverson, Markel Crawford, Pookie Powell
17
Gonzaga
Last season: 32-3
Postseason: Lost to Wichita State in the round of 32
Notable players definitely gone: Elias Harris, Guy Landri Edi, Mike Hart
Others expected to leave: Kelly Olynyk
Notable players expected to return: Kevin Pangos, Gary Bell Jr, Sam Dower, Przemek Karnowski, David Stockton, Drew Barham, Kyle Dranginis
Notable newcomers: Ryan Edward, Lucas Meikle, Gerard Coleman (Providence), Angel Nunez (Louisville
18
Tennessee
Last season: 20-13
Postseason: NIT
Notable players definitely gone: Kenny Hall, Skylar McBee
Others expected to leave: None
Notable players expected to return: Jarnell Stokes, Jordan McCrae, Trae Golden, Jeronne Maymon, Josh Richardson, Derek Reese, Armani Moore, Yemi Makanjuola
Notable newcomers: Robert Hubbs, A.J. Davis, Travon Landry, Darius Thompson
19
Notre Dame
Last season: 25-10
Postseason: Lost to Iowa State in the round of 64
Notable players definitely gone: Jack Cooley, Scott Martin
Others expected to leave: None
Notable players expected to return: Jerian Grant, Eric Atkins, Tom Knight, Pat Connaughton, Garrick Sherman, Cameron Biedscheid, Zach Auguste
Notable newcomers: Demetrius Jackson, Steve Vasturia, V.J. Beachem, Austin Torres
20
Kansas
Last season: 31-6
Postseason: Lost to Michigan in the Sweet 16
Notable players definitely gone: Jeff Withey, Elijah Johnson, Travis Releford, Kevin Young
Others expected to leave: Ben McLemore
Notable players expected to return: Perry Ellis, Naadir Tharpe, Jamari Taylor
Notable newcomers: Wayne Selden, Joel Emblid, Conner Frankamp, Brannen Greene, Frank Mason
21
Harvard
Last season: 20-10
Postseason: Lost to Arizona in the round of 32
Notable players definitely gone: Christian Webster
Others expected to leave: None
Notable players expected to return: Kyle Casey, Brandyn Curry, Wesley Saunders, Siyani Chambers, Laurent Rivard, Steve Moundou-Missi, Jonah Travis, Kenyatta Smith, Agunwa Okolie
Notable newcomers: Zena Edosomwan, Hunter Myers
22
Virginia
Last season: 23-12
Postseason: NIT
Notable players definitely gone: Jontel Evans
Others expected to leave: None
Notable players expected to return: Joe Harris, Akil Mitchell, Justin Anderson, Mike Tobey, Evan Nolte, Paul Jesperson, Darion Atkins, Teven Jones, Taylor Barnette
Notable newcomers: London Perrantes, Devon Hall
23
Indiana
Last season: 29-7
Postseason: Lost to Syracuse in the Sweet 16
Notable players definitely gone: Christian Watford, Jordan Hulls
Others expected to leave: Cody Zeller, Victor Oladipo
Notable players expected to return: Will Sheehey, Yogi Ferrell, Remy Abell, Jeremy Hollowell, Maurice Creek, Hanner Mosquera-Perea, Peter Jurkin
Notable newcomers: Noah Vonleh, Troy Williams, Stan Robinson, Luke Fischer, Devin Davis, Collin Hartman
24
Boise State
Last season: 21-11
Postseason: Lost to La Salle in the first round
Notable players definitely gone: Kenny Buckner
Others expected to leave: None
Notable players expected to return: Anthony Drmic, Derrick Marks, Jeff Elorriaga, Mikey Thompson, Ryan Watkins, Igor Hadziomerovic, Thomas Bropleh
Notable newcomers: Darnell Taylor, James Webb, Dezmyn Trent
25
Wichita State
Last season: 30-9
Postseason: Lost to Louisville in the Final Four
Notable players definitely gone: Carl Hall, Malcolm Armstead
Others expected to leave: None
Notable players expected to return: Cleanthony Early, Ron Baker, Fred an Vleet, Nick Wiggins, Evan Wessel, Tekele Cotton, Chadrack Lufile, Ehimen Orukpe
Notable newcomers: D.J. Bowles, Ria'n Holland
26
Florida State
Last season: 18-16
Postseason: NIT
Notable players definitely gone: Michael Snaer
Others expected to leave: None
Notable players expected to return: Okaro White, Terrance Shannon, Devon Bookert, Aaron Thomas, Kiel Turpin, Ian Miller, Terry Whisnant II, Montay Brandon, Robert Gilchrist
Notable newcomers: Jarquez Smith, Xavier Rathan-Mayes, Andrew Wiggins (potentially)