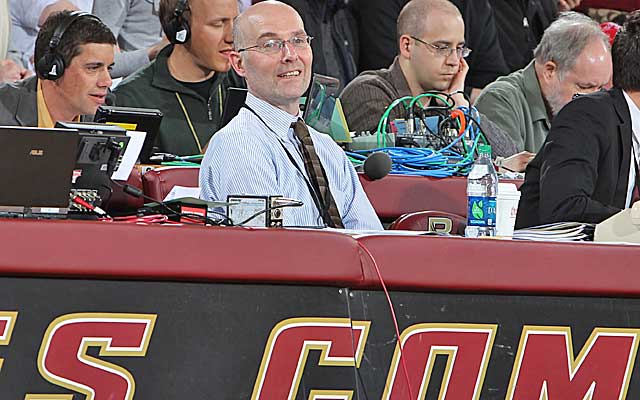 Before you read the story of Dick Kelley, here's a story about Dick Kelley:
He wouldn't talk to me when I first tried to interview him, more than two months ago. That's when Dick Kelley, longtime sports information director at Boston College, was given the annual Most Courageous Award by the U.S. Basketball Writers Association. I wanted to write about him, his award and the story behind it. He wouldn't do it.
I mean, he wasn't going to stop me from writing; he just wasn't going to help me, not yet, because he already had agreed to help somebody else. A writer from Sports Illustrated had asked to write about him first, and when you're as decent as Dick Kelley, that matters. He would be more than happy to help me, he said ... but not until the piece ran in Sports Illustrated.
That was Feb. 22. A month passed, then another, and still the SI story hadn't run. I kept emailing Kelley, asking if we could talk. He kept responding, kept saying we could talk and we would talk -- just not yet. He had to wait.
Even though he's dying.
Even with a terminal disease that was moving way too damn fast, he wanted to wait because he had given his word to another reporter. He could stare down death. What he couldn't face was screwing that other reporter.
That's the story I wanted to tell you about Dick Kelley, before I tell you the story of Dick Kelley.
• • •
Here's another story about Dick Kelley, whose tale will be told here in snippets. Never mind my earlier proclamation about telling you "the" story about him. It takes many stories, big and small, to show who he is. Here's another:
The piece in Sports Illustrated finally ran, on May 1. Do yourself a favor and read it. I read it, then wrote my email to Dick Kelley -- we weren't going to be able to talk by phone, see. He has Amyotrophic lateral sclerosis, also known as ALS. It's the disease that ended Lou Gehrig's streak of 2,130 consecutive games in 1939, then killed him two years later at age 37. We call ALS "Lou Gehrig's disease," a deceptively noble name for a disease so vile.
When ALS first attacks, it attacks patients painlessly but cruelly. It turns off a person's motor neurons, the linking cells the brain uses to tell the muscles what to do. As atrophy sets in, the muscles wither. The brain remains strong, which is the horror of this disease: The person knows exactly what's happening. Eventually he's fully cognizant but completely helpless. Paralyzed.
And then it's no longer painless. Then, ALS starts to wither the muscles around the lungs. Breathing becomes more difficult, day by day. Eventually it becomes impossible. Most ALS patients die of respiratory failure, which is a sterile way of saying they suffocate.
That's the disease that invaded Dick Kelley. He was diagnosed in September 2011 but kept coming to work, even as he could no longer drive, then walk, then stand. His work is behind the scenes, for stagehands but not stars. Since 1991 he has helped connect BC basketball players and coaches to the media. His job is to raise as much attention as possible for BC athletics, while raising none for himself. He loves that tradeoff. And he's as good as it gets.
So the SI story ran May 1. I emailed Dick Kelley that night with a list of questions and privately wondered how long it would take him to get back to me. He's paralyzed, understand. He has wondrous technology that allows him to use his eyes to hunt and peck on the keyboard, but it's a slow, tedious process.
The email was waiting for me the next morning. Hundreds of words, beautifully written. Concise, precise, impeccable -- just like the man himself.
He answered every question I had, some longer than others. Want a short answer? Ask Dick Kelley about himself. Want a longer one? Ask him to talk about someone else. He is who he is. ALS has taken too much from him, but it will never take that.
Oh, and a few minutes after the first email came in, there was another one. This is the story I wanted to tell you. This is what Dick Kelley told me in that second email:
"I wanted to include a note," Kelly wrote. "Let me know if you need anything more. Thank you."
• • •
Here's a video about Dick Kelley, but before I show you the video, here's a story about the video.
It was recorded March 3, the night Boston College played Virginia at Conte Forum. This was the night the USBWA presented Kelley with its Most Courageous Award, and he went to midcourt in his motorized wheelchair to accept it.
The Boston College basketball team went to midcourt with him. They wanted to be there, players and coaches, which is why the ceremony was moved from halftime to just before tipoff: The team wanted to be there with Dick Kelley.
Whether the crowd of 5,062 knew who Kelley was or could just sense that something special -- someone special -- was in their midst, they stood and applauded. And kept applauding. Players were clapping, referees were clapping. For almost two minutes the ovation went on, quite possibly the longest standing ovation in the history of a 26-year-old arena that has seen the best of the Big East and the ACC, and has paid homage to Dana Barros and Bill Curley and Jared Dudley and Troy Bell.
Somewhere along the line, Dick Kelley started crying. Bobby Bonanno, a longtime athletic department employee, leaned over and kissed his bald head. Players stopped clapping only to lay their hands on his shoulders.
Then the game. Right. The game.
Well, it hadn't been a good season for Boston College. The Eagles were 4-11 in ACC play, but freshman guard Joe Rahon hit a 3-pointer in the final seconds to beat Virginia 53-52. The closest spectator to Rahon, if you can believe it, was Dick Kelley -- sitting courtside in his wheelchair, maybe 15 feet away. A few seconds later the game ended and the players returned to Kelley for another hug and to tell him, in different ways, that this victory was for him.
• • •
Here's the story about Dick Kelley I didn't want to write. To now it's been an honor, writing about this loyal, humble, courteous, inspirational man. But now it's time to write about the disease that will kill him.
It started with a pencil.
It was April 2011, and the pencil kept slipping from his fingers. He suspected carpal tunnel syndrome, but when it didn't get better he visited with a BC trainer, then a doctor. The doctor told him it could be ALS. Kelley told me in an email that he knew what ALS was -- "I knew, in general terms, its devastating effect" -- but he learned more. He spent the next several months studying the disease, as his struggles were becoming bigger than holding a pencil.
Kelley was diagnosed that fall with ALS, but he wrote that by then, "I was quite certain that I had ALS before/as I entered the doctor's office that day. ... I was realistic with myself. I strongly suspected what I was going to be told. And, unfortunately, I was correct."
That was September 2011. Boston College responded to Kelley's battle not like an employer, but like family. The school moved Kelley to a house close to campus and arranged for cabs to do all his driving, paying every fare, every tip. When he could no longer walk, co-workers carried him up the stairs to his office.
Kelley now works from home. Nineteen months after his diagnosis, he cannot work at the office anymore. ALS moves fast, and it is relentless.
"The attention I'd require wouldn't be fair to my co-workers," he wrote, though they continue to visit him, bringing meals and friendship to his home near campus. "I honestly believe the love and support I receive, which (mostly) keep my spirits high, positively impacts the way I feel."
There is symmetry in that. Kelley, who grew up in nearby Andover, won a community service award at West Elementary. When he was in the fourth and fifth grade, he often skipped recess to help feed disabled classmates who couldn't feed themselves.
I should have written that Dick Kelley story earlier, dammit.
• • •
Here's the question I apologized to him for asking, but asked anyway: "Do you have any idea how much longer you have to live?"
And here's what Dick Kelley, 48, wrote back in reply: "I've never asked and I've never been told. And I'm not sure they could give me an accurate estimate -- at this stage."
Steve Gleason, a former defensive back of the New Orleans Saints, has ALS. Former NFL linebacker O.J. Brigance, now the director of player development for the Baltimore Ravens, has ALS. Almost 5,000 people in the United States are diagnosed with ALS each year, and in most cases doctors don't know why. Roughly 10 percent acquired ALS through a genetic defect. The other 90 percent? Doctors don't know. They do know that a patient's life expectancy is about three years after diagnosis, but it attacks everyone differently.
Even before he was officially diagnosed, Kelley said he knew enough about ALS to know he wouldn't survive it. But he thinks this disease's days are numbered. And with that, here is the last word on this story, courtesy of a courageous, considerate man:
"I do believe ALS will be defeated," wrote Dick Kelley. "There are a lot of smart and determined people working on it. Trials are ongoing and advances are being made -- very, very slowly. Funding (for drug development) is a stumbling block."
"But I do believe... SOMEDAY."
May is ALS Awareness month. Anyone interested in helping Dick Kelley in his fight with ALS can go to his website for more information.