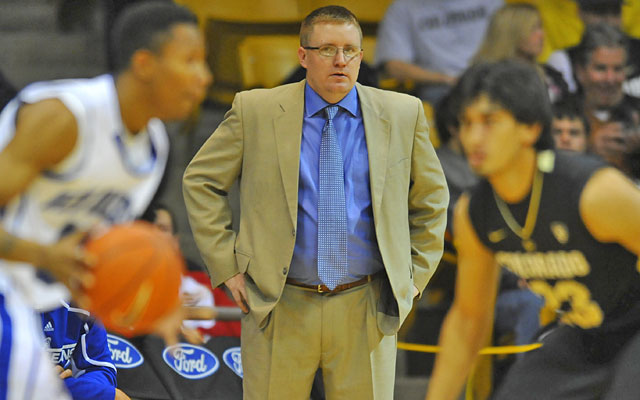 This story starts at Walmart. Don't all American stories? No? Well this one does. It's almost a year ago, July 5 to be precise, and a head basketball coach in Division I is rushing through the aisles of Walmart because he just learned he will be a parent, and that the baby will be delivered in two hours.
The basketball coach is Mark Slessinger, one season into his career at the University of New Orleans, and he and his wife, Toni, are about to become foster parents. That's where this story starts.
Unless I choose to start it here, with a betrayal.
Well, not really a betrayal. Maybe it's a compliment. You judge. All I can tell you is, Mark Slessinger had two requests when I called him, wanting to tell his story. One, he said, please spread the word about the need for foster parents. There are close to 400,000 children in the U.S. foster system, many of them right now needing a home for a few months or maybe more. Tell that, Mark Slessinger asked. And I said yes. Of course.
The other thing he wanted?
"Don't make me and Toni out to be heroes -- neither of us are," he said. "I'm just some regular common dude. I don't want it to be that I'm some savior."
When we hung up, Slessinger probably thought his request would be honored. That this story, which started at Walmart, would not make him and his wife out to be heroes.
Sorry. They are heroes. Foster parents, this small army of selfless soldiers, are heroic. They open their homes and their hearts to children from awful backgrounds, strangers with heartbreaking histories, and they spend weeks or months or maybe a lifetime trying to make it better. It's not a game-winning basket in the final seconds. It's not a conference or national championship.
It's better than that.
• • •
This story ends at Walmart, too. You've got to hang around for it, but in the meantime meet Mark Slessinger. You can see his picture accompanying this story. First of all, he's cooler than that. That's what I told him, within maybe 45 seconds of talking to him: You're cooler than you look. He has the charisma and swagger of a Division I basketball coach, and while savant-types like John Beilein can get away without the swagger, most speak in a way that sounds almost like a strut.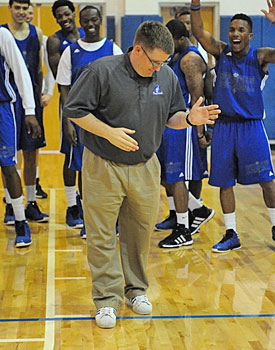 Mark Slessinger has it, and he used it to meet Toni. They were in New Orleans, of all places, although neither was living there at the time. Mark was in town to recruit. Toni was visiting family. They met at the New Orleans airport, at baggage claim. It was July 2005.
Mark said: "Where are you staying? Let me take you out to breakfast tomorrow."
Toni named a downtown hotel.
Mark lied to her: "Great. I'm staying across the street."
They exchanged numbers, but Toni didn't call. By the following morning Mark thought he had missed his chance. He had to be in Dallas the next day, so he got on I-10 and started driving west. He was a few miles down the road when his cell rang.
"She called, and I whipped that baby around quick," Mark said. "That was July 2005. We got married in September 2006."
At the time Mark was an assistant at Northwestern State under Mike McConathy. That was the year the 14th-seeded Demons beat No. 3 Iowa in the NCAA tournament. A few years later New Orleans called, offering Mark Slessinger the coaching job. It was one lifetime dream, achieved. There was another dream still waiting.
Mark and Toni Slessinger were trying to have a baby.
• • •
This story starts at Walmart and ends there -- the ending floored me -- but it's not a story about that. It's a story about faith. Mark Slessinger is one of those men who sprinkles religion into his sentences, casually talking about prayers offered or ministry served or just giggling about a lucky turn of events and saying, "God has a sense of humor, doesn't he?"
Friends in two cities -- at Natchitoches, La., where he worked at Northwestern State, and then at New Orleans after he took the job at UNO -- suggested the Slessingers become foster parents. Everyone wins, they were told. You get the joy of parenting, the child gets rescued from its surroundings, and the birth parents get the space they need to work on their issues. Rehabilitation is the goal of the foster system. Returning the child to its birth parents, once they are ready.
Becoming a foster parent in 2011 made no sense for Mark Slessinger. He was a Division I head coach for the first time. His program was transitioning back to Division I after considering a drop to Division II. This was no time to take on a foster child. Slessinger forged ahead. "God's timing," he called it.
"For me, an absolute workaholic, I can't sit here and say, 'OK, after this year's recruiting class, or after next year's class, I'll have more time,'" he said. "I'm never going to have more time. No. The time is now. Let's do this."
Mark and Toni took 20 hours of classes, did the interviews, got certified as foster parents, and then waited for a phone call -- and a child -- from the state's Department of Children and Family Services (DCFS). Meantime they prepared their house with a bassinette, diapers, formula.
"The bare necessities," Mark said.
The call came July 5. It was a girl, 6½ months old. She had a unique story of heartbreak, as do all foster children. She had a name, but for the sake of privacy she will be called Baby J. The Slessingers said yes to Baby J, and Mark hustled off to Walmart.
After nearly 10 months the Slessingers were told the system had worked, that Baby J's mom was working toward rehabilitation. Soon she would be ready to be reunited with her child.
Then the phone rang again.
• • •
Mark Slessinger has energy like you wouldn't believe. You must, to be a basketball coach in Division I. The recruiting alone is a full-time job, plus the scouting and traveling and practices and games.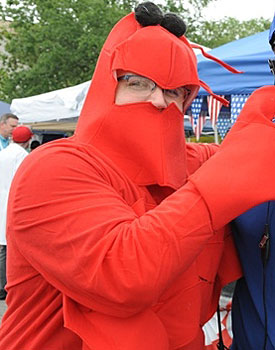 But Slessinger doesn't stop there. When he was at Northwestern State and the women's softball team didn't have a mascot for games, Slessinger found the costume and did it himself. Hot? It was April in Louisiana. The team sprayed him with water between innings.
At UNO, Slessinger is the guy in the crawfish suit for the school's Crawfish Mambo in May. What Division I head coach dresses up as a crustacean? This one does. He's also the guy on the microphone when UNO holds a Special Olympics clinic, introducing each Special Olympian to the crowd with a booming voice and a personal note, because Slessinger knows these kids. He knows everybody in the athletic department, seems like. Coaches. Athletes in other sports. When recruits come for an official visit, they get introduced to the janitors at Lakefront Arena. Slessinger knows each janitor's name. Maybe you say he should. I'm just telling you, he does.
So when the call came last month, Mark and Toni Slessinger were told of a second baby in need of a foster home. A boy this time; we'll call him Baby H. The Slessingers still had Baby J, and will for another month until her birth mom is ready, but this was another child needing a home.
"We got the call and had to give an answer within 15 minutes," Mark said. "That was maybe 3:30 in the afternoon. By the time I got home from workouts at 5:30, [Baby H] was already here. It was a whole new ballgame. We had the one [baby] on a schedule, dialed in, and she was 17 months old. Now we have a 14-month old boy. That really threw the whole thing upside down.
"So I made another Walmart run."
• • •
We're nearing the end of the story, and this story ends at Walmart. But not there. Not yet.
First I have to honor one of Mark Slessinger's requests. The part about not making him and Toni out to be heroes? Sorry. Can't do that. They are what they are, and they're not alone. And that's what Mark wants you to know, that there is a need. Wherever you are, whatever the state, there is a need. If you're interested in learning more about becoming a foster parent, this link is a good place to start. If you're interested in talking to someone about becoming a foster parent, this link has contact information for your state.
Foster children are special, whether they're special or not. Babe Ruth was a foster child. So was Alonzo Mourning. James Dean. Cher. Superman.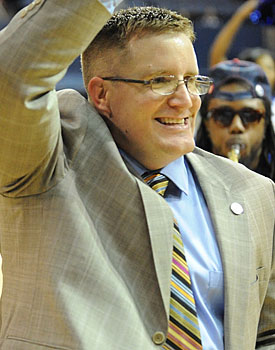 Foster parents are special, too. People whose names you don't know. People whose names you do. The basketball coach at New Orleans is one.
Slessinger's story didn't go public until Monday
when he told it to the
Baton Rouge Advocate
, nearly a year after taking in Baby J. The time was right, Slessinger said, because May is
National Foster Care Awareness Month
and because he's serious about helping more than one foster child. Or two.
Or three, as it turns out.
Again, that story in the Advocate ran Monday. It was a happy story, and a sad one. It talked about the system working, about the Slessingers giving Baby J a home while her birth mom was getting herself together. But it talked about the heartbreak for Mark and Toni Slessinger -- who will lose Baby J. People have asked how they avoid growing attached to a foster child. Answer? They don't. They don't even try.
"If you don't get attached," Mark said, "you're not doing it properly. I've got to get attached or else I'm cheating her."
So the story Monday was one of victory, and one of pending loss. The phone rang all day, people calling Slessinger to talk about his dual life as a basketball coach and foster parent.
And then it rang again.
This time it was the DCFS. They had another child. This one was a "safe haven" baby, meaning it had been dropped off by its mother at a local police or fire department, no questions asked. Just given up by an overwhelmed young woman.
Mark Slessinger picked up the newborn on Tuesday. I called him Wednesday to talk about the first two kids. I didn't know about the third one. Almost nobody knew. When I left a message at UNO for Slessinger I was told he would get back to me within minutes, because that's how he is, but that's not how he was on Wednesday. It took him almost six hours to return my messages, because he had been trying to get ready for his third kid.
"Sorry it took so long," he said. "I was at Walmart."