Kansas State reveling in wild BCS title run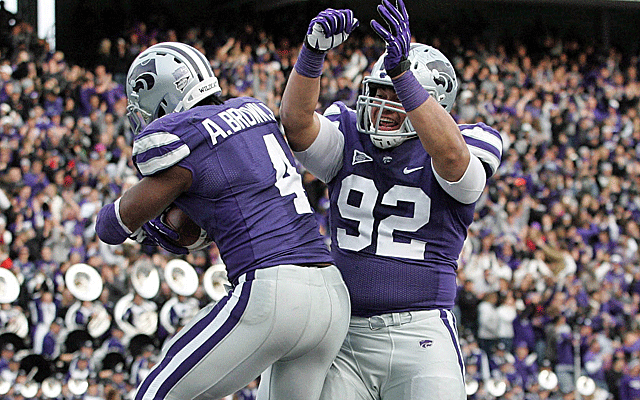 Kansas State is bringing plenty of excitement to Manhattan.
(Getty Images)
MANHATTAN, Kan. -- Nobody's enjoying Kansas State's 8-0 start more than the Wildcats, who could win their second conference title since 1934 with a productive October.
A Big 12 title could be an opening act, depending on what happens in Eugene, Tuscaloosa or South Bend.
Saturday's game with No. 24 Oklahoma State is the first of a four-game slate that sets up favorably for the third-ranked Wildcats' national title run. Beat the Cowboys, and it's TCU-Baylor-Texas standing in the way of 12-0. None of those games is considered major hurdles to a title run, at least not this year. You could argue Alabama (LSU, Texas A&M left on the schedule), Oregon (USC, Stanford, Oregon State) and Notre Dame (USC) have a harder path.
But whatever happens, it's hard to ignore the mojo brewing in Manhattan. Bill Snyder has had some success over the years, but overall this is a program with six bowl wins and a .435 winning percentage historically.
The Ron Prince era ended with a contractual dispute and a 17-20 record. What's happening now is pretty special.
Athletics director John Currie says the fans -- and Snyder -- had this season coming.
"They've supported the university through tough times," Currie said. "They've never stop believing."
The result is a $75-million expansion to the west side of Bill Snyder Family Football Stadium, to be completed in 2013. It's all donor-supported. Hovering over the stadium on Friday were two yellow, at-least-eight-story construction cranes for the job.
The 73-year-old Snyder -- who's under a year-by-year contract that's really a "lifetime" deal, Currie said -- seems to have more energy now than when Currie took the job in 2009. This makes sense, because coaches tend to hit their stride in years three and four.
Kansas State is not a recruiting hotbed and relies heavily on junior college players, which speaks to Currie's point that Snyder is one of the best college football coaches ever, if not the best, at evaluating talent.
Snyder keeps his message pretty simple: follow the 16 principles, and the Wildcats are good to go.
"It's neat to see Bill Snyder's principles being rewarded," Currie said. "The old-fashioned, fundamental approach to football being rewarded in a day and age when someone's always got to come up with something newfangled and cutting edge. We're cutting edge in that we stick to fundamental principles. It's a wonderful validation of life work and life teachings of Bill Snyder."
Now on to the game: The Cowboys' efforts will be futile if they can't decrease a Kansas State rushing attack that averages 229 yards per game. The Wildcats have topped 50 points five times this season.
But OK State can run the ball, too. Joseph Randle leads the Big 12 with 891 yards, ranking ninth nationally. Randle will need to shoulder a hefty workload with backup quarterback Wes Lunt in for the injured J.W. Walsh.
It's tempting to pick the Cowboys, it really is. This one could be close. And Kansas State doesn't overpower teams with talent. I'm just not convinced OSU can keep K-State's defense under 40, and the Wildcats are holding opponents to 3.26 yards per rush.
KANSAS STATE 44, OKLAHOMA STATE 35