Notre Dame vaults from No. 3 to No. 1 in hours after flurry of upsets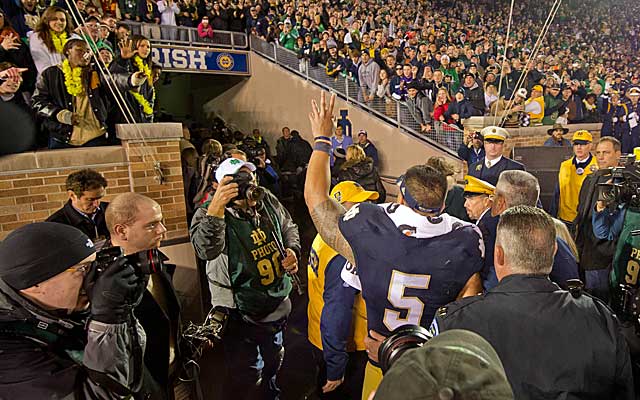 Manti Te'o and the Irish may be heading to even greater heights. (US Presswire)
SOUTH BEND, Ind. -- Notre Dame players and coaches left the locker room early Saturday evening and walked into the cold South Bend air as the No. 3 team in the country.
They went to bed No. 1.
Unlikely takedowns of national Nos. 1 and 2, undefeated Oregon and Kansas State, set the stage for the 11-0 Irish to lead the Bowl Championship Series standings for the first time in school history.
More on Notre Dame's win
Analysis

Related content
A win over reeling USC in the Coliseum next Saturday assures the Irish a spot in the BCS title game, likely against an SEC team. Alabama most likely will slide into the No. 2 spot on Sunday.
And to think in a late-November title race often defined by style points, Notre Dame's 38-0 drubbing of Wake Forest on Saturday wasn't even necessary. Stanford and Baylor made sure of that with momentous wins over the Ducks and Wildcats in prime time.
"I voted them No. 1 in the country for a reason," Notre Dame coach Brian Kelly said of his Irish. "Because I think they are the best team in the country. I think they played like that tonight."
Notre Dame hasn't been atop the AP polls since 1993. And they are getting better.
After weeks of grinding out close games with a steady defense and a shaky passing attack, quarterback Everett Golson exploded on the Demon Deacons for 346 yards and three touchdowns. Twelve of Golson's first 14 completions went for first downs.
The young quarterback who admitted he once didn't know where to find the play clock during practices is now earning respect from teammates and opposing coaches. He's making check-downs at the right times and refining his footwork in the pocket. Wake's outmatched defense enhanced Golson's highlights, but he deserves credit, too.
"I couldn't be more impressed by how accurately he threw the football," Wake Forest coach Jim Grobe said. "He threw a couple of out routes that were money."
The Irish have played loose in tight games all year, surviving a combined four overtimes vs. Stanford and Pitt and winning five games by seven points or fewer.
They haven't yet faced the pressure like Saturday's chance to clinch a BCS title-game berth, and though USC has lost three of its past four, the Trojans are still loaded with talent.
Before the Oregon and K-State outcomes, Kelly didn't sound too worried about his team's readiness.
"With one game left, all their energies are focused on one goal -- and that's USC," Kelly said. "This isn't a group that's played with extra pressure. We'll make sure that they are able to go out and play the game the way it's meant to be played. They've done that all year."