Dallas gaining momentum as 2015 national title site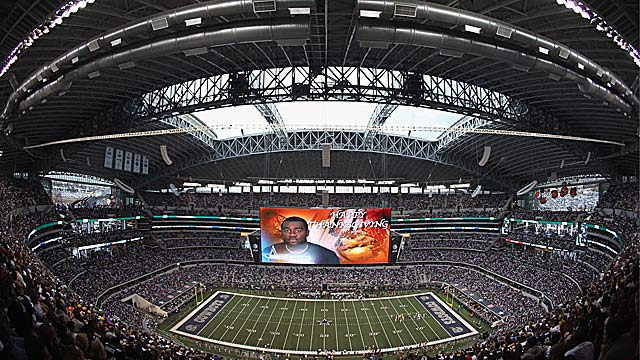 Most expect Cowboys Stadium to host the first championship game of the four-team playoff.
(Getty Images)
Dallas was the runner-up to New Orleans for the SEC/Big 12 "Champions Bowl," but it could be in line for a cushy consolation -- the 2015 national championship game.
Though plans are far from finalized, several high-ranking college football officials say they expect Cowboys Stadium (Cotton Bowl) to host the first championship game of the four-team playoff two seasons from now. Dallas is at least garnering "significant interest" as host, according to sources. At most, one source said, it's only a matter of time until Dallas closes the deal.
BCS executive director Bill Hancock said the site could be selected in the coming months but that it's too early to declare a favorite.
"We haven't begun negotiating with anybody, so it's not fair to say there's a leader in the clubhouse," Hancock said.
Dallas easily has the best venue in Cowboys Stadium, and it also might have the most money to throw at the game.
But other factors will be considered, including stadium location, metropolitan accommodations (hotels, restaurants, etc.) and effective collaboration between the stadium officials and college football officials.
The BCS is finalizing a detailed plan for playoff revenue distribution, which takes precedence, and it also must build a playoff committee. That should happen by the spring.
As for the title game, Phoenix likely won't be considered because it's already hosting the 2015 Super Bowl, according to a source. Turning around a national title game for Jan. 12 at the same time would be difficult.
Miami (Orange Bowl), Atlanta (Chick-Fil-A), New Orleans (Sugar), Houston (Meineke Car Care) and possibly Orlando (Capital One) are in the mix.