Notre Dame AD: I was not leveraged by Brian Kelly's Eagles interview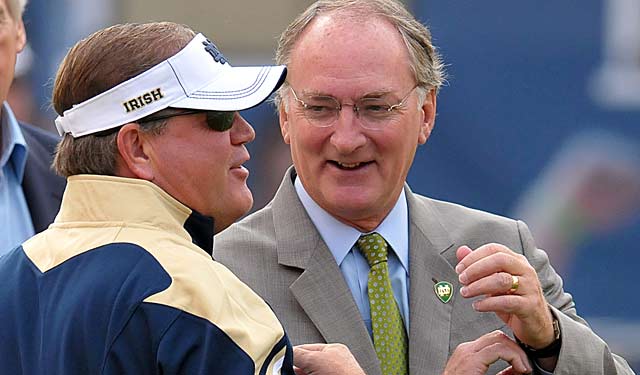 Jack Swarbrick (right) says he was not influenced by the Eagles' pursuit of Kelly. (US Presswire)
Notre Dame coach Brian Kelly didn't push for a raise or an extension during this week's flirtation with the Philadelphia Eagles, athletic director Jack Swarbrick told CBSSports.com on Saturday night.
And he didn't need to -- Swarbrick said he started lobbying for Kelly's reworked contract more than a month ago.
More on Brian Kelly
Related content
The school announced Saturday that Kelly would remain at Notre Dame after interviewing with Philadelphia. Though Kelly and Swarbrick talked throughout the process, Kelly notified the school of his decision early Saturday, before returning to the U.S. from the Bahamas, Swarbrick said. The two sides actually didn't talk much this week because money wasn't an issue and Kelly was fact-finding on his own, Swarbrick said.
Swarbrick suggested Kelly receive a new deal during a post-regular-season meeting in early December. Kelly did not make any financial requests this week, Swarbrick said.
"In every possible way I wasn't being leveraged," Swarbrick said. "I know people think there's a direct connection between the two events, but in our case it felt more routine internally than it did externally."
Swarbrick said the new contract has "more work to do" and won't be done in the next few days or even weeks.
The Eagles called Swarbrick about Kelly shortly after Andy Reid's Dec. 31 firing and well before the Irish's national title game against Alabama on Jan. 7. Swarbrick told the Eagles it was important Kelly not engage in conversations before the game, and the Eagles "understood and agreed. Brian was on board with that."
"In a sense it was great," Swarbrick said. "It made sure we were all on the same page."
Swarbrick said he knew Kelly was considering the job but always figured he'd return. As for whether Kelly will dance with the NFL every year, Swarbrick said maybe his coach's fact-finding process this week factors into his long-term planning.
"He absolutely burns to win a national title at Notre Dame," Swarbrick said.