Virginia Tech, Logan Thomas shake up old model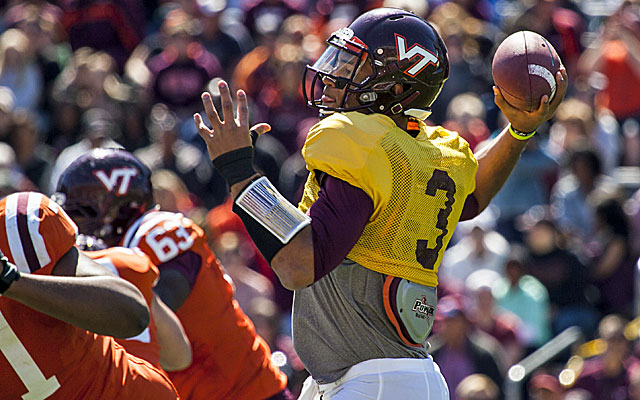 BLACKSBURG, Va. -- Players must wear the same socks on the Virginia Tech practice field, whichever color the equipment manager issues that day.
If a player wears a T-shirt underneath his jersey, that shirt must be completely tucked in.
When traveling to away games, everyone wears the same shirt, shoes, hat and track suit. That suit must be turned in the day after the game.
These details are inconsequential to wins and losses when standing alone. But at Virginia Tech, little details have added up to 216 wins, three Big East titles, four ACC titles and eight straight 10-win seasons under Frank Beamer.
More on Virginia Tech
Related links
More college football coverage
To say Virginia Tech simply lacked toughness during last year's curious 7-6 campaign oversimplifies the Hokies' process by which details blend with talent to create toughness.
But there were times last season when a player came to practice with the wrong socks or got on the team bus without full outfit coordination. Quarterback Logan Thomas saw some teammates doing the "bare minimum" in the weight room or not giving max effort on the practice field.
The small things add up.
"Sometimes if you're not careful, you just kind of assume it's going to happen again," Beamer said about players expecting a ninth 10-win season. "I'm not sure we didn't get caught up a little bit in that. I don't think I prepared our team as well as I needed to."
Beamer also wasn't prepared for the massive weight loss and sleepless nights as a result of Tech's 4-6 start. Beamer started the season at 206 pounds, finished at 166. Simply didn't want to eat. Felt "half-sick" for months, he said. Beamer takes the losses harder now than when he started in 1987 and knew his teams were no good. Now, he has to win.
He's back to 180 this month, trying to bulk up the Hokies in the process with three staff changes on offense.
He has help from his quarterback, too.
"I can promise you there will be no leadership problems or no toughness problems with this team," said Thomas, who eschewed the NFL for the right not to finish his Tech career on 7-6.
Looking for a spark
The reasons for last year's struggles stretch beyond weight-room sessions and matching socks.
The team lacked vocal leadership. Pass protection was an issue. With 16 interceptions and an ACC-low 51.3 completion percentage, Thomas suffered from flawed throwing mechanics that new offensive coordinator Scot Loeffler is working to fix. Thomas missed his go-to receivers from 2011, Danny Coale and Jarrett Boykin. The late-game leads Tech used to protect dissolved in the final minutes.
A team once with a stable of proficient running backs averaged 3.7 yards per rush. Bud Foster's defense still did Bud Foster things, but it wasn't enough.
The Hokies needed the booming voice of the strength coach to avoid the first losing regular season in two decades.
The 4-6 Hokies were down 13-3 to slumping Boston College at the half. Coaches were in their dressing room trying to figure out what the heck just happened.
Apparently, Mike Gentry isn't much of a screamer. So coaches were a little startled when they heard Gentry going off on the team in the locker room.
"My dad sent one of the administrative guys to make sure everything was OK in there," running backs/associate head coach Shane Beamer said.
Everything was great, actually. Tech's 30-23 overtime win sparked a three-game winning streak. Tech used to sleepwalk its way to three straight. But these turned therapeutic.
The locker room at BC was so alive "you would have thought we had won a national championship," Shane Beamer said.
Frank Beamer considers that three-game stretch as gratifying as a 10-win season.
"Instead of pointing fingers and coming apart, I thought we got closer," Beamer said.
Practice shakeup
Last season was about survival. This year is about re-establishment.
Beamer rarely makes reactionary staff changes (he hadn't had to), so moving 11-year coordinator Bryan Stinespring to tight ends coach to make room for Loeffler accentuated the mounting frustration in Blacksburg.
Virginia Tech was a landing strip for Loeffler and offensive line coach Jeff Grimes after Auburn's 3-9 season led to Gene Chizik's firing. New receivers coach Aaron Moorehead was a Stanford graduate assistant last season.
The assignment: Inspire an offense that finished ninth in the ACC in total offense in 2012.
Loeffler has the splashy job of grooming the wildly athletic, 6-foot-6 Thomas, but Grimes' job shouldn't be overlooked: The Hokies' offensive line could be the biggest concern entering fall camp. Several jobs could be open this fall.
A recent brainstorming session among coaches prompted several changes, from practice habits to recruiting to organizational structure.
Loeffler, a former Florida quarterbacks coach, mentioned Urban Meyer's "circle drill," in which two players, without a ball, collide and try to gain leverage. Virginia Tech implemented this in spring ball. Offensive linemen were allowed to chop block for two periods this spring.
Shane Beamer visited an Arizona spring practice and liked how the Wildcats have a stoplight on the field, dictating pace with green, yellow and red signals. Virginia Tech now uses a stoplight.
"A freshness, a new way, isn't a bad thing in this profession," Beamer said. "I don't do something because we did it last year. Find me a better way. You want guys talking to the other coaches, looking at other video, finding better ways to do it."
Thomas is working on it.
The accuracy project
Weight transfer. Body position. Rhythm. Timing.
Thomas heard these words all spring as Loeffler looks to quell Thomas' accuracy concerns.
The coaching staff believes the erratic passing that plagued Thomas last season won't be an issue, that Thomas grasps concepts fast enough to adapt to Loeffler's pro-style offense in one offseason.
Thomas believes this, too. He doesn't want to be known as the gifted athlete without the polish to play the position at the highest levels.
"People who misunderstand me probably see a person who's lazy, who doesn't do anything," Thomas said. "If you see me, I'm always here. I'm always doing something with football until that evening. Don't worry, I get my work in."
Here's what he has learned from that work: When he threw to his left last season, his left foot would follow but the rest of his body still would still face the middle of the field. This wasted movement and caused his arm to overcompensate.
Loeffler has pushed Thomas to completely face his target in motion, Thomas said, where "you can put a pole through you and everything will be on that line."
Transition has been smooth for Thomas, Loeffler said, because the two want perfection just as badly -- especially after going a combined 10-16 last season.
"I've been around those dudes that can translate something, pick it up [snaps fingers]," said Loeffler, who worked with Tom Brady and Chad Henne while a graduate assistant and quarterbacks coach at Michigan. "He's one of those guys. The inadequacies you saw from a technique standpoint, I know we can change. It's not like we're changing a whole throwing motion."
It's easy to forget that Thomas was a highly recruited tight end out of the Lynchburg, Va., prep scene. He grew up dreaming of playing wide receiver in the NFL. The Hokies wanted to see what Thomas could do in a fall camp four years ago.
He's done well enough to draw NFL draft attention three months ago before opting to stay -- in large part, he says -- to leave Virginia Tech in a better place.
Chasing some lofty goal of becoming the greatest ever isn't Thomas' plan, he said.
He wants one thing.
"Make this school proud of me," Thomas said.