Texas AD not for expanding, but admits courting Notre Dame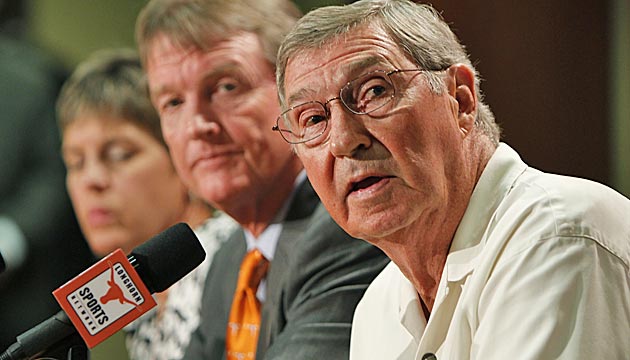 DeLoss Dodds says the Big 12 has been in contact with Notre Dame since 2010. (Getty Images)
PONTE VEDRA BEACH, Fla. --
Texas
athletic director DeLoss Dodds said Tuesday he is fine with a 10-team Big 12 conference, but also admitted the Big 12 has approached Notre Dame about joining the league.
"I don't think it needs to expand," Dodds told CBSSports.com's Dennis Dodd. "It certainly can expand because there will be people that will want to be a part of it. That's another good thing."
Andy Haggard, FSU's Board of Trustees chairman, said recently FSU needs to look into moving to the Big 12. Since then other ACC schools --
Clemson
, Miami and
Virginia Tech
-- have been speculated as possible Big 12 targets along with
Louisville
of the Big East.
"We could expand to some number," Dodds said. "You name the number -- 12, 14, 16. We could expand but the question is 'do we need to expand?' In my mind, 10 is perfect because you play everybody in football and there is a double-round-robin in basketball.
"When we get into whatever system we get in for a championship, I think those coaches that play in a conference championship are going to say 'What in the world are we doing?' "
One expansion target of the Big 12 remains Notre Dame. On Monday,
Notre Dame basketball coach Mike Brey told CBSSports.com
that the
Fighting Irish
have "contingency plans" if they decide to leave the Big East.
Dodds said league representatives have had discussions with
Notre Dame as far back as August 2010 about putting the Irish's Olympic sports in the Big 12
. Notre Dame's Olympic sports have been in the Big East since 1995.
"Notre Dame has options," Dodds said. "I think they love their position. I certainly think they can continue to do what they're doing and do it well and be a major player. But they have options.
"We've talked to Notre Dame about the Big 12 ... They could put some football here [by playing a few non-conference games against Big 12 opponents]."
Dodds also said he would support the conference champion model for the upcoming playoff format "if that's what everybody wants."
"The purist in me says, let's just pick the best four teams," Dodds said. "How do you do that? Well, you just pick the polls and all the computer rankings to sort through it. I can go with conference champions."
Dodds also added that the newly announced "Champions Bowl" between the SEC and Big 12, starting in 2014, formalizes the power of college football's top four conferences along with the Big Ten and Pac-12.
"It absolutely does that," Dodds said. "In terms of what it does for the Big 12, I love what it does for the Big 12. It shows stability. I like the statement it makes. It puts us in the role of being in the top four."