Notre Dame AD confident conference champ playoff model will include Irish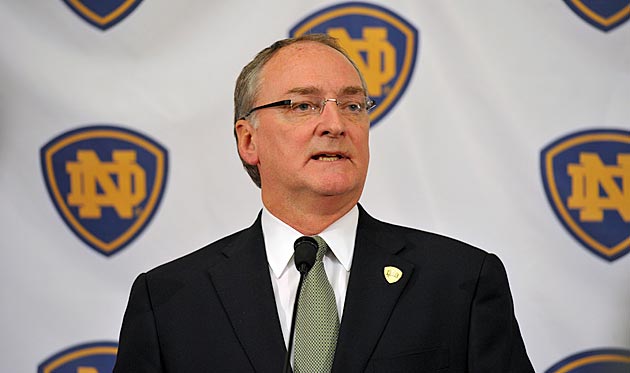 Jack Swarbrick also says Notre Dame intends to stay in the Big East. (US Presswire)
PONTE VEDRA BEACH, Fla. -- Notre Dame athletic director Jack Swarbrick said Wednesday he is confident that whatever playoff model is adopted in 2014 that the Irish will be included as long as the school finishes in the top four.
"I remain confident about every team that makes the top four by whatever method of selection having access to that playoff format," Swarbrick said. "I feel good about that."
The Pac-12, Big Ten and ACC said they support a conference champion playoff model, while the SEC prefers the top four ranked teams to qualify for the playoff. Swarbrick echoed Big Ten commissioner Jim Delany's comments that he believes a final decision on the playoff will be made June 20 in Chicago.
Swarbrick, who had just completed the third day of the Big East's spring meetings at the Ponte Vedra Inn and Club, said Notre Dame has "great confidence" in the Big East and "there is not any reason not to be optimistic" about the Big East's future.
On Tuesday
Texas
athletic director
DeLoss Dodds told CBSSports.com that he has been talking to Notre Dame
about joining the Big 12 since 2010.
"They've been doing it since 2010?" Big East interim commissioner
Joe Bailey
said. "It hasn't worked."
Swarbrick said he thought "a little more was made out of that than warranted" but added he frequently talks to Dodds and other fellow athletic directors.
"It's the nature of the business," Dodds said. "It's fairly routine. The focus tends to be discussions with other athletic directors and not conferences."
Notre Dame basketball coach Mike Brey told CBSSports.com
Monday the Irish have "contingency plans" about joining other leagues if they decided to leave the Big East.
Swarbrick was asked about those contingency plans.
"We've been clear through out one of the important things for us is the resolution of postseason football and what it will look like," Swarbrick said. "That process is coming near to closure. That's an important thing for all of us, but us at Notre Dame in particular and getting a better handle of. We'll see where that goes."
Where conference realignment goes next is unknown. On Wednesday,
TCU
athletic director Chris Del Conte said that "schools like
Florida
State, Miami and
Clemson
are trying to get in the Big 12," RedRaiderSports.com reported.
If the Big 12 decides to add two teams (
Louisville
of the Big East also is a candidate) the Big East could lose one or two more teams -- "big names," Brey said -- to either the Big 12 or ACC.
Would Notre Dame consider another league for its Olympic sports if the Big East lost two more members?
"I'm not sure I'm prepared to buy into the hypothetical," Swarbrick said. "A hypothetical if they lose two more needs to be accompanied by the hypothetical of what two do they add?
"Our operating assumption is we will remain aligned with the Big East. I don't want to create the impression that there's some active evaluation of that going on. As I've said many times, we're sensitive to the changes and monitor them closely.
"As long as we have an appropriate home for our other sports, that's really important to us."
Swarbrick said the Big East has been a pretty good platform for the Irish's Olympic sports.
"Certainly if there's no longer a Big East, we'd have to go somewhere else," Swarbrick said. "If we became concerned with the ongoing stability of the conference, that would be a factor."
Swarbrick said that is not the case. He reiterated he has "great confidence" in future of the Big East.
Still, Swarbrick was asked specifically if Notre Dame would consider the Big 12.
"I'm not going there," he said.
Swarbrick admitted he's close friends with new Big 12 commissioner Bob Bowlsby.
"The conspiracy theories can really start now," he joked.