10 coaches receive dreaded 'Kiss of Dodd' in 2012 Hot Seat Ratings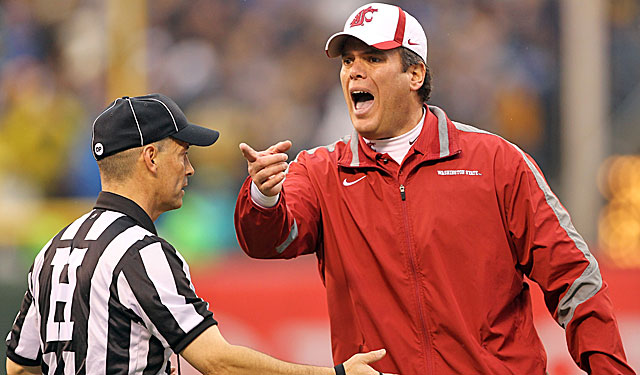 Paul Wulff eluded the 'kiss' for one season, but was gone after the second. (Getty Images)
Kiss of death? I've stumbled onto something even worse for college football coaches: the Kiss of Dodd.

Dennis Dodd, my colleague at CBSSports.com, unveiled his annual Hot Seat Ratings for all 125 FBS coaches today. He rated each coach's job security from 0 (untouchable) to 5 (scorching).


For those who received a 3-rating or lower, congrats. However for the 10 coaches that were rated 4 or higher ... well, good luck this year. In the past four seasons, 75 percent of the coaches that received a 4-rating or higher were fired at the end of the season.
Tennessee's Derek Dooley and Arkansas' John L. Smith head the Hot Seat Ratings, both receiving 5-star Hot Seat scorching ratings.

The remaining eight coaches with 4-ratings or higher: Central Michigan's Dan Enos (4.5), New Mexico State's DeWayne Walker (4.5), Boston College's Frank Spaziani (4), Maryland's Randy Edsall (4), Idaho's Robb Akey (4), UNLV's Bobby Hauck (4), Buffalo's Jeff Quinn (4) and Rice's David Baliff (4).

In the past four seasons, Dodd has given 24 coaches a 4-rating or higher. Of those, 18 of 24 -- or 75 percent -- were fired after the season. Last year, he rated five coaches at 4.0 or higher and, gulp, all five didn't survive.

Of the coaches that receive a dreaded 5-rating, 83 percent did not return the following season. That's not good for Dooley and Smith, only the seventh and eighth coaches to get a 5-rating since 2008.

Of the past 5-star Hot Seat rated coaches -- Washington State's Paul Wulff (2010 and 2011), Michigan's Rich Rodriguez (2010), Colorado's Dan Hawkins (2010), North Texas' Todd Dodge (2010) and Louisville's Steve Kragthorpe (2009) -- only Wulff survived in 2010. But Dodd promptly gave Wulff another 5-rating in 2011 that sealed Wulff's fate at Washington State.

A look at coaches that have received a Hot Seat Rating of 4 or higher:

2011 Hot Seat Rating
Gone after season
5 rating: Paul Wulff, Washington State
4.5 rating: Mike Locksley, New Mexico
4 rating: Rick Neuheisel, UCLA
4 rating: Bob Toledo, Tulane
4 rating: Ron Zook, Illinois
Survived
None

2010 Hot Seat Rating
Gone after season
5 rating: Todd Dodge, North Texas
5 rating: Dan Hawkins, Colorado
5 rating: Rich Rodriguez, Michigan
4.5 rating: Ralph Friedgen, Maryland
4 rating: Tim Brewster, Minnesota
4 rating: Bill Lynch, Indiana

Survived
5 rating: Paul Wulff, Washington State
4.5 rating: Mike Locksley, New Mexico
4.5 rating: Ron Zook, Illinois

2009 Hot Seat Rating
Gone after season
5 rating: Steve Kragthorpe, Louisville
4 rating: Al Groh, Virginia
4 rating: Mark Snyder, Marshall
4 rating: Charlie Weis, Notre Dame

Survived
4 rating: Todd Dodge, North Texas

2008 Hot Seat Rating
Gone after season
4.95 rating: Ty Willingham, Washington
4.5 rating: Greg Robinson, Syracuse
4 rating: Brent Guy, Utah State

Survived
4 rating: Mike Sanford, UNLV
4 rating: Mike Stoops, Arizona