Pittsburgh reaches exit agreement with Big East to join ACC in 2013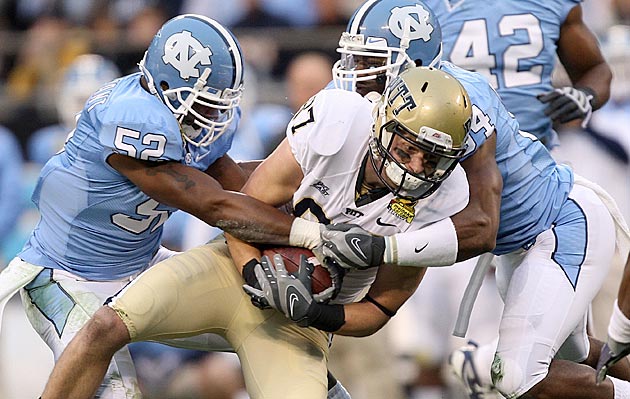 By joining the ACC, Pittsburgh will get to play North Carolina on a more frequent basis. (Getty Images)

Pittsburgh and the Big East have reached an agreement, allowing the Panthers to join the ACC in 2013.
The Panthers will pay the Big East $7.5 million -- the original $5 million exit fee plus an additional $2.5 million -- to join the ACC in 2013 instead of 2014.
"It was time to move forward," Pittsburgh athletic director Steve Pederson told CBSSports.com. "It [the buyout] was reasonable. There's a point everyone's ready to move forward. We wanted to bring closure to this.
"We have appreciated and enjoyed our membership in the Big East and wish them much success in the future. We are anxious to compete in our final season in the Big East and look forward to an exciting future in the Atlantic Coast Conference."
The Big East earlier reached a $7.5 million agreement to allow Syracuse to join the ACC in 2013.
"Today's announcement that Pitt will be joining the ACC on July 1, 2013 is a terrific one," ACC commissioner John Swofford said. "It's exciting to know both Pitt and Syracuse will become playing members with the 2013-14 academic year.
"I'm pleased that both schools were able to finalize agreements with the Big East. The ACC has long enjoyed a rich tradition of balancing academics and the addition of Pitt and Syracuse further strengthens this conference.
"Throughout this past year we've been preparing to welcome both teams into our membership and we look forward to the future of the ACC with these two schools as prominent members."
The addition of Pittsburgh and Syracuse gives the ACC 14 teams in 2013. Based on the Big East's by-laws, both schools would have to honor the conference's 27-month exit agreement and wouldn't be allowed to join the ACC until 2014.
However, since the Big East was able to restock its lead by adding Temple this fall and San Diego State, Boise State, Houston, UCF, Memphis and SMU in 2013, the league was willing to negotiate an earlier exit for Syracuse and Pittsburgh.
"This is another step for the Big East to take toward a very exciting future," Big East interim commissioner Joe Bailey said. "With the addition of our eight new members, the Big East will be incredibly strong and vibrant."