Five Penn State players teams are targeting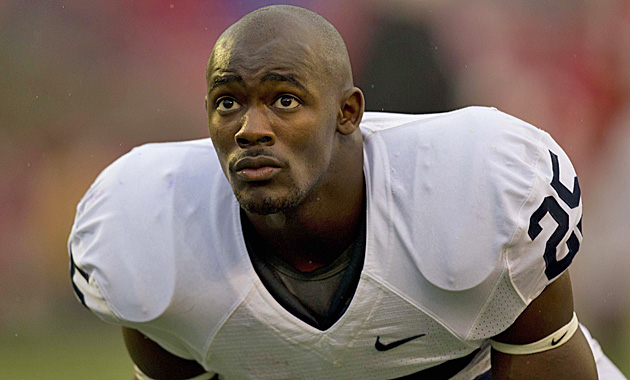 Junior running back Silas Redd could start for any team in the country. (US Presswire)
There is free agency in both the NFL and college football this year as teams descend on Penn State football to pickoff the best players following a host of NCAA and Big Ten sanctions. As a caveat of the NCAA's hammer on the Nittany Lions, players are allowed to transfer without penalty to any school at any time during the four-year bowl ban. Typically, players must sit a year after transferring.
Here are five top players teams will be contacting in the coming days … if they haven't already:
Silas Redd, RB, junior: He ran for 1,241 yards and seven touchdowns last year for one of the worst passing teams in the country. Redd would be the starter on nearly every team in the country. He already has been linked to USC , while other reports having him staying in State College for one more year before going pro.
Eugene Lewis, WR, freshman: The first-year player was the crown jewel of coach Bill O'Brien's first recruiting class. If he stays at Penn State he will never play in a bowl game. If he transfers, he has the talent to play immediately and could be with another program for four seasons.
Jordan Hill, DT, senior: He would basically be a rental this season, but Hill is regarded as one of the top players at his position in the Big Ten and is an anchor on most defensive lines. Hill had 59 tackles, 3.5 sacks and three fumble recoveries last season.
Khairi Fortt, LB, junior: The former four-star recruit played in every game last season as he recorded 33 tackles and 2.5 sacks. He has bulked-up during his career and was expected to be a key part of the defense. Fortt's body now matches his elite talent, making him an immediate impact player who also can contribute on special teams.
Bill Belton, RB, sophomore: Despite a 5-foot-10, 196-pound frame, the former four-star recruit may be the most dynamic offensive player at Penn State. Belton, who acted as a wildcat quarterback last year, transitioned to running back this season and was expected to be a major contributor. He had scholarship offers from schools such as Florida and Oregon.
For more up-to-the-minute news and analysis from Big Ten bloggers Dave Carey and Mike Singer, follow @CBSSportsBigTen.