TCU better hope it is only Pachall who has issues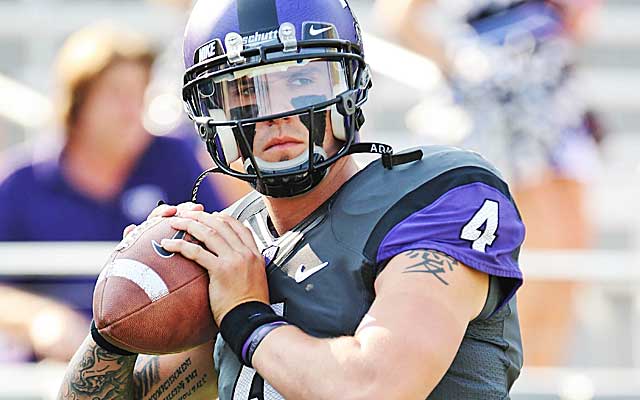 Pachall has a history of substance use. (US Presswire)
Perhaps the best news TCU got Thursday morning is that its quarterback has substance abuse issues.
That's because nothing else really matters for TCU athletics right now. Not football, not the new Big 12, not a BCS bowl. The school has to hope that the arrest of its starting quarterback Thursday signals only a localized substance abuse problem. Given recent history, that problem for Casey Pachall must now be assumed …
Eight months after a drug scandal rocked the school and the program.
In the moment – right now – a one-man issue the most optimistic immediate outcome for coach Gary Patterson's world that was rocked early Thursday morning. Pachall was cited for DWI, eight months after admitting to police he had tested positive for marijuana use. Pachall also told police he had used cocaine and ecstasy when they interviewed him earlier this year.
As in all similar cases, the arrest is only an allegation by police. But Patterson reacted immediately, suspending Pachall indefinitely. Pachall's former teammate Tanner Brock was one of four TCU players arrested in February, charged with selling marijuana to an undercover officer. He was sentenced to four years probation. Fifteen TCU students total were arrested for allegedly dealing.
"It's a day-to-day process of trying to be a better person …," Pachall told the media at the beginning of camp in August.
Those days start all over again for the quarterback. Forget football. Don't be surprised if we hear that the next step is rehab for the junior quarterback. Tryann Mathieu did the same, enrolled at LSU and now seems to be back on track to play football again somewhere.
That's why a Pachall problem is as "good" as it gets right now at TCU. The absolute worst is that TCU football has a substance abuse problem.
I asked that question of Patterson in February when those four players were arrested. He replied with an emphatic, "No."
Is it time, or fair, to ask it again?
A source told me during the season that TCU had been looking into hiring Aegis Sciences Corporation for institutional drug testing. That should indicate only that TCU was being proactive. The Big 12 and NCAA already test. It's common for BCS conference schools to contract with a third-party testing company as well. Aegis is one of the leaders in the industry.
This, we know for sure: Patterson's biggest task going forward is no longer extending the nation's longest winning streak. It is digging down to the heart and soul of his team to see what lies there.
The coach gets credit for doing the right thing, quickly, on Thursday. February's scandal tore him up. Knowing him like I do, I can only imagine where his head is at right now. This was no walk-on. This was his starting quarterback, supposedly the leader of the team, embarrassing himself and the program. Pachall was reportedly twice over the legal limit after a breath specimen was taken.
To summarize again: In the last eight months Patterson's quarterback has admittedly tested positive for marijuana, also telling police he had taken cocaine and ecstasy.
Now this.
Given this age of scandals, we should all agree that it doesn't matter a whole lot there is precious little experience below Pachall or that TCU's undefeated season is in danger.
It matters that what is going on within the football program – perhaps the entire school – at one of the most prestigious institutions in the country.
All we can assume for now is the best news for TCU and its football program: It's just the quarterback who has issues.