John L. Smith accused of fraud in bankruptcy complaints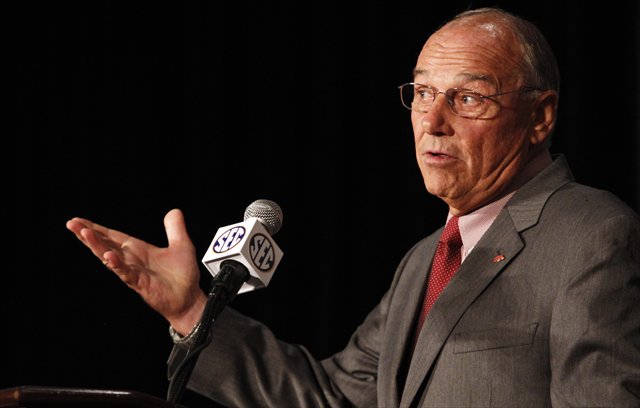 John L. Smith's creditors have accused him of concealing financial assets. (US Presswire)
John L. Smith's disastrous 2012 season at Arkansas has taken him well out of the FBS limelight. But appears Smith's financial troubles are set to follow him whether he's at Durango, Colo.'s Fort Lewis College or the SEC.
The Arkansas Business Journal and USA Today each reported Tuesday that complaints filed in U.S. bankruptcy court allege that Smith has attempted to defraud his creditors out of millions in owed payments, by concealing assets in his Chapter 7 bankruptcy filing. Smith declared bankruptcy in September, claiming debts of $25 million, a number that has since increased to some $40 million.
According to one complaint quoted by USA Today, Smith "has unjustifiably concealed, destroyed, mutilated, falsified, and/or failed to keep or preserve recorded information, including books, documents, records and papers from which the debtor's [i.e., Smith's] financial conditions or business transactions might be ascertained."
The complaints allege that Smith engaged in multiple tactics designed to hide assets from creditors, including reassinging real estate properties and other funds from his name to the names of his wife and adult children.
"Numerous transfers of cash, funds in bank accounts, or interests in certificates of deposit with significant cash values believed to be in excess of $1 million were transferred to Mrs. Smith, the Trust, the Debtor's adult children or other insiders and/or affiliates since 2008," a lawsuit quoted by the Business Journal stated.
Smith also stands accused of reworking his Arkansas contract in order to have his payments deferred until after his bankrupty proceedings. From the USA Today report:
A week before his bankruptcy filing, Smith signed a contract that stated $600,000 of his pay would be deferred in two lump sums of $300,000. One payment was to be made on Dec. 31, 2012, the other on Feb. 23, 2013. By having his pay deferred in this way, he was able to claim on his bankruptcy petition that his net monthly income was just $107.66, after expenses.

The arrangement marked a change from previous Arkansas contracts. After his hiring in April, Smith signed an agreement that stated that he would receive half of his salary ($425,000) from the university in monthly payments, with the remaining $425,000 to come from the Razorback Foundation, the fundraising arm of the athletic department.
Arkansas athletic director Jeff Long said in October that the payments were intended to help Smith with his retirement, not shield them from creditors.
Per the USA Today, the U.S. Department of Justice "also has investigated Smith for potential fraud and abuse of the bankruptcy system but has not filed a complaint, according to court filings."
In short: maybe it's a good thing for Smith that the Durango area is a pretty, pretty place to live, since the picture that continues to be painted of his financial life is not a pretty one at all.