2013 NFL Draft: Sharrif Floyd to reschedule pro day for March 22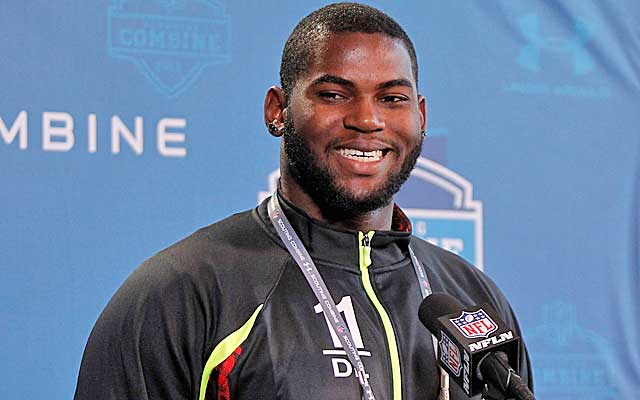 Florida defensive tackle Sharrif Floyd suffered a minor ankle injury at the combine and with it not yet 100 percent, he is electing to hold his own individual workout on March 22 rather than participate in the Gators' scheduled pro day Tuesday. Like Florida's pro day, Floyd's individual workout will take place on campus.
Floyd competed in many of the drills at the combine before the injury, so the delayed workout isn't likely to have a negative impact on his stock.
Floyd has been one of the fastest risers up draft boards in recent weeks. To get the talented defender onto the field, Florida used the 6-foot-3, 297-pound Floyd at defensive end as a sophomore, and he posted 46 tackles, including 6 1/2 for loss. With defensive tackle Jaye Howard moving on to the Seattle Seahawks via the draft a year ago, Floyd was able to slide inside to his more natural defensive tackle position in 2012 and his ability to split gaps made him a more consistent big play threat.
While his tackle numbers remained the same (46), Floyd posted 13 tackles for loss and a career-high 6 1/2 sacks, including two of Louisville quarterback Teddy Bridgewater in a 33-23 Sugar Bowl loss that was otherwise largely forgettable from a Florida perspective. Floyd's upside, as well as the position and scheme versatility he provides has contributed to his ascending stock.
This was enhanced with an impressive all-around performance in Indianapolis.
Floyd fared well during the interview process and showed off his unique overall athleticism during drills. He was among the fastest defensive tackles tested in the 40-yard dash and three-cone drills, clocking in at 4.92 and 7.40 seconds, respectively, in these two drills and also posted a 30-inch vertical jump.
For Floyd to wind up as the top-three pick Dane Brugler and I project in our mock drafts, he'll need to prove his health and perform well -- especially in the positional drills -- on March 22.