Ten games that could help determine the 2012 Heisman winner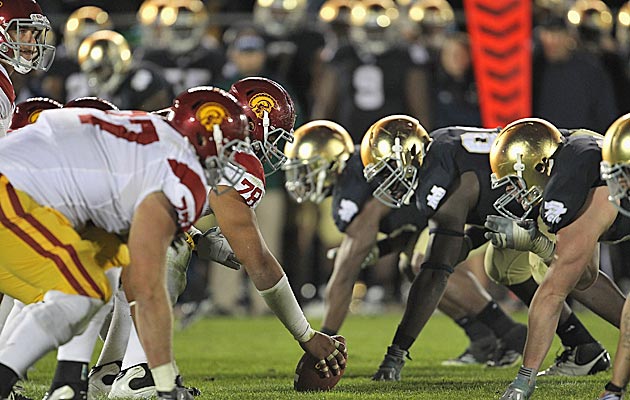 Heisman voters take many things into account when trying to determine the most outstanding player in college football.
One of the most important factors is how well a player performs in big games. Whether it involves a matchup of ranked teams, or a clash of rivals, or a conference championship tilt, voters want to see a player come through under pressure.
There's that old saying: Big time players make big time plays. Well, those plays are even bigger when they help shape the course of a season. Think Tyrann Mathieu returning a punt 92 yards for a touchdown at a crucial juncture against Arkansas last year. If he had made that play against Northwestern State instead of against the Razorbacks, he may not have made it to New York as a Heisman finalist.
More on Heisman
Related links
So the big games really do matter.
Here are the 10 games this fall that should have the greatest impact on the Heisman race (in chronological order):
September 1: Michigan vs. Alabama -- We'll find out on opening weekend if Denard Robinson is ready to make a serious run at the Heisman. An unexpected win in Dallas by Michigan--potentially without its top running back--will vault Shoelace to the top of many ballots, assuming he plays well. On the other hand, the Crimson Tide's defense might put a temporary kibbosh on such plans. It's a low-risk, high-reward proposition for Robinson, who could still bounce back, barring a complete meltdown here.
September 15: Alabama at Arkansas -- Two weeks into the season and, once again, 'Bama has a chance to influence the race. This time we'll find out whether running back Knile Davis and quarterback Tyler Wilson are up for the challenge. Either Razorback could emerge as the SEC's top candidate out of this game with a win over the defending national champs. But which one? Of course, the Tide could also crush both of their hopes and throw any and all Heisman momentum back to the SEC East.
September 22: Clemson at Florida State -- There aren't many marquee matchups on the ACC slate, but this game has the best chance of setting the conference's tone for the rest of the season. Tigers quarterback Tajh Boyd will have to have a monster game against the Seminoles to garner some early-season Heisman points. It helps that wide out Sammy Watkins will be back from suspension by then. If Florida State and its quarterback, EJ Manuel, are to finally live up to expectations, it can't stumble here. Either Boyd or Manuel should come out of this game carrying the Heisman banner on behalf of the ACC.
October 6: Georgia at South Carolina -- Shades of past Heisman lore in this one, as 32 years ago these teams collided in an epic matchup featuring eventual 1980 winner George Rogers and upstart freshman Herschel Walker, who took third. This time the top candidate is a quarterback, Bulldog Aaron Murray, while the darkhorse is Gamecock running back Marcus Lattimore. This could be one of the few early-season roadblocks for Georgia, so it's crucial to Murray's Heisman hopes for him to lead his team to a win on the road against a ranked team. If Lattimore is to move into the upper tier of candidates, he'll need to pound the Bulldogs into submission. Both these teams have a good shot at being undefeated heading in, so the hero of this game will pick up a lot of Heisman street cred along the way.
October 13: Texas vs. Oklahoma -- This year's Red River Shootout should be a good one. Oklahoma is likely to enter the contest undefeated, while Texas will be winding up a brutal three-game stretch that starts out with Oklahoma State and West Virginia. Oklahoma quarterbacks are measured by how well they do against Texas and Landry Jones can make it three in a row over over the Longhorns with a win here. This is really where Jones begins his Heisman quest and he can get it kickstarted with a monster performance in this classic rivalry. On the other hand, the Texas defense has a chance to make the whole idea of a Jones candidacy look rather silly.
October 27: Michigan State at Wisconsin -- Two of the most memorable games from 2011 featured these two teams and voters will be tuning in to see if 2012 offers more of the same. This is Wisconsin's ninth game, so we may see Badger running back Montee Ball going for the all-time NCAA touchdown mark in this one (he starts the season 18 down). The potential NCAA record, the quality of the opponent and the possibility of Wisconsin clinching the Big Ten Leaders division means Ball can make his Heisman case with a lot of voters paying attention.
November 3: Oregon at USC -- This matchup of potential top five teams should be a doozy. Expect a lot of hype heading into this one. If USC quarterback Matt Barkley impresses while leading his team to a win, he's going to be tough to beat for the trophy. Oregon's dark horse candidates De'Anthony Thomas and Kenjon Barner might steal the show, however, and put the Ducks on track to challenge for both a Heisman and a national title. Whatever happens, there's a good chance we'll see a rematch between these two teams in the Pac-12 title game.
November 17: Oklahoma at West Virginia -- By kickoff, we'll know whether Landry Jones and/or Geno Smith are on a path to get to New York. The best scenario for Smith is for him to put forth a herculean effort while helping to slay an undefeated and highly-ranked Oklahoma team in front of a raucous home crowd. For Jones, it will be another opportunity to competently direct the Sooner offensive machine against a quality opponent. It could be that neither candidate emerges from this one as a viable candidate but, for sure, both won't.
November 24: Michigan at Ohio State -- There will be a ton of storylines to this game: Michigan resurgent once again. Ohio State under probation but making progress under first-year coach Urban Meyer. The young, but talented, Braxton Miller (a future Heisman candidate). And, of course, the winding down of Denard Robinson's brilliant career. By this time, the Michigan quarterback could be well out of Heisman contention, or he could be in the thick of it. If the latter is the case, then this game affords him one last chance to show why he's worthy of the Heisman. What better way to do so than against your hated rival? This game will be very closely watched and the Buckeyes will certainly be aching to take the Wolverines down, especially with no bowl in their immediate future.
November 24: Notre Dame at USC -- This most prestigious of traditional rivalries is always on the radar of the Heisman electorate, especially when one or both teams is in the national title picture. Once again, Matt Barkley will have a chance to put on a show in front of a national audience and, potentially, clinch the Heisman. The Fighting Irish would like nothing better than to make him look bad and spoil his plans. Let's not forget that Notre Dame running back and Los Angeles-area native Cierre Wood could be at the tail end of a dark horse Heisman campaign himself. What better way to cap things off than by leading a huge upset of the Trojans not far from the place he grew up?