Former USC running back Reggie Bush returned his Heisman Trophy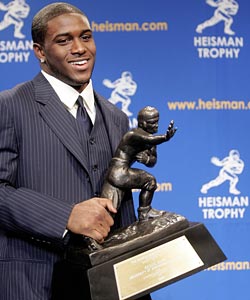 Reggie Bush has returned his 2005 Heisman Trophy to the Heisman Trust, the former USC running back told the Dan Patrick Radio Show on Wednesday. The revelation comes nearly two years after the award was officially vacated due to his involvement in an NCAA scandal.
An ESPN.com report later confirmed the trophy's return:
Tim Henning, a New York-based spokesman for the Trust, confirmed in a phone interview Wednesday that Bush returned the trophy "some time" ago.

"The Heisman Trust has it in their possession," Henning said.
The location of Bush's trophy has been a recurring issue for media and fans since the Heisman Trust vacated the award in September of 2010. Despite many questions regarding the trophy's whereabouts, Bush had remained vague on the matter until Wednesday's interview.
The attention given to the status of the trophy is a bit of a curiosity. Its physical return does not change Bush's relationship to the Heisman in any way and the Heisman Trust never actually asked for it back. Nor was there any legal mechanism available to get it back. USC returned its copy of Bush's Heisman to the Trust shortly after it was vacated although, again, it was not required to do so.
Bush's trophy ceased to be a 'Heisman' Trophy the minute the honor was taken away from him. Its return is nothing more than a symbolic gesture, but perhaps it finally puts to bed a matter that has been substantively closed for almost two years.
And now the Heisman Trust has two extra trophies to play with.