The five schools most likely to win their first Heisman in the next five years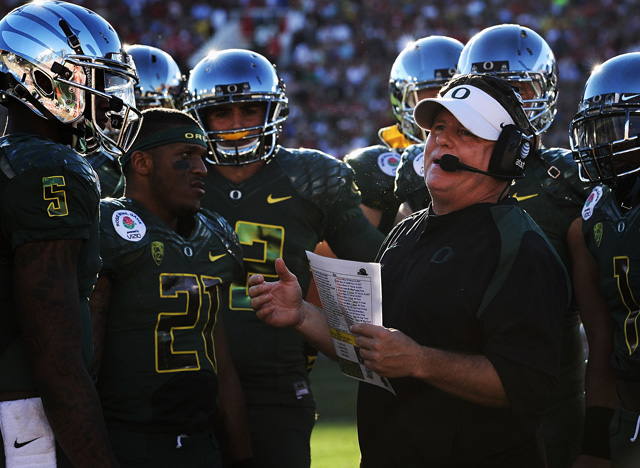 Out of 124 schools in the FBS, only 35 have managed to win at least one Heisman Trophy.
Of the 77 total winners, 41 of them have come from just nine schools.
You can see why the Heisman is considered such an exclusive club. Historically, there hasn't been a whole lot of room for upstart programs winning Heismans. But we may be in a new era now. After all, we saw Robert Griffin III lead Baylor to its first Heisman last season. Hardly anyone saw that one coming.
More on the Heisman
Related stories
But let's look ahead a little bit and try to project which school could be the next Baylor. Which teams that haven't already won a Heisman are most likely to win their first in the next five seasons?
Here are the five I think have the best chance:
1. Oregon -- The Ducks have made a BCS title game. They've won back-to-back Pac-12 titles. They've had three players finish in the top five of the Heisman vote since 2001. They have the kind of offense that can facilitate a run for the trophy at either the quarterback or running back positions. They are respected nationally as a program and, barring significant NCAA penalty, they should be among the elite teams in the country for the foreseeable future. Head coach Chip Kelly has recruited athletes who fit his style and he has a collection of talented players on the current roster--and committed for the future--who could garner lots of Heisman attention going forward. I think it is only a matter of time before Oregon strikes gold bronze and takes home a trophy. Most likely sooner, rather than later.
2. West Virginia -- Offense is key when it comes to the Heisman and the Mountaineers are used to being innovators in that regard. The Rich Rodriguez spread helped put West Virginia on the map and Pat White and Steve Slaton in the Heisman conversation. A move to the Big 12 and the hiring of Dana Holgorsen has further elevated the program's status and it stands to reason that a Mountaineer player will soon reap the rewards in the form of a Heisman Trophy. With a player like Geno Smith already in place, it could come as soon as this season. But even if Smith isn't the guy, I like the odds of Holgorsen finding another superstar quarterback to make a run at it in the near future.
3. Washington -- The Huskies appear to be crawling their way back to respectability under Steve Sarkisian. Keith Price has shown what a quarterback can do in Sark's offense, throwing for 3,000 yards and 33 touchdowns last year. But what's more interesting is how well Washington has been recruiting at the quarterback spot. Freshmen Cyler Miles and Jeff Lindquist are elite talents with the ability to surpass what Price has been able to do for the Huskies. Troy Williams, a 2013 commitment, is also a promising prospect. Washington is not an upstart program. It has won a national championship and some Rose Bowls in the last 25 years. In essence, it is a regional power that has fallen on hard times, so it has enough tradition to attach some credibility to any future Heisman campaign once the program rebounds.
4. Missouri -- Gary Pinkel's teams have always featured wide-open offenses with exciting playmakers at quarterback. First, there was Brad Smith who rushed and passed his way to multiple school records. Then Chase Daniel took over and he finished fourth in the Heisman while leading his team to the brink of the BCS title game back in 2007. Blaine Gabbert was next and he left Mizzou as a first-round draft pick. Last year James Franklin stepped in and he came awfully close to putting up a 3,000 passing/1,000 rushing season in his first year as a starter. Now Mizzou shifts over to the SEC and, while the competition moves up a grade, the Tigers have a chance to earn some more respect. If Pinkel's quarterbacks continue to produce like they have been, they'll get extra credit for doing so in the SEC (because, as we've all been told, SEC defenses are almost impossible to run or pass on). That means the potential for a Heisman run (or two) might be in the cards.
5. Arkansas -- The Hogs have been bandied about in the Heisman conversation quite a bit in the last few years. Darren McFadden was a two-time Heisman runner up. Ryan Mallett was in the preseason mix in 2010. Tyler Wilson and Knile Davis have been talked up heading into this season. A big reason for all the chatter has been the Arkansas offense, which was lights out under former coach Bobby Petrino. The big question now: Who will lead Arkansas in the future? John L. Smith is at the helm as an interim option and he at least provides some offensive continuity. But if he is replaced by another mastermind, I see no reason why the Razorbacks shouldn't continue to produce high profile offensive players. One day, one of those players might lead the Hogs to wins over LSU and Alabama. If (or when) that happens, that guy might win the Heisman.
On the cusp: Tennessee, Clemson, Virginia Tech, Boise State, Utah