Big Ten issues statement opposing NCAA recruiting changes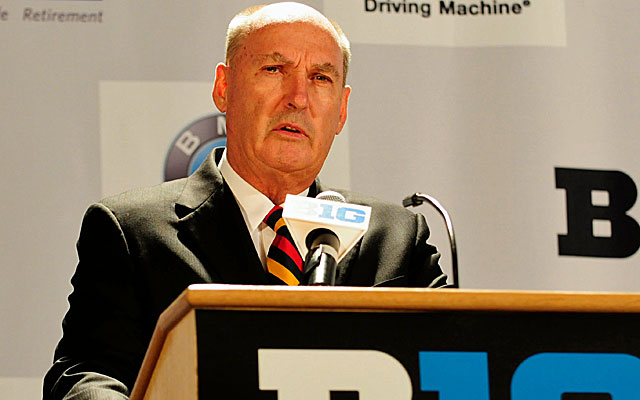 Jim Delany's league opposes new NCAA deregulation. Is it too little, too late? (US Presswire)
The NCAA's Division I board of directors, 23 days ago, approved a collection of proposals aimed at simplifying and streamlining some regulations considered unwieldly and unenforceable.
Included in the changes were relaxing some restrictions on recruiting. Proposal 13-3 woujld eliminate restrictions and methods of communication between coaches and recruits. This would allow coaches to text, tweet, or call recruits as often as they liked during open-communication periods.
The deregulation of these restrictions was to go into effect July 1. But amid a growing sense across the college football landscape that the no-holds-barred approach to recruiting communication would have dire unintended consequences, the Big Ten issued a statement Monday opposing three of the new proposals and asking that they be tabled until further notice.
The statement reads in full:
The Big Ten Football Coaches and Athletic Directors met today in Park Ridge for a regularly scheduled meeting and subsequently issued the following statement with regard to pending NCAA DI legislation impacting college football:

We reviewed the 26 Rules Working Group proposals acted upon by the NCAA Board of Directors in January, some of which will become effective as early as July 1, 2013. While we applaud the work that has been done to date, we are very concerned that the timeline proposed for implementation of the proposals does not allow sufficient time for the Football Recruiting Subcommittee of the NCAA Leadership Council to thoughtfully consider the impact of the proposals.

We are specifically concerned with the following three proposals and ask that they be tabled along with Proposal 13-2:

Proposal 11-2: Athletics Personnel -- Limitations on the Number and Duties of Coaches -- Elimination of Recruiting Coordination Functions

Proposal 13-3: Recruiting -- Deregulation of Modes and Numerical Limitations on Communication

Proposal 13-5-A: Recruiting -- Elimination of Printed Recruiting Materials and Video/Audio Legislation

We have serious concerns whether these proposals, as currently written, are in the best interest of high school student-athletes, their families and their coaches. We are also concerned about the adverse effect they would have on college coaches, administrators and university resources. We look forward to working with the NCAA toward improving the game, the recruiting process and the overall college football experience for all student-athletes.
To undo the board's approval, the NCAA will have to work through the override process, which the Big Ten is in the process of initiating, per a Nebraska official.
As noted by the Bylaw Blog's John Infante, the Big Ten's request to oppose, say, 54 texts sent to a recruit in a single day arrives the same say as the news Ole Miss sent 54 letters to a recruit in a single day -- a practice neither the new proposals nor any proposed by the Big Ten would do anything to stop.