NCAA officially backs off two new recruiting rules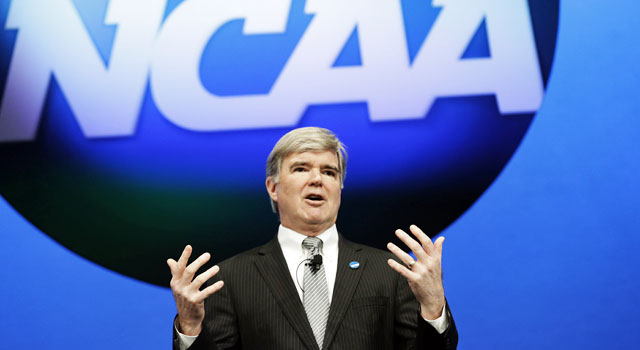 The NCAA's new hands-off approach to recruiting regulations didn't last long.
The NCAA Board of Directors officially suspended two controversial rules changes concerning recruiting Monday, overturning two elements of a deregulation package approved by the same board in January. The changes had allowed football staff members other than the program's coaches to perform recruiting tasks and eliminated restrictions on the types of printed material that can be sent to potential recruits.
The rules could still be put into effect in some form or fashion, but only after the NCAA's Rules Working Group has reintroduced them with "appropriate modifications."
A third rules change that would have "eliminated restrictions on modes and numerical limitations of recruiting contacts" -- allowing for unlimited texts, phone calls, and social media messages from coaches to recruits -- was also considered for suspension but will instead go through the normal override process.
The proposals were originally adopted in order to streamline the NCAA's vast regulatory handbook and allow compliance officials (both at the NCAA and at its members schools) to spend less time and effort on micromanaging details and put more focus on larger enforcement issues. But the changes faced heavy public opposition from the day they were announced, with the Big Ten and Georgia athletic director Greg McGarity among the more outspoken opponents.
In the end, the board sided with those opponents, writing that they responded "to extensive membership feedback that despite the benefits of the proposals, the new rules could have a negative impact on prospects and their families, college coaches and administrators."
"We are committed to the reform effort. We will move forward with these concepts with collaboration from all interested parties," NCAA president Mark Emmert said. "Suspending these proposals for continued review will provide our coaches, administrators and student-athletes the additional opportunity to have their voices heard."
Much of the opposition to the rules changes stemmed from the fear of an "arms race" between major programs to hire as many staffers as possible to recruit as intensely as possible, fears that seemed to intensify when Alabama hired former Crimson Tide and Clemson defensive coordinator Kevin Steele as a recruiting-oriented director of player personnel. Under the current suspension of the rules, deregulation poster-child Steele -- and other administrators like him across the country -- would once again not be permitted to recruit. (For his part, Nick Saban has said he was fine with the NCAA standing by the old rules.)
Coaches like Maryland's Randy Edsall -- who said, plainly, "I hate them" when asked recently about the new rules -- will be delighted by the NCAA's decision. But given that the issues that forced the NCAA to try to attempt deregulation in the first place haven't gone away (and that the communication proposal still could survive the override process, though that seems unlikely), this won't be the last college football hears of potential changes to its recruiting rule book.