NCAA official: 'continuing opposition' to $2,000 stipend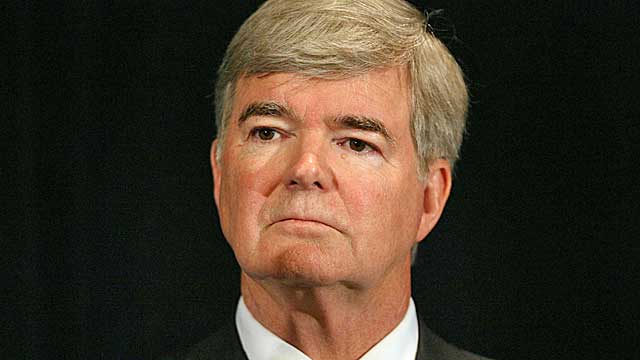 With the Ed O'Bannon lawsuit percolating, coaches like Bob Stoops speaking out against paying players, and Mark Emmert continuing to back a version of the athlete stipend proposal the NCAA membership forcefully overrode in 2012, the issue of how to compensate NCAA athletes has never been a hotter topic.
Unfortunately, according to Middle Tennessee State president Sidney A. McPhee, that doesn't mean it's become any less contentious. Speaking to the Chronicle of Higher Education, McPhee -- the head of the NCAA's Student-Athlete Well-Being Working Group -- said Emmert's stipend proposal isn't any closer to surviving the override process than it was last year.
"There is still continuing opposition to doing anything," McPhee said. "I'm afraid that whatever we do will have a high likelihood of an override."
McPhee's NCAA group is working to put together a revamped stipend proposal over the summer, one that would go back before the NCAA's Board of Directors in October. If approved (again), it would then face the same override process that shot down Emmert's previous attempt.
McPhee cited the same problems that have plagued the $2,000-a-year proposal since its introduction, namely that Division I's less-wealthy rank-and-file -- a group that makes up the overwhelming majority of the D-I membership -- feel they cannot afford to either pay the additional costs or see the playing field tilted even more heavily in the favor of the major conferences.
"The gap between revenues of Division I schools now is enormous," Emmert said in January. "For some schools it makes great sense to [pay the stipends]. [For] others, it would be a significant struggle.

"How do we keep everybody under that tent while recognizing these significant financial variations? There will be discussions about it."
But McPhee also said Emmert's unpopularity has led some schools to stand against the stipend purely out of opposition to his tenure.
"There are some people who will oppose anything he supports, and that's unfair," McPhee said.
Doubts about Emmert's leadership won't do anything to silence the growing whispers that the pay-for-play issue could eventually lead to a split in the NCAA between its haves and have-nots. Though the threat of the O'Bannon lawsuit (and its potentially landscape-altering fallout) may postpone any real movement on this front for a number of years, the stipend issue still looks no less likely to become the fault line between the two sides than it was at this time last year.