Aaron Murray breaks SEC career passing touchdown record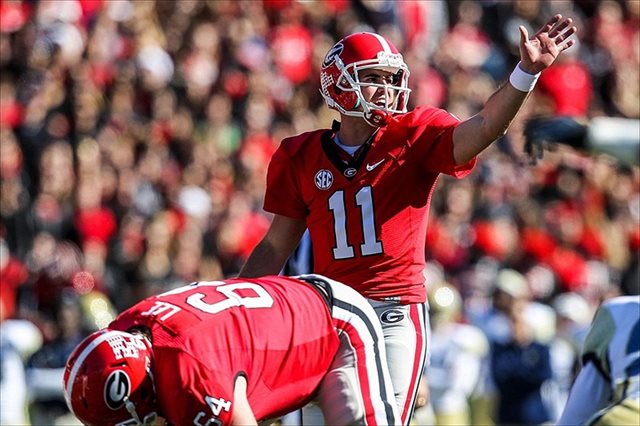 With only one evening game -- the megatilt between LSU and Alabama (8 p.m., CBS) -- the average SEC fan's attention was spread in many different directions during a busy early slate, and it's safe to say no one's outside of Athens was focused on Georgia 's cruise past Appalachian State.
So it was without much fanfare that Aaron Murray passed a major historical milestone Saturday, throwing for his 115th career touchdown against the Mountaineers -- enough to move him past Florida Heisman Trophy winner Danny Wuerffel for the most in SEC history.
The all-time SEC leaderboard:
SEC Career Passing TDs
Player, Team
TDs
Years
Aaron Murray, Georgia
115
2010-pre.
Danny Wuerffel, Florida
114
1993-1996
Peyton Manning, Tennessee
89
1994-1997
Chris Leak, Florida
88
2003-2006
Tim Tebow, Florida
88
2006-2009
Murray still has at least four games to add to his total, with the Bulldogs facing Auburn, Kentucky, and Georgia Tech to close the season and now bowl-eligible after their win Saturday.
It's true that -- as they are across college football -- offenses are generally becoming more proficient in the SEC, and that quarterbacking statistics will be inflated in the seasons to come. But the Heisman-adorned names on that list (and that Murray could still add another 10-plus touchdowns to his total) suggest that the record should still be his for years to come.