Florida State QB Jameis Winston wins 2013 Heisman Trophy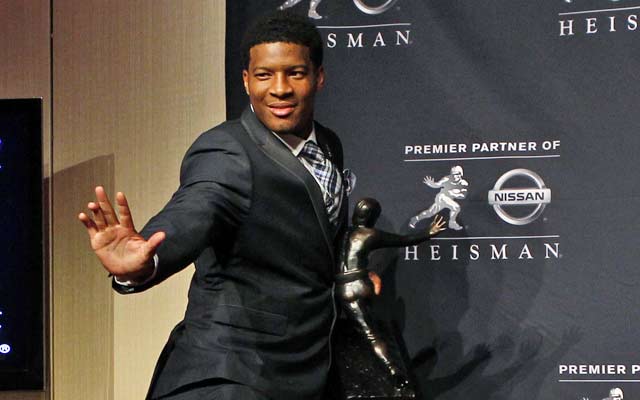 Florida State quarterback Jameis Winston was named the 2013 Heisman Trophy winner on Saturday night, marking the second straight season the award has gone to a redshirt freshman quarterback.
Texas A&M quarterback Johnny Manziel, also a finalist, became the first freshman to win the award in 2012.
Heisman voting
Player, School
1st
2nd
3rd
Tot.
Jameis Winston, FSU
668
84
33
2,205
AJ McCarron, Alabama
79
162
143
704
Jordan Lynch, NIU
40
149
140
558
Andre Williams, BC
29
127
129
470
Johnny Manziel, A&M
30
103
125
421
Tre Mason, Auburn
31
121
69
404
Bryce Petty, Baylor
4
40
35
127
Derek Carr, Fresno St.
6
23
43
107
Braxton Miller, Ohio St.
4
21
37
91
Ka'Deem Carey, Arizona
2
14
36
70
Winston won the award with 2,205 points, 1,501 more points than Alabama's AJ McCarron. It's the seventh-largest margin of victory in Heisman history. And while Winston won in a landslide, winning each region of the vote, he was left off 115 ballots.
Winston led Florida State to a 13-0 regular season finish that included the school's second straight ACC Championship and a bid to the BCS title game against Auburn in Pasadena. With Winston at the helm of the offense, the Seminoles tore through their schedule with a margin of victory of more than 42 points per game.
While Florida State's dominance was a team effort aided by Winston, the redshirt freshman stood out from the rest of the competition with impressive individual accomplishments as well. Winston finished with 3,820 passing yards and 38 passing touchdowns -- an ACC record and FBS freshman record -- while maintaining the nation's highest pass efficiency rating (190.06).
Winston joins Charlie Ward (1993) and Chris Weinke (2000) as the only Seminoles to win the award. Florida State becomes one of just ten schools to have at least three Heisman Trophy winners -- Notre Dame (7), Ohio State (7), USC (6) and Oklahoma (5) are the only schools with more.