Texas Tech TE Jace Amaro to enter NFL draft after record season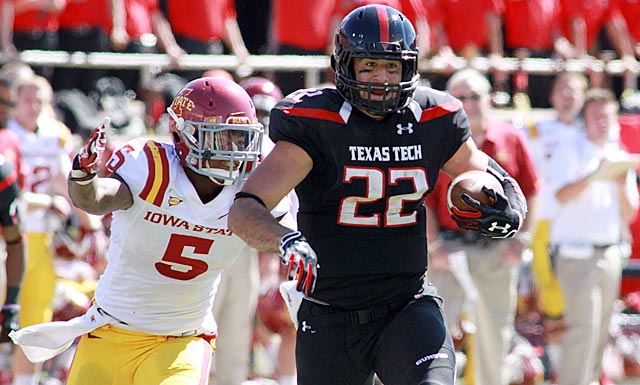 After Texas Tech stunned Arizona State in the Holiday Bowl, tight end Jace Amaro told reporters that he would forego his senior season and enter the 2014 NFL Draft.
Amaro went out in style, recording eight catches and leading the team with 112 receiving yards in the win. The performance notched Amaro in the FBS record books with 1,352 receiving yards, the most ever for a tight end. The previous record (1,329) was set by Rice tight end James Casey in 2008.
CBSSports.com currently has the 6-foot-5, 260 pound tight end is ranked as the No. 27 overall prospect -- No. 2 tight end behind North Carolina's Eric Ebron -- in the 2014 draft class. He is projected as a first or second round draft pick, and that kind of opportunity is difficult to pass up.
Amaro discussed his decision after Texas Tech's 37-23 Holiday Bowl win, via the Lubbock Avalanche-Journal.
Jace Amaro on declaring for the draft: "It was a hard decision, because I love these guys and they mean the world to me and of course ...

— Don Williams (@AJ_DonWilliams) December 31, 2013
Amaro: "I want to come back, but at the same time it's too much, too hard of an opportunity to pass up. ... I can improve on a lot ... "

— Don Williams (@AJ_DonWilliams) December 31, 2013
Amaro: "but for my sake, I feel like it's my time to go. Thank you for everything Texas Tech has done for me and my family. ... " (cont.)

— Don Williams (@AJ_DonWilliams) December 31, 2013
Amaro: "It's hard to imagine that I'll never play at the Jones again and running out of that tunnel. I can't believe it's all over for me."

— Don Williams (@AJ_DonWilliams) December 31, 2013