South Florida is the key to West Virginia's early success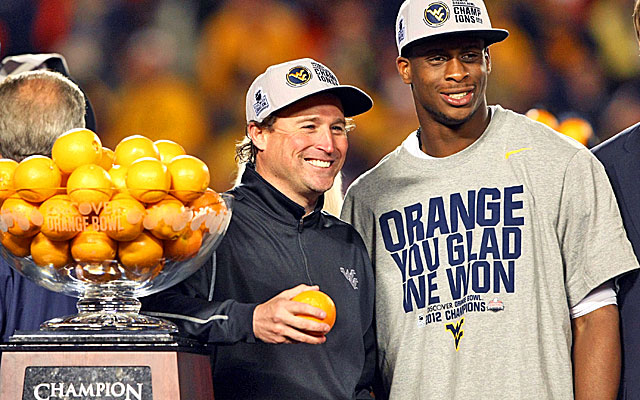 From a geographic standpoint as it relates to college football recruiting, West Virginia is for all intents and purposes an outpost.
The Mountaineers are the flagship program in a state that rarely produces high FBS-level talent and are isolated from the rest of the Big 12 Conference, which includes four schools in Texas, two in Oklahoma, two in Kansas and one in Iowa.
Granted, Morgantown, W.Va., is a stone's throw from western Pennsylvania, which annually produces a good crop of talent, but they have to battle the Big Ten, plus Pitt and whatever other programs decide to recruit there. There isn't enough talent to be divided and to sustain a high level of competitiveness.
So where to go find players if you are WVU? The answer to that question has been evident for some time now -- talent-rich south Florida. After all, Geno Smith and others have gone on from Dade, Broward and Palm Beach Counties to have successful careers in Morgantown.
The Mountaineers currently have the No. 1 class in the Big 12 and No. 5 class nationally according to the 247Sports team rankings and mining south Florida has a lot to do with their current lofty perch as four of the nine early commits are from the area.
Included in the south Florida haul for this cycle are prized wide receiver Jovon Durante and safety Kendrell McFadden, two of the better prospects in the Sunshine State for the '15 cycle. Durante in particular has elite speed and will be able to make things happen in a big way in West Virginia's pass-happy offensive system. Another big-time playmaking receiver, Kahlil Lewis, hails from Miramar, along with McFadden. Durante is at Miami Northwestern. Cornerback Kevin Williams is a 6-foot-1 athlete from Ely in Pompano Beach, the same school that produced Arizona Cardinals and former LSU cornerback Patrick Peterson.
Head coach Dana Holgorsen has boosted his program's chances even further with a pair or offseason hires the last two offseasons.
Former Miramar head coach Damon Cogdell, who played at West Virginia, returned to his alma mater as an assistant during the offseason. Cogdell should give the Mountaineers a chance with virtually any prospect in that area, particularly at his former school. He is the secondary recruiter-of-record for both McFadden and Lewis.
While Cogdell's hire has helped, it's also tough to ignore the work of another West Virginia alum with south Florida ties, Belle Glade native JaJuan Seider. Seider is heading into his second season in Morgantown and the Mountaineers running backs coach is the primary recruiter-of-record for Williams, McFadden, Lewis and Durante. So far, he ranks as the No. 1 recruiter in the Big 12 according to 247Sports recruiter rankings for 2015.
This pair of recruiters can likely lead the charge for West Virginia to finish in the top third of the Big 12 and perhaps among the top 15 nationally for 2015.
The groundwork for this was laid by the current head coach at Marshall, Doc Holliday. The Hurricane, W.Va., native played at West Virginia and was a Mountaineers assistant from 1979-99 and 2008-09. During that time, he developed deep ties to south Florida. During the modern era of recruiting coverage, he has been nationally recognized numerous times for his ability to recruit the area. He signed Smith at WVU and also was a force to be reckoned with in that region while at Florida under Urban Meyer and North Carolina State under Chuck Amato.
Ironically, Seider was the recruiting coordinator under Holliday at Marshall prior to heading to Morgantown.
The Mountaineers success thus far has coincided with the Big 12 in general looking stronger in the national team recruiting rankings than it did in 2014, when Oklahoma had the top class in the league, yet finished No. 14 nationally. For 2015 so far, the Sooners are off to a good start and are No. 13 nationally, but fourth in the Big 12 behind the Mountaineers, Texas and TCU.