Halfway to Signing Day: Big Ten edition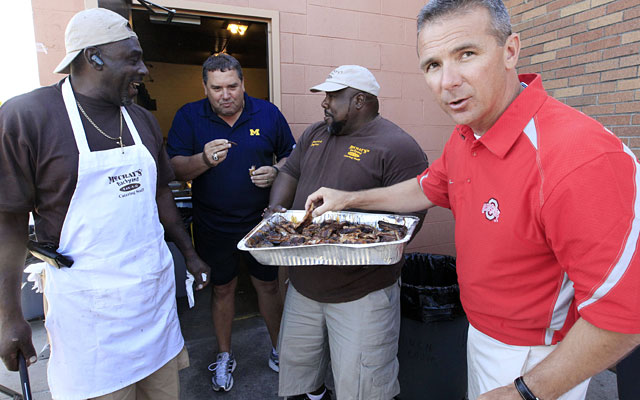 We're right about halfway to Signing Day and that means it is time to take a look at the Big Ten and see how the conference is shaping up on the recruiting trail. Here's a few accolades for a few of the programs who are making head way (or not) at this point in August.
Best class: Michigan
The Wolverines have been in the top three in the class rankings for pretty much an entire year at this point and held on to the top spot for several months. They've got impact players who should play early like five-star quarterback Shane Morris, right, and players who will add depth like a number of their committed offensive linemen. There are some high upside guys amongst the group as well like Csont'e York, Taco Charlton and Khalid Hill too. All-in-all, this might be the deepest class in the nation and there's still a few spots for some elite guys to join as well.
Work left to do: Minnesota and Indiana
Combined the two programs have fewer commitments than every other school in the Big Ten so numbers are a bit of an issue. Neither school will blow anybody away with the quality of their recruits either but it still seems like each has slipped from where they were last year and the 2012 group. There's plenty of time until Signing Day but still seems like it will be a long road until then for both programs to get up to where they need to be.
Under the radar class: Michigan State
Damion Terry is a nice addition at the quarterback spot and should fit in well to the Spartans' offensive system along with running back Gerald Holmes. The headliners of this still small group though are at linebacker in Jon Reschke and Shane Jones. Both players are flexible enough to play either inside or outside but really should shine as special teams mavens before becoming a starter in a year or two. Reschke in particular seems like a complete steal.
Top commit: Warren (Mich.) quarterback Shane Morris, committed to Michigan.
Loading up: Michigan on defensive backs (5) and offensive linemen (5) and Northwestern on offensive linemen (4).
Frequent Fliers: Iowa and Ohio State, with commitments from nine different states.
Fence builder: Ohio State, with seven commitments from the state of Ohio.
Road to Signing Day storyline: How will Penn State fare?
The Big Ten storyline was shaping up to be Michigan and Ohio State and then everybody else in terms of recruiting but Penn State had done surprisingly well and had gotten a top 15 class before the NCAA came crashing down on the program. Now uncertainty rules the air and plenty of programs have come circling around the Nittany Lions' class of 2013. Several recruits reaffirmed their commitment to coach Bill O'Brien in person after an unofficial visit and for the moment it looks like most are still onboard. However, it's a long time until signing on the dotted line and there have already been a few in the class with wondering eyes. The key to the class is quarterback Christian Hackenberg and tight end Adam Breneman -- if one goes the group will unravel. You figure on a decommit or two from the current 12 players but you never know how it will play out between now and February.
Top 25 teams:
3. Michigan
9. Ohio State
23. Penn State
24. Nebraska