Halfway to Signing Day: Pac-12 edition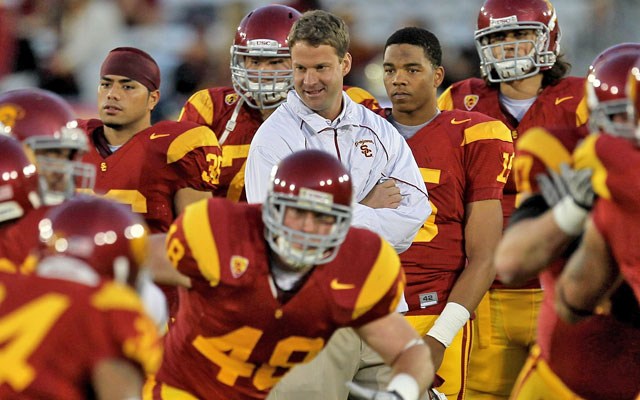 We're right about halfway to Signing Day and that means it is time to take a look at the Pac-12 and see how the conference is shaping up on the recruiting trail. Here's a few accolades for a few of the programs who are making head way (or not) at this point in August.
Best class: USC
There's recruiting and there's recruiting like what the Trojans are doing this year, it's remarkable that they have the nation's top class despite being limited by NCAA sanctions. On top of all that, they currently have the top quarterback (Max Browne, right), running back, safety and the No. 2 defensive end in the fold. Half the class is in the MaxPreps top 100. At this point USC is full for the 2013 class but it's likely they'll drop one or two guys for even more highly regarded players. Life ain't bad if you're Lane Kiffin and company this year to say the least.
Work left to do: Oregon State
It's not totally surprising to find the Beavers with just four commitments at the halfway point given their reliance on senior evaluations but it felt as if they would be doing better than that based on how well they recruited early in the cycle. Mike Riley specializes in developing talent and finding under the radar players so you never truly know how one of Oregon State's classes will pan out but the numbers at the moment make it look like a long climb until Signing Day.
Under the radar class: Oregon
It's hard to call it under the radar because of the flash the Ducks have in just about everything they do but you won't find this class ranked too high because of the limited numbers (just eight as of August 1st). Still, what the group lacks in quantity it makes up for in quality as Thomas Tyner and Dontre Wilson are a pair of running backs that are perfect fits for the offense and wide receiver Darren Carrington is a big sure-handed target. The program should be in the mix for a top 25 class once February rolls around like they always seem to be the past few years.
Top commit: Sammamish (Wash.) quarterback Max Browne, committed to USC.
Loading up: Colorado on offensive linemen (5) and USC on defensive ends (5).
Frequent Fliers: Arizona, with commitments from 10 different states.
Fence builder: USC, with 10 commitments from the state of California.
Road to Signing Day storyline: Who finishes second?
If you want to know how far ahead USC is of the rest of the conference, no need to look at next place Washington being so far away in the team rankings but the fact that the Trojans have three more top 100 recruits than the rest of the conference combined. It will interesting to see where Stanford winds up after bringing in a terrific group last year and getting off to a good start with this cycle. Arizona could wind up as a team that gets passed by several others while Oregon should move up in the team rankings as each month ticks off the calendar.
Top 25 teams:
1. USC
15. Washington
19. Arizona
21. Stanford