CBSSports.com's Dennis Dodd and J. Darin Darst provide analysis on college football topics.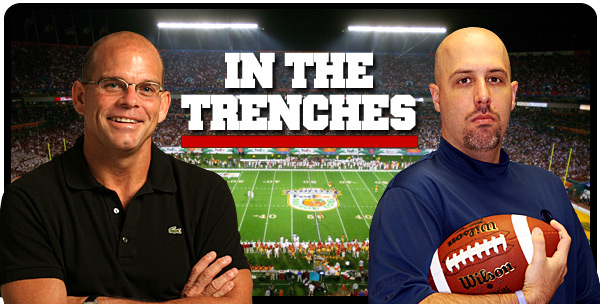 1. Now that we are in the heart of spring football, which team are you keeping an eye on to maybe be a sleeper for the BCS title game?
DODD: I want to say Virginia Tech. I also want to become real good friends with Erin Burnett. In each case it ain't happening. The Hokies are one of the most consistent programs in the country. They have essentially ruled the ACC since expansion but just aren't good enough to post that undefeated season it would take an ACC champion to get to the BCS title game. Playing the likes of LSU, Alabama and Boise State in the non-conference doesn't help, which leads me to my actual answer. The Hokies open the season against everyone's favorite mid-major at FedEx Field. Boise State has the schedule and will have the ranking (likely preseason top five) to make a run. What's changed for the Broncos? Respect. Check the polls in August. This is essentially the same program that beat Oklahoma in the 2007 Fiesta Bowl. The difference is Boise will be ranked high enough to play for, and win, a championship. In fact, if the Broncos beat Virginia Tech (and Oregon State at home) the next biggest obstacle is a BCS pileup at the end of the season -- two or more undefeated teams from BCS leagues. In that case, Boise's WAC schedule might cause it to be left out -- again. Might. This team is loaded and can play with anyone. What other program has 21 of 22 on the two-deep returning? Boise might do what Butler didn't -- win the whole thing.
DARST: I would say Boise State, but to me, it is not a sleeper. The Broncos WILL be ranked in the preseason Top 3 and after what they've done the past few seasons, they are no longer a sleeper in my eyes. I'm going to go big-time sleeper, and it's a team from the ACC -- North Carolina. Most people won't have them winning the conference and I'm not sure I will either, but right now, the Tar Heels are a team I'm keeping an eye on. The big thing that impresses me is the return of nine defensive starters and 10 offensive starters. The Tar Heels defense ranked sixth in the nation last year in yards allowed and with almost everybody back, there is no problem there. So it's all on the offense. Quarterback T.J. Yates didn't have the best of spring games and is going to be pushed hard by freshman Bryn Renner, who completed 15 of 21 passes for 184 yards with a touchdown and an interception. If (and it's a big if) the Tar Heels can get some consistent production out of the offense, they have to be considered a sleeper. The defense is so good and this is a team that beat Virginia Tech and Miami last year. First test comes Sept. 4 against LSU. But if by some miracle, the Tar Heels can be 6-0 when it plays at Miami on Oct. 23, they have to be taken as a serious threat.
2. Michigan coach Rich Rodriguez is allowing his quarterbacks to be hit in scrimmages, he says, to teach ball security. Given the fragile state of the program and its quarterback situation, do you agree? (The team had 29 overall fumbles.)
DODD: After watching the Wolverines practice last week, absolutely. Only five teams were worse in turnover margin (13 fumbles, 15 interceptions overall). Everyone is accountable. If that means the quarterbacks get the poo knocked out of them a few times, then that's a good thing. If Tate Forcier doesn't learn ball security, I'm convinced sophomore Denard Robinson and/or freshman Devin Gardner will. Forcier's grip on the ball -- and the job -- is tenuous considering he is to blame for a lot of those turnovers. A plus: He's been in the weight room to bulk up a body that was thrown around like a rag doll at times last season. A minus: Both Robinson and Gardner can make plays with their legs. Say what would will about Rich Rod, the guy can coach spread quarterbacks. To me, Gardner, an early enrollee, looks like a young Terrelle Pryor. Rodriguez probably won't trust the job to a freshman, but you don't bring a guy in early as talented as Gardner to redshirt him, do you? Early line: Forcier starts but is given a short leash as Rich Rod has one season to get it done. During that season Michigan could go on NCAA probation. So, yeah, ball security is a good place to start.
DARST: This is going to be one of those instances where -- if it works, Rich Rod is a genius. If Tate Forcier or Denard Robinson gets drilled in practice, ends up getting hurt and misses key games, than Rich Rod is an idiot. Forcier lost four fumbles last year and all but two of his turnovers came in Michigan losses. Meanwhile, Robinson lost three fumbles and is more prone because of his running ability. Time will tell, so I won't pass judgment just yet, but getting these guys to hold on to ball is a major priority. The Wolverines are not going to be successful in the Big Ten if the quarterbacks keep turning the ball over. But watch out -- if one of these guys gets hurt, the backlash is going to be brutal. Rich Rod is already feeling the heat from the alumni and fans. Imagine what is going to happen when Michigan announces Forcier is out for three games after one of his teammates drilled him in practice. Let the fun begin.
3. Besides Mark Ingram, who is your early season Heisman favorite?
DODD: Great question. Only two rushers from BCS league teams who finished in the top 10 last season will be on the field on opening day. (Pittsburgh's Dion Lewis and Virginia Tech's Ryan Williams. Oregon's LaMichael James is suspended.) Only one BCS conference quarterback who finished in the top 10 in pass efficiency is returning -- Arkansas' Ryan Mallett. That's why it's mostly Ingram's hardware to lose. The problem is, he might not be the best running back on the team. 'Bama Nation is waiting for Trent Richardson to break out. At the least, Richardson is going to get more carries. And let's not forget there has been only one back-to-back Heisman winner. If not Ingram, then there are two favorites: Boise State's Kellen Moore threw 13 touchdowns for every one interception last season (39 and three overall) and finished second in pass efficiency. Houston's Case Keenum, the national passing leader, was the only quarterback to throw more touchdown passes (44). Each of their teams could win at least 10 games again and each quarterback has BCS scalps. The last non-BCS quarterback to win a Heisman was Houston's Andre Ware in 1989 -- it's been long enough.
DARST: I was a huge Kellen Moore fan last year in the Heisman race and he has to be in everybody's Top 3. The guy threw 39 touchdowns with only three interceptions for an undefeated team, but I don't think he's my favorite. Obviously Mark Ingram is at the top of my list, but right behind him is Virginia Tech's Ryan Williams. He had 1,655 yards rushing and 21 touchdowns as a freshman. And this is from a team that opponents know are going to run the ball. With Tyrod Taylor at quarterback the passing game wasn't a threat, but still, nobody could stop Williams. He had 10 100-yard rushing games and closed out the season with 420 yards and 10 TDs over the final three games. So right now it's 1. Ingram, 2. Williams, 3. Moore.