CBSSports.com's Dennis Dodd and J. Darin Darst provide analysis on college football topics.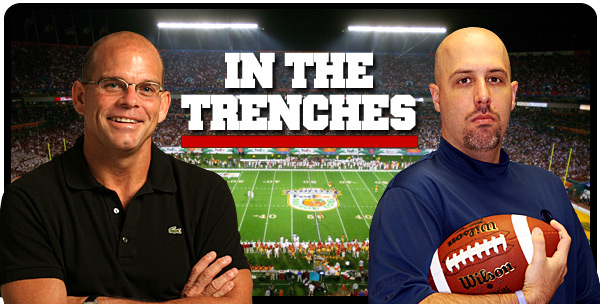 Which team can you see making a huge improvement from last season?

DODD: Call me crazy, but it might be Michigan. I understand the defense can't stop air at this point. I know the Wolverines had to beat Illinois by a basketball score (67-65). I get that changing coaches for the second time in three years does nothing for continuity. I know that only 11 teams were worse in turnover margin. But there is a lot to work with here. Brady Hoke gets 19 starters back, including QB Denard Robinson. Halfway through the season it looked like D-Rob was going to win the Heisman. This year he might get a trip to New York simply because the defense can't be that bad again ... can it? Just changing last names on the defensive coordinator's name plate should do wonders -- from Greg Robinson to Greg Mattison (former Baltimore Ravens' DC). Like Brady Hoke, Mattison also coached under Lloyd Carr. It doesn't hurt that he got a national championship ring with Florida in 2006. Hoke comes in on a roll, having taken a beach-bum of a program at San Diego State and turned it into a Mountain West contender in two years. Think what he can do with a bigger everything (budget, stadium) at Michigan. Admittedly, much of this opinion is based on pure optimism: 1) For a lot of fans, it's not so much that Hoke is there, it's that RichRod is gone. 2) The defense has to be at least marginally better. 3) Hoke worked wonders within a small window at his last job. 4) The season starts with five consecutive home games. There's a chance to scratch out eight wins with that schedule which, considering the past three years, would be a huge improvement over the 7-6 road apple RichRod deposited. Just don't remind anyone in Ann Arbor that the season ends with back-to-back games against Nebraska and Ohio State.

DARST: Yeah, you can throw me into the crazy boat too, because I'm picking Tennessee. The Vols had one of the youngest starting lineups at the end of last year, starting seven freshman and five sophomores. It was pretty amazing for them to even make a bowl game with that lineup. The Vols got better as the season progressed, winning four of their last five and easily could have beaten North Carolina in the bowl game. (And yes, it should have beaten LSU.) The team is obviously still way behind Alabama, Florida, Auburn and the big guns of the SEC, but look for the Vols to ... dare I say ... win nine games next year. It helps to have Georgia, LSU and South Carolina at home, while playing Montana, Cincinnati, Buffalo and Middle Tennessee State in nonconference play. With the return of starting RB Tauren Poole (1,034 yards, 11 TDs) and QB Tyler Bray (18 TDs, 10 INTs), as well as four returning starters on the offensive line, this team should do pretty well offensively. The big question mark will be at receiver, but look for Justin Hunter to emerge as a big threat. Cornerback Prentiss Waggner, who recorded five interceptions, leads five returning starters on defense. Another team I have on my sleeper list is BYU. With Jake Heaps having a year under his belt, I expect the Cougars to be much better than their 7-6 record this past season.
Has Alabama-Auburn become the best rivalry in college football? What about all of sports?

DODD: Become? Got news for ya, pards. It is the best rivalry in sports. Has been for a few years, maybe a few decades. Lakers-Celtics? Too much bling in the first couple of rows to even consider it. Besides, any rivalry that includes the term "touch foul" does not qualify. Ohio State-Michigan? Close, very close, but even those fans have lives outside of football. Same with Carolina-Duke. Yankees-Red Sox? You give me Don Zimmer-Pedro Martinez. I'll give you, well, death. When a rivalry has a history of people perishing, that tends to make it more compelling. This latest "Treeson" episode merely opened up the hatred for all the world to see. With Auburn and Alabama having won the past two national titles, the Iron Bowl has become must-see viewing for everyone -- especially those first two rows at a Lakers-Celtics game. Yo, Kobe. Go shoot your fadeaway. This is what real hate looks like.

DARST: It's definitely the best current rivalry in college football, but only because Michigan hasn't beaten Ohio State since 2003. But ask yourself this question: How big was this rivalry on a national scale before Nick Saban got to Alabama? The Iron Bowl will always be life or death in the state of Alabama, but it's only gotten real intense nationwide in the past few seasons. Remember, the Ohio State-Michigan rivalry goes back to the Toledo War in the 1830s, with people in those two states hating each other. But with the Crimson Tide and Tigers both winning national titles the past two years, Alabama blowing a 24-0 lead against the Tigers this season and now the tree poisoning, this rivalry has taken it way beyond the next level. This game goes way beyond any regular-season baseball game between the Yankees and Red Sox.
Now that Signing Day is over, which freshman do you see making the biggest impact in 2012?

DODD: Three names come to mind: Obviously, Jadeveon Clowney at South Carolina. But you have to consider two other guys -- James Wilder Jr. at Florida State and Braxton Miller at Ohio State. As good as Clowney is, the prediction here is he will struggle initially with the offensive tackles at the SEC level. That doesn't mean he won't be a star. It means an 18-year-old defensive end isn't going to dominate the SEC immediately. Wilder will be a big part of the FSU offense. Other schools wanted Wilder to play linebacker. He stood firm in saying he wanted to be a college tailback. Jimbo Fisher knows that the kid will be a key in establishing a physical running game once again for the Noles. But if you want to talk "impact," well, that's Miller, a five-star quarterback who is already enrolled. In a perfect world, Miller would redshirt while Terrelle Pryor plays out his senior season. But the kid didn't enroll early to sit. Someone is going to have to play those first five games while Pryor and four teammates sit out because of NCAA sanctions. A lot of folks think it's going to be Miller, a five-star prospect from Huber Heights, Ohio. Jim Tressel has plenty of bodies at that position but how he plays those bodies is one of the bigger story lines of 2011. Let's say Miller plays a little but teases us with his talent. Let's say he plays a lot, goes 5-0 and is expected to hand the team over to Pryor in Week 6 -- at Nebraska. Let's say he pitches a fit that week saying he has earned the right to start against the Huskers. How's that for impact? Yeah, it could get really juicy. No matter what happens in 2011, Miller is the quarterback of the future. But if the future is now, we cannot wait to see it.

DARST: Clowney at South Carolina is the easy pick. Obviously, he will see much better talent in college than he did in high school, but this highlight video is downright scary. Just give him about a half of a season to settle in before he starts crushing quarterbacks. Another guy I really like is linebacker Stephone Anthony at Clemson. Everybody I talk too and everything I read about this kid is that he is going to be an absolute stud. Not only is he a tremendous tackler, but also can create a ton of turnovers. At 6-foot-3, 220 pounds he has the ability to be a all-conference guy pretty quickly. I expect Anthony to be making a huge impact on the rest of the ACC when conference play comes around. And how can you not like Oregon recruit De'Anthony Thomas. He's going to need to add some weight (he's only 160 pounds), but with his speed, he should be a playmaker in the Ducks offense pretty quickly. Thomas recorded the fastest 200 meters in the nation last season under any conditions in 20.61 seconds, meaning just get him the ball and look out.