CBSSports.com's Dennis Dodd and J. Darin Darst provide analysis on college football topics.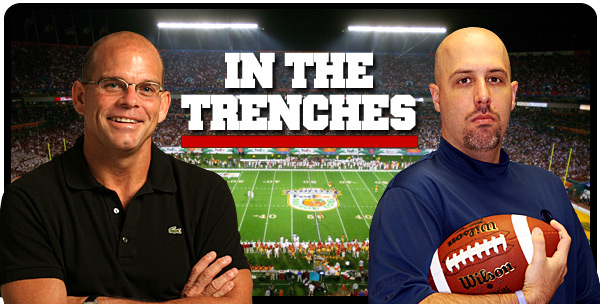 Will Jim Tressel coach again at Ohio State?

DODD: No, and here's why. Because this case is so high profile and essentially uncontested, the NCAA will have every reason to wrap up its investigation before the season begins. Think about the outcry if not only the Buckeye Five were allowed to play in the Sugar Bowl, but Tressel's situation lingered into or past next season? The NCAA is going to have to come down hard because Tressel/Ohio State has/have been hesitant about punishment from the start. First, it was a two-game suspension, then it was a five-game suspension. Then we found out Tressel forwarded the emails to Ted Sarniak. As I wrote Thursday, Ohio State knew about that the day it announced the initial suspension but didn't reveal it publicly. The same school that didn't give players proper "rules education" -- its words -- also didn't have enough oversight over its coach. By hiding those emails, Tressel essentially allowed six players to compete while ineligible. Why the Buckeye Five were allowed to play in the Sugar Bowl remains pretty much a mystery. There are some big-time violations here -- violations that usually end in a coach resigning or getting fired. My prediction is that the NCAA completes this case before the 2011 kickoff and Tressel gets suspended for the season, at which point Ohio State has no reason to keep him. How do you bring Tressel back in 2012 after he has been stamped with the NCAA's scarlet letter (unethical conduct) and has been away from the team for a year? At that point you'd be telling the nation and the NCAA that you don't care. Somewhere down deep, I know that Ohio State does care.
DARST: Yes. Even if Tressel has to sit out the entire season (which I think he will), he'll be back on the sidelines in 2012. This isn't a debate if Tressel should be fired or not, the question is will he? And I just can't see it happening. I think the suspension will be longer than five games and can see the NCAA dropping the hammer at the beginning of the season. But do I really think school president Gordon Gee is going to fire Tressel? Puh-lease. Mr. "I hope he doesn't fire me." is going to let go the coach that led the Buckeyes to eight BCS games in the past 10 seasons? Ask Buckeyes fans if they would like to go back to the likes of John Cooper. Or would they rather Tressel just sit out the season and come back in 2012 with a zero-tolerance policy? Tressel made some huge mistakes and most coaches would have been fired already, but this is different and I think Ohio State will go through the tough times with him.
If you can replace the Fiesta Bowl in the BCS with any other bowl (no restrictions), which one would you choose?

DODD: The runaway leader in the clubhouse is the Cotton Bowl. It's got the location (football-mad Texas), proximity to Big 12 schools and the right owner (Jerry Jones) to slide right into the BCS rotation. The question is, when? My feeling is that the Fiesta keeps its BCS affiliation after much introspection and hand-wringing. But all the major bowls face a period of intense scrutiny. No matter how much they feel they are protected legally from anti-trust and tax-exempt issues, it's time to say goodbye to the lavish cruises, the Fiesta Frolic -- basically all the ostentatiousness that -- in a troubled economy -- almost mocks the public. I mean, you guys basically put on one game a year. You make loads of money. You don't need to court legislators and have four-day birthday parties. The high times are over. The upshot of this is after the current BCS contract ends (it has three seasons to run), there will be some serious talk about going to a plus-one model (basically a four-team playoff). That would mean three of every five years, BCS bowls would be in a championship rotation. (Two semifinals and a championship game each season). Currently, they are in the championship rotation only once every four years. While a plus-one model doesn't solve everything it essentially takes care of the biggest problem: A four-team tournament basically eliminates the possibility of leaving out deserving undefeated teams. Letting the Cotton Bowl, Jerry Jones and Cowboys Stadium into the rotation classes up the BCS. And it needs some classing up right now. Cowboys Stadium already has been the site of Big 12 title games and a Super Bowl. It needs to get on college football's biggest stage. Just bring your wallet. When Jerry opens his doors, it isn't cheap.
DARST: I'm trying to get my head around any other bowl BUT the Cotton Bowl. Not many other bowl games have the prestige, the location factor and a new stadium and facilities. The Capital One Bowl actually has the highest payout of the non-BCS bowl games, but the Citrus Bowl is old and are you really going to have two BCS games in the state of Florida? Highly unlikely. So sorry Outback Bowl and Gator Bowl, that crosses you two out. The Chick-fil-A Bowl in Atlanta is an interesting one. It has a lot of plusses -- big city, major airport, already has a major sponsor and an excellent stadium. But the SEC might want to be tied to that one, shifting the Big 12 champ to the Sugar Bowl. Just doesn't sound right. The only other bowl that would give the Cotton a run for the money has to be the Alamo Bowl in San Antonio. It doesn't have the history that the Cotton Bowl has, but the Alamodome has already proven to be a great place to hold major events and is also in the heart of Big 12 country. The Big 12 is already locked in as a conference partner, so that's a plus too. But once Jerry Jones shows off the state-of-the-art Cowboys Stadium, it has to be the runaway winner.
This is the month for spring games. Which spring game is going to be the most intriguing?

DODD: LSU. Not just because I'm going there this week, but because the Tigers were on my radar long before that. Let's just say there should be plenty to talk about. The Tigers play one of those much-hyped season openers against Oregon at Cowboys Stadium. There is the lingering smell of the Patrick Peterson/Will Lyles allegations. (Peterson has denied). But for spring purposes, the main story is Jordan Jefferson. If the Tigers get any kind of consistent play out of their inconsistent quarterback, then look out. J.J. left LSU feeling good after the Cotton Bowl. That's part of the reason why, to this point in the offseason, LSU is my No. 1. I don't care if the Tigers have lost those three key defenders (Peterson, Drake Nevis, Kelvin Sheppard). I don't care if they've lost Stevan Ridley at running back. I don't care if they have to go to Alabama. At least not now. The biggest "get" in the offseason was Les Miles. He's got it rolling in recruiting and on the field. (In case you haven't noticed, Miles has stayed longer and has a higher winning percentage than Nick Saban did.) It isn't going to stop anytime soon. By stiff-arming Michigan (again), Miles has essentially made this statement: Unless they fire me, the only place I'm leaving for is the NFL. 1) They could always fire him given the fickle fan base that whines every time he goes for it on fourth down. But the LSU administration has to know by now that would be stupid. 2) Miles isn't going to the NFL. With all due respect, that would be like Jim Carrey showing up on Masterpiece Theater. It's not a good fit. LSU should be happy with its place in the world. With Les in control, the talent keeps flowing to Baton Rouge. That means the Tigers are going to keep winning games. So fire up the tailgate Saturday. I'm coming through looking for some andouille.

DARST: Is this an Ohio State-themed feature? Too easy. Auburn? Alabama? LSU? Let's go outside the box a little and say Stanford's game on April 9. Andrew Luck, who probably was going to be the top pick in the NFL Draft this year, returns to Stanford and has to play behind three new offensive linemen and with a new coach. Things won't be too different with offensive coordinator David Shaw being promoted to head coach, but how will Luck perform after putting together an amazing junior season? Can he actually have a better season? Plus, this is Shaw's first year as a head coach. How will he do? Stanford's spring game won't have the allure of 92,000 people in Tuscaloosa or the media hype surrounding Ohio State's game, but after seeing Stanford and Luck in the Orange Bowl last season, I'm very interested in what goes on there for 2012.