CBSSports.com's Dennis Dodd and J. Darin Darst provide analysis on college football topics.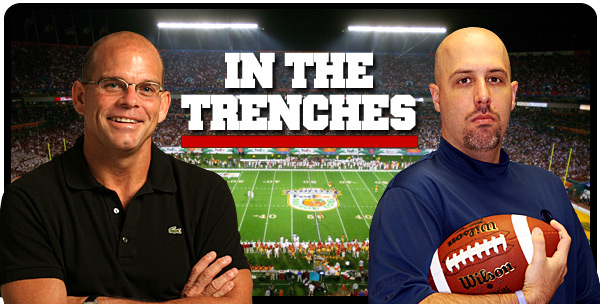 1. Last year Auburn was off the radar during the preseason poll and ended up winning the national title. Any team you could see doing that this year?

DODD: There are a few: Arizona State, Arkansas, Michigan State. I'm going with South Carolina. Is there anyone alive who doesn't believe Stephen Garcia is going to be back at quarterback? Connor Shaw can play but by allowing Garcia a fifth chance, (Garcia is currently suspended again) Steve Spurrier is telling us his veteran gives him the best chance to win. I'll say this about Spur Dog: At least he's being honest. You can argue over the kid's moral compass but Spurrier never waffled. He always gave the kid a chance to come back. In a strange way, Spurrier isn't compromising his values. Rather he's saying, "Hell yeah, he's got a chance to come back. He's the quarterback. As long as he doesn't mug somebody I'll give him a shot." Even without Garcia, these Gamecocks could be special. If we are to believe the hype, Jadeveon Clowney is going to shred every backfield he faces. Receiver Alshon Jeffery is a proven playmaker. The schedule is somewhat favorable with Florida and Auburn at home. The key to the season is consecutive road games against Mississippi State, Tennessee and Arkansas. Even then, there is a bye week between the Bulldogs and Vols. South Carolina should win the SEC East again. At least.

DARST: Call me crazy, but I think I'm going with Virginia Tech. Let's just say I really couldn't find a team because I think the big guns (Oklahoma, Alabama, Oregon, Stanford, LSU) are too strong, but I'll take a chance on the Hokies. Florida State will be the favorite in the ACC, but the Hokies can win the conference and with their favorable schedule could get into the national championship mix. First off, their out-of-conference schedule is against Appalachian State, at East Carolina, Arkansas State and at Marshall. Their conference home games are Clemson, Miami, Boston College and North Carolina, while the road schedule is Wake, Duke, Georgia Tech and Virginia. Every game on that schedule is winnable. Gone is Tyrod Taylor, but hopes are high for quarterback Logan Thomas. And he'll still have two good receivers back in Jarrett Boykin and Danny Coale. Also, how many teams return four starting offensive lineman? That will make things a lot easier on Thomas. I'm a little concerned on the defensive side of the ball with three defensive linemen gone and two starters in the secondary, but the linebacker corps should be strong with MLB Bruce Taylor back. Keep an eye on Jayron Hosley, who led the nation in interceptions last season. They have all the right pieces to make a run, but I also wouldn't be surprised if this team finished 10-2.
2. Now that USC's appeal has been denied, how long will it take the Trojans to get back to national prominence?

DODD: It's bad, real bad. But you knew that before CBSSports.com's Bryan Fischer reported Wednesday that USC had lost its appeal. This just makes it official. There will be another year without a bowl and the loss of 30 scholarships over the next three years (beginning with signing day 2012). There are only a handful of schools that could handle such crippling penalties. USC is among them. For now, we'll have to trust AD Pat Haden. He believes in Lane Kiffin, who has a plan to get through this mess. There will always be players who want to play at USC, because it's USC. The key is minimizing the damage. The Trojans have to bottom out depth-wise before rising back up. That means winning games during the roster attrition. Get used to at least a couple of years of 8-4. If there are few recruiting whiffs and if the remaining talent develops properly, the Trojans could win the Pac-12 by 2015. They could challenge for the national championship again by 2017. That's being way generous. Oklahoma had similar penalties in 1989. It took the Sooners four coaches and 11 years to win another national title. A further question: Will USC fans have the patience to wait even four-to-six years for their team to matter on the national stage again?
DARST: It's going to take a few years. The biggest problem is the loss of scholarships. USC is always right there with all the other heavy hitters in the recruiting process year in and year out. But now it won't be able to keep up in the recruiting world; it will take a few recruiting cycles to get back in the thick of things. Just as Dodd said, Oklahoma had the same thing happen and it took the Sooners more than a decade. I think USC is a little different and it might not take that long. But still, even if it takes five years, will Lane Kiffin even be around that long? I'm not so sure about that. Check back with me in 2016.
3. A handful of schools are talking about moving up -- Appalachian State, Villanova, Texas-San Antonio, Texas State. Which school should make the leap to FBS?

DODD: I don't know if any of them should. Making the leap to Division I-A is a money-losing proposition. The NCAA has done its best to discourage it, trying to save schools from themselves financially. Forget about winning in the near term or even the long term. It's a vicious circle. These schools, desperate for revenue after spending tens of millions of dollars to move up, will play a bunch of guarantee games in an attempt to balance the books. Their teams will get killed, ruining confidence and wearing down the squad physically. There's only so many beatdowns you can take. Ask the Sun Belt. But they're all junkies, chasing the ultimate high of the big time. Having Division I-A football increases enrollment, brings in booster dollars, changes the whole perception of the school. So we're told. The reality is there are something like 14 athletic departments in Division I-A that are profitable. That ought to tell you something about the financial viability of a startup, such as Texas-San Antonio, never mind an established program like Appalachian State. All that being said, Villanova clearly has the best chance of succeeding in I-A. It is a I-AA power that could be beat some I-A schools right now. The program will only get better if it joins the Big East, benefitting from the coming financial windfall in the conference's new television contract. Appalachian State is having second thoughts about moving up, I suspect, for many of the same reasons I listed. It takes a lot of money to go from funding 63 scholarships to 85. Texas-San Antonio and Texas State will benefit from their surroundings (Texas). Both will try to become the new Boise State in the new WAC. In other words, moving up quickly, painlessly and winning right away. Historically, the odds of success aren't good.

DARST: Some of these schools that want to make the leap might want to talk to some schools that did it recently. It's going to be rough early on. Real rough. There won't be many wins and a lot of $400,000 paychecks to get beat 62-7 in Lincoln, Neb. Just ask Florida International. The Golden Panthers spent a few seasons in FCS before moving up in 2006 and went 0-12 and 1-11 the following seasons. It took some time, but FIU enjoyed its best season last year, winning the conference and its first bowl game in school history. Florida Atlantic joined FBS in 2005 and won a bowl game in 2009. Troy also had success very quickly after moving up in 2002, winning its first bowl game in 2006. Western Kentucky, which was a very good FCS program is having a hard time right now, winning just four games the past three seasons. Villanova has the best chance to be successful because of the opportunity to join the Big East. The conference share of money will help it the greatest in the long run. I have no doubt Appalachian State could compete in FBS and win bowl games, but if it ends up in the Sun Belt or C-USA, I'm not sure it will be able to be as big time as it is in FCS. The fan bases should know it's a process that takes awhile. There isn't much else going on in Boone, N.C., so Appalachian State will still be able to fill the stadium, but what about Villanova? When it's 2-10, is the fan base still going to come to the games? As for Texas State and Texas-San Antonio: Don't even think about it. Although ... the Big 12 might be in the market for two new teams.
4. Spin the wheel ... where will former North Carolina State quarterback Russell Wilson end up and where SHOULD he land?

DODD: Wisconsin on both counts. I'm taking into account the best place for his talents in a one-year shot to win a championship. We heard about the former North Carolina State quarterback's visit to Auburn, but let's face it. Auburn isn't going to repeat -- as SEC West champs, SEC champs or as national champs -- even with Wilson. There are too many holes elsewhere. While Wilson has nice mobility, he's no Cam Newton. Wilson's legs buy him time but that would be about it against SEC defenses. Auburn could win 10 with Wilson but Wilson could go to a Rose Bowl with Wisconsin. Ask yourself: Traditionally, what is the Badgers' biggest weakness? Wisconsin never seems able to have a difference-making quarterback. Scott Tolzien was that guy last season, leading the Badgers to the Rose Bowl (73 percent completion rate while winning the Unitas Award). Overall, Wilson would be better if he took his free-agent talents to Madison. Think about having three big-time playmakers -- Wilson, Montee Ball and James White. Wilson could become the Big Ten's best quarterback just by stepping on campus. It shouldn't be assumed his future lies in baseball. If the kid wants a one-and-done home to showcase his NFL talents, there are worse places to be than Madison. Wilson went something like 250 days without football-related activity last year and look what he did for N.C. State. How bad does Bret Bielema want to win? Enough for him to perhaps wait until early September to get his starting quarterback on campus.
DARST: Wisconsin is where I think he will end up, but I'm not sure that's the best spot for him. The Wisconsin quarterback is there to manage the game and get the ball to the running backs. I can't see Russell Wilson being a guy who is going to hand the ball off and be happy. He's going to want to sling it around and run around. But Dodd is right, of all the schools out there, Wisconsin can win the Big Ten and make a push for the national title. But if Wilson is looking to showcase his football talents, he'd be better off at Auburn. The Tigers could use him as it doesn't look like they are ready to hand the job over to either Barrett Trotter and Clint Moseley. Sure, Wilson isn't Cam Newton, but I'd love to see what he can do in Gus Malzahn's offense.