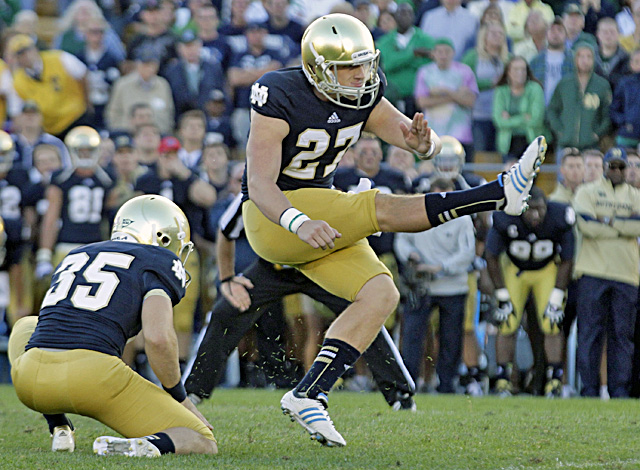 SOUTH BEND, Ind. -- In the spirit of baseball's pennant races, Notre Dame coach Brian Kelly went to his bullpen and brought in Tommy Rees in the ninth, er, with two minutes left, and Rees delivered in the 20-17 Irish win over Purdue.
The Irish seemed to have things under control late in the game. They were nursing a seven-point lead late in the fourth quarter, but Josh Johnson forced a fumble out of a scrambling Everett Golson and fell on it at the Notre Dame 15 to give the Boilermakers a chance.
More on Notre Dame-Purdue
Columns

Related links
More college football coverage
Purdue quarterback Robert Marve was sacked and injured on second down, forcing coach Danny Hope to make a bullpen call of his own. The previously ineffective Caleb TerBush came back into the game and on fourth-and-10, connected on a touchdown pass to Antavian Edison to tie the game at 17 with 2:12 left.
After George Atkinson returned the ensuing kickoff to the Irish 35-yard line, Kelly shocked everyone by sending Rees into the game. Rees has had his struggles here, so as you might imagine, it wasn't the most popular decision with the 80,000-plus in Notre Dame Stadium. Boos rained down as Rees led the offense onto the field.
As a closer, Rees looked more like Carlos Marmol than Aroldis Chapman in that his performance was ugly, but it got the job done. Rees was only 3 of 8 on the final drive, but two of the completions converted third-and-long situations. On the first of those, Rees was having trouble getting everyone set, tried to call a timeout the Irish didn't have, then got the snap after it appeared that the play clock had expired. He hit John Goodman for 10 yards to move into Purdue territory.
The other conversion went to Robby Toma for 21 yards to the Purdue 20. Notre Dame was then able to run the clock and set up Kyle Brindza's game winning 27-yard field goal.
After the game, Kelly said that Golson, who finished the day 21 of 31 for 289 yards and a touchdown, was having problems gripping the football on the sideline after his fumble, but that he probably could have come back into the game.
"This is not going to be an excuse for Everett that he's pulled out because of an injury," Kelly said. "We made a decision with the flow of the game that Tommy could come in here and manage our two minute [drill]."
Despite the late-game switch, Kelly made it clear that there is no quarterback controversy in South Bend. "Everett Golson is our starter," he said. "He will start against Michigan State."
Kelly didn't say he would finish.
Rees was excited after the game, or so we were told. He wasn't available to the media, so we couldn't ask him ourselves. He probably had homework to do.
Kelly's bullpen was busy all day. Injuries kept testing his "next man in" philosophy. Leaving the game today were DE Kapron Lewis-Moore (calf), LB Ishaq Williams (elbow), S Jamoris Slaughter (shoulder), WR DaVaris Daniels (ankle) and All-American candidate TE Tyler Eifert (concussion). Eifert looked unguardable at times. He ended up with just four catches, but they went for 98 yards.
Even Brindza, the kicker who won the game, was filling in for Nick Tausch. Tausch was injured in practice this week.
Kelly says none of the injuries are serious or long-term, but we'll have to wait and see who will be available against the Spartans next week.