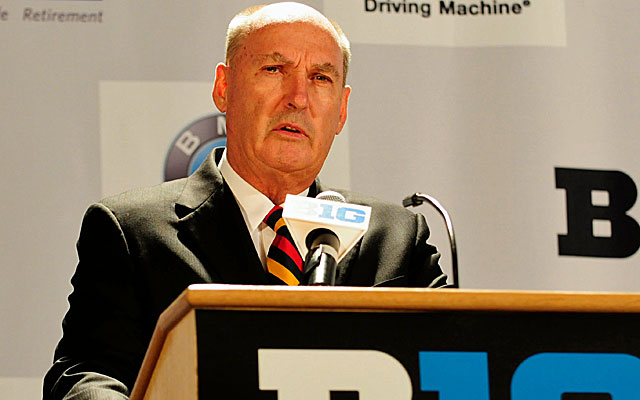 NEW YORK -- You have to read Jim Delany, know his nuances, decipher his meaning.
The only way to cut through the B.S. was to ask the basic question for the most significant figure here at the IMG Intercollegiate Athletics Forum.
Are you done?
If you have to ask -- "Done with what?" -- please leave the room. This is about college athletics teetering on the brink of becoming something new and great -- or terrible and destructive. Definitely bigger. This is about the commissioner of the Big Ten proclaiming at one point Thursday morning, "I think the NCAA will survive."
Good to know from Delany, because no matter what happens in conference realignment you can bet the Big Ten will survive. Probably, the SEC too. But at the moment it is Jim Delany's world and we are only living in it.
"I would describe our position," he said with the world waiting in anticipation, "as inactive but alert."
Delany was speaking for his league and any future urge to expand. The addition of Maryland and Rutgers recently was strange enough, described by one veteran observer as the equivalent of purchasing a couple of fixer uppers. The hottest buzz in the industry is that Virginia and Georgia Tech are next for the Big Ten.
In other words, you don't jump from A to C, without first stopping at B. That's why a stop at the red-ink shop (Maryland/Rutgers) was necessary first before proceeding to the meaty portion. Virginia and Georgia Tech would extend the footprint down the East Coast and into the South. They would pacify Big Ten presidents' worries about academic issues.
Georgia Tech, alone, would be huge. Country's biggest airport. Great market. Think of the Big Ten infiltrating SEC and ACC country.
"The paradigm has shifted," Delany told the Forum audience.
For now, the Big Ten is doing the shifting. Gregory Geoffroy -- inhibitions lowered now because he is the former Iowa State president -- told the Des Moines Register Duke, North Carolina, Tech and North Carolina could all logically be in play.
"It all depends on the definition of what a conference is," Delany said.
It's pretty simple these days. Forget geography, forget tradition, forget players getting home at 4 in the morning. Add prestigious academic AAU schools (American Association of Universities) and TV markets and you have yourself conference overhaul. Presidents have proved themselves unrestrained in these matters. They rubber-stamped a $500-million playoff. ACC presidents mercilessly approved the raid that tore the Big East down to its current level.
As if on cue Thursday, those now-threatened ACC presidents issued a statement of solidarity. That made the current climate even more comical. Solidarity? In other news, Bobby Petrino says he is committed to his marriage. Besides, if the ACC CEOs really thought they were solid, why do they have a $50 million exit fee that red-ink stained Maryland didn't even blink at before jumping?
The Big 12 has a binding grant-of-rights for 13 years. That's the only way to keep the Pac-12 out and Texas and Oklahoma in. CBSSports.com has learned that the ACC inquired about that option before deciding on the exit fee.
To be fair, Delany did say he would be "very surprised" if his league expanded to a flyover state, one not bordering a Big Ten state. But he also said, "We're not a national conference but we're a conference with national awareness and national influence."
Delany has a plan. You know he has a plan. Those innuendos and hints tell you.
"We had the breadbasket and we had manufacturing," Delany said of the economic engines that once powered the Midwest. "You don't have success unless you have a real robust job market, real robust manufacturing."
Without telling you, he's telling you. The Rustbelt Midwest no longer has that real robust job market and manufacturing. Delany has mentioned it himself in the past: There is a population shift to the Sun Belt states.
"We have more Big Ten graduates in Phoenix than the Pac-12 does," he said.
That doesn't mean Arizona State is jumping to the Big Ten -- yet. It reinforces Delany's point that his conference needs to go South to replenish itself -- with TV viewers, with prestigious institutions and with athletes. You may have noticed lately that most of the best ones are in the SEC these days.
If a school that cut seven sports in July (Maryland) is considered an upgrade, then conference realignment just turned into the college version of manifest destiny.
And your school may be next. Conference realignment trickles down. You think not? The WAC just added Chicago State just to keep a pulse.
The Big Ten actually started this three years ago to the month. A simple memo explaining that the league was merely exploring expansion touched off the biggest upheaval in college sports since the 1984 Supreme Court decision against the NCAA.
"That was maybe a failed effort to be transparent," Delany said of the memo. "All we got were incoming calls from people [saying] we had upset their TV negotiations."
So the next time the Big Ten considered expansion, they kept it to themselves. And here we are.
"I would never say never [to expansion]," said the SEC's Mike Slive, who just got done going to 14 teams a year ago.
None of them can tell you that they're done. These conferences are either predatory or reactionary at this point. It depends on what side of the demographics you're on. I wrote recently how the Big 12 is fine at 10. I'm not sure anyone believes it.
I'm not sure I believe it.
One hope is that Slive and Delany find out that 14 teams can be too unwieldy, that they stop in their tracks.
"If you were to define a superconference, you would probably take our two leagues and define them," Slive said. "That would be the definition, right?"
Except that term "superconference" has come to mean 16 teams. We may already be there. The two most powerful conferences may have found the limits of their earning ability and power by expanding outside their traditional boundaries.
"At a certain point you're no longer a conference, you're more of an association," Delany said. Slive is not the only one who wonders how history will view this crazy land-grab. But he was the only one wondering out loud on Thursday.
"I'm a trustee of a trust," he said. "What's this trust going to look like 10, 20, 30 years from now?"